Kansans in the Office

Capitol Tour
Steven Attig of Fairway

Jennifer Attig of Fairway

Holden Attig of Fairway

Miles Attig of Fairway

Kirby Brunk of Arma

Kerri Brunk of Arma

Addison Brunk of Arma

Brody Brunk of Arma

Rani Charles of Overland Park

Sharon Charles of Overland Park

Joshua Charles of Overland Park

Michele Doncho of Harper

Rustin Denton of Harper

Emily Hanna of Leawood

Arthur Neuburger of Lawrence

Connie Neuburger of Lawrence

Andy Newkirk of Manhattan

Sarah Newkirk of Manhattan

Charles Ratnasamy of Overland Park

Michael Robertson of Overland Park

Mary Robertson of Overland Park

Dominic Scavuzzo of Leawood

Ryan Talbott of Lawrence

Jennifer Talbott of Lawrence

Ava Talbott of Lawrence

Nora Talbott of Lawrence

Charles Urban of Atchison

Michelle Urban of Atchison

Brande Vogele of Harper




 

One Year Anniversary of the Fall of Kabul
One year ago, the disastrous withdrawal from Afghanistan became a moment of lasting shame. The images of Afghans left behind at the Kabul airport, fearful of the Taliban's return to power, and the loss of 13 American servicemembers from a terrorist attack remain vivid in our thoughts.

Today, thousands of Afghans who put their lives at risk to help American and coalition troops remain in danger in Afghanistan and many who did get out are stuck in other countries waiting to start their lives anew. The rights of Afghan women have been rolled back, including denying girls a full education, and Afghans under the Taliban regime are suffering from crippling poverty and hunger. This is heartbreaking after the United States invested twenty years in Afghanistan, trillions of dollars and the lives of her sons and daughters. Those who gave their lives and all who served in Afghanistan to fight terrorism deserve our gratitude and ongoing care.

Americans deserve answers as to how the withdrawal could be so disastrous and how the Afghan government we supported could collapse so easily. Last year, I co-sponsored the Afghanistan War Commission Act to establish a nonpartisan, independent commission to examine the war in its totality, which was enacted into law. I am awaiting the work of this commission and the findings they will produce to ensure that what happened last year never happens again.

SIGNED INTO LAW: SFC Heath Robinson PACT Act
On Wednesday, the Sergeant First Class (SFC) Heath Robinson Honoring Our Promise to Address Comprehensive Toxics (PACT) Act of 2022 was signed into law. This legislation delivers on a promise we made to our veterans that if someone serves in our military, we will take care of them and provide them with the benefits they have earned through their service. From Vietnam veterans suffering from Agent Orange to the 3.5 million post-9/11 veterans exposed to burn pits during their deployments, our nation's veterans and their families will no longer have to fear being turned away from the VA for illnesses connected to toxic exposure. The SFC Heath Robinson Honoring Our PACT Act will make good on our promise to take care of our veterans by delivering all generations of toxic-exposed veterans their earned health care and benefits under the Department of Veterans Affairs.

Thank you to SFC Heath Robinson's family and all the veterans and advocates who worked tirelessly to get this long-overdue bill passed through Congress and signed into law. Today would not have been possible without their input, commitment and dedication.
Joining Kansas Cadets at the U.S. Air Force Academy in Colorado Springs for Lunch
This week, I joined Kansas cadets at the U.S. Air Force Academy in Colorado Springs for lunch. Days like these serve as a reminder that Kansas produces smart, hard-working and civic-minded individuals who want to give back to their country. As a U.S. Senator, one of the most meaningful responsibilities I have is nominating young Kansans for our service academies and helping them achieve their dreams of service to our country.
It was great to have lunch with several of the cadets that I had the honor of nominating to the academy – Mason Vasta of Overland Park, Tyler Simms of Olathe, Cody Savage of Leavenworth, Zachary Bollinger of Hesston, Remington Stiles of Topeka, Aaron Eakins of Wichita, Cale Curtis of Wichita, Jack Arnold of Topeka and Taylor Ellis of Lenexa.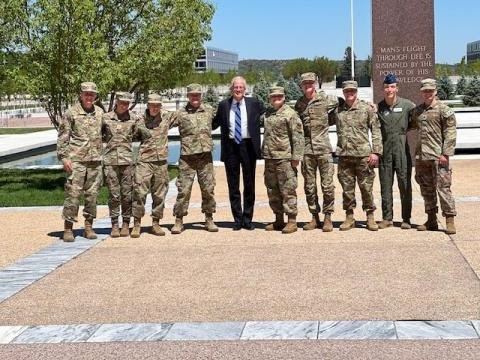 Applauding the Signing of the CHIPS and Science Act into Law
This week, the CHIPS and Science Act was signed into law. This legislation invests resources into manufacturing semiconductors and other critical technology in the United States, authorizes investments in key technology areas and works to rebalance federal research investments to the middle of the country.
A strong economy will help us produce the technology and resources we need to compete successfully in the decades to come. This legislation invests in businesses around the country to produce key technologies, such as semiconductors, here at home, creating new jobs and boosting American manufacturing. As aggression from China and Russia makes clear, it is vital to safeguard our supply chains from any disruptions. This bill is a key step in rebuilding our economy to be stronger and independent from our adversaries.
Touring Rooks County Health Center
On Tuesday, I visited my hometown of Plainville to tour Rooks County Health Center and meet with the center's new CEO, Stephanie Bjournstad. During our meeting, we discussed the hospital's day-to-day operations and the many services they offer to Kansans, including a walk-in clinic, testing services, physical therapy, urgent care, speech therapy, labor and delivery care and more. I also had the opportunity to meet with members of the Rooks County Health Center Board to discuss the challenges they face working in rural Kansas health care, especially during the pandemic and in its aftermath. Our rural health centers provide quality care for residents in the surrounding communities and region, even in the most challenging of times. Thank you to Stephanie Bjornstad for the warm welcome, and to Charlie Allphin, Jeff VanDyke, Jon Voss, Chuck Comeau and Dr. Mike Oller for taking the time to offer input.
Speaking at Amber Wave Ribbon Cutting
In Phillipsburg this week, I spoke at the ribbon cutting and reveal for Amber Wave which is set to be North America's largest wheat protein plant. I toured this facility earlier in the year, and it is great to see the work being done to transform this plant into a leading ingredient, feed and low-carbon fuel producer. Biofuels offer tremendous opportunity for job growth as an industry contributing $2.2 billon to our state's economy each year. This $200 million investment will create 60 full-time jobs and drive economic growth in the surrounding area. Additionally, this facility will have the capacity to process roughly 10% of the wheat grown in Kansas when fully operational.
It is great to see Summit Agricultural Group choosing to invest in Kansas, and I look forward to seeing this industry grow in the future. Thank you to all who joined for this announcement, including Bruce Rastetter, CEO of Summit Agricultural Group, Justin Kirchhoff, President of Summit Ag Investors, Dave VanderGriend, CEO of ICM, Inc of Colwich, Jon Sargent, President of Todd & Sargent of Ames, Iowa, Elaine Bowers, Kansas State Senator, Rick Billinger, Kansas State Senator, Ken Rahjes, Kansas State House Representative, JD Schlieman, Executive Chairman of Amber Wave, Randy Cimorelli, CEO of Amber Wave and Kevin Bogenreif, Senior Director of Summit Ag Investors.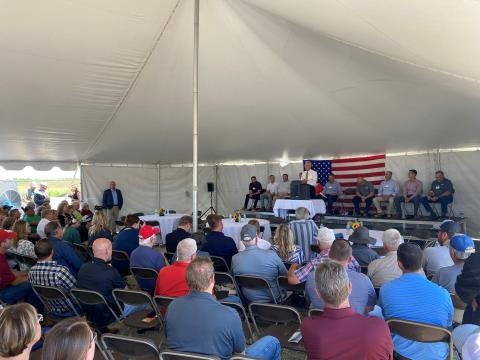 Sheridan County Townhall
This week, I hosted a townhall in Sheridan County. It was good to see many familiar faces and talk with Sheridan County residents about the issues that are important to them, as well as the challenges they are facing. My conversations with Kansans help inform the work I do in Washington, D.C. Thank you to Karl Pratt, Executive Director of Sheridan County Economic Development Corporation, for hosting this townhall, as well as those at the Sheridan County Community Foundation. I also want to thank all the local leaders who took part in this discussion.
Touring Solomon Valley Manor
Earlier this week, I toured the site of the new Solomon Valley Manor nursing home now being built in Stockton. The existing nursing home facility provides quality care and health services for seniors in the surrounding community, and it is great to see the construction of this new center which will improve quality of life for the residents of this home. Thank you to Solomon Valley Manor administrator Amanda Atkisson for giving me the tour, as well as City Commissioner Bob Becker for joining us and providing additional input on the ways in which this center serves Kansans in the area.
Touring Lil' Hawks Village Daycare
On Wednesday, I toured Lil' Hawks Village Daycare, a daycare facility currently under construction in Grainfield. Currently, there are no daycare facilities operating in Gove and Park, allowing this center to fill a much-needed void for childcare for the community. This daycare was made possible through collaboration with the Dane G. Hansen Foundation, USD 292, the Grainfield Community Development Committee (GCDC) and the Gove County Community Foundation. The center was appropriately named Lil' Hawks Village Daycare after the saying, "it takes a village to raise a child." It was great to see the work being done by the community to make this daycare facility a reality. I want to thank GCDC Chair Kay Haffner and Lil' Hawks Village Daycare Director Ashley Schultz for hosting me and for their work investing in young Kansans. Thank you also to J.R. Moses, Todd Flinn, Steve Watts, Duane Vollbracht, Marilyn Mong, Shari Burks, Becky Tucker and her children Larsen, Westen and Colten, Darren Racette, Harvey Heier and Bryant Briggs for joining us.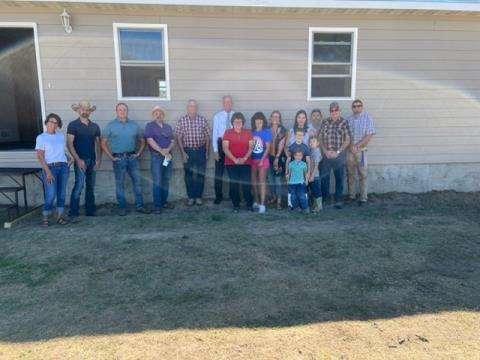 Touring SurePoint Ag Systems
Also on Wednesday, I visited SurePoint Ag Systems, a farm equipment manufacturer in Atwood, to tour the plant and learn more about its contribution to the Kansas Agriculture industry. SurePoint provides farmers with custom solutions for the control and application of fertilizer, seed and farming chemicals. I appreciate SurePoint's commitment to improving agricultural technology innovation and for working for more than a decade to provide reliable equipment to Kansas farmers. Thank you to CEO Josh Wolters and Founders Blaine Ginther and Matt Wolters for organizing the visit, and to the many members of the SurePoint team who joined me on my tour of the facility.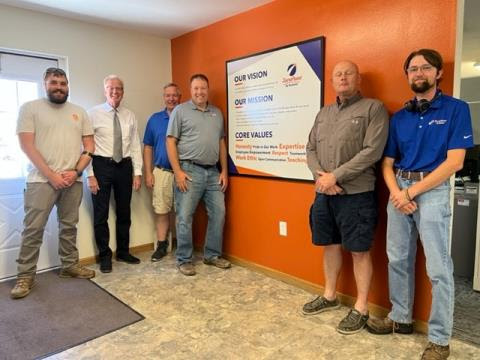 Visiting Quinter
This week, I also visited Quinter to meet with Kansans there and discuss the issues that are important to them. It was great to see many familiar faces during my stops in town to Gove County Farm Bureau, Cooksey's Appliances, U.S. Post Office, The Bank, Ray's Pharmacy and Equity Bank.
Touring Citizens Medical Center
Today, I toured the Citizens Medical Center in Colby and met with hospital leadership to discuss the issues and challenges they are currently facing in their work to provide health care services to residents of Northwest Kansas. During our meeting, it was great to hear about the steps being taken to construct a new hospital in the future and to expand their child care center to meet the needs of the community. Thank you to Citizens Health CEO David McCorkle, City of Colby Manager Ron Alexander and President and CEO of the Chamber of Commerce Sean Hankin for hosting me during this visit and for providing valuable insight during our conversation.