Overhauling the Organ Transplant and Donation Program
On Wednesday, Department of Health and Human Services (HHS) Secretary Xavier Becerra testified before the Senate Appropriations Subcommittee on Labor, Health and Human Services, and Related Agencies. The hearing came hours after the Health Resources and Services Administration (HRSA) announced its intent to overhaul the organ procurement and transplant network (OPTN) contract. During the hearing, I secured a commitment from Secretary Becerra that the department will work to create a more transparent and open process for the OPTN contract.
The sole contract to oversee the nation's organ transplant system has been held by the United Network for Organ Sharing (UNOS) for more than 30 years. In 2018, UNOS developed a new liver allocation policy that colluded against Midwest and Southern states. As the result of a lawsuit, UNOS was required to publicly release emails in 2021 that revealed clear collusion between UNOS, a New England-area organ procurement organization, and others as they crafted the new liver allocation policy.
For years, my former colleague Roy Blunt and I have continually flagged for HHS how harmful and unfair the liver allocation rule is for the Midwest and the South. New data released last week by the Washington Post confirmed Kansas has been significantly harmed by the new liver allocation formula since implementation began in 2020. In 2021 alone, between 51-75% of livers donated in Kansas were transported to an out-of-state patient. Our state also saw a 50% decrease in liver transplants from 2019 to 2020. These statistics are devastating to a state where organ donations remain high but where we are seeing more deaths as a result of the unfair liver allocation formula.
HRSA's proposal to divide up the OPTN contract and open competition for contracts to new organizations is certainly a step in the right direction. I am hopeful the department is beginning to take the life and death battles Americans are facing through the current OPTN system more seriously.
You can watch my full questioning of Secretary Bercerra here.
The U.S. Faces a Determined Adversary in the Chinese Communist Party
This week, as Russian President Vladimir Putin and Chinese President Xi Jinping signed an agreement to strengthen their alliance, I spoke on the Senate floor to warn against threats from China and Russia.
In meetings with senior U.S. military officers and intelligence officials, and in my conversations with Kansans, I have heard many concerns about the intentions, but more importantly the actions of the People's Republic of China. The Chinese Communist Party led by Xi Jinping, the most powerful leader of the CCP since Chairman Mao, is on a determined, calculated mission to overtake the United States in fields that will shape the 21st century. Beijing is intent that, rather than the United States of America influencing world events in a way that favors and bends towards our principles of a free and open world, they bend towards China's authoritarian model.
China now produces 40% of the world's key vaccines and medicinal ingredients, and by 2025 is on track to produce 65% of lithium-ion batteries and almost 1 in 5 semiconductors, both important for military purposes. Furthermore, two-thirds of all global trade flows by ocean through the region around the South Pacific ocean.
Our domestic disagreements run deep. But the myriad challenges that we face from abroad should help us see we need to work together to urgently address the threats we face. When America is strong and secure, we ensure Americans are free and prosperous and that the entire world has a greater chance to join us in the pursuit of freedom and prosperity.
You can watch my full remarks here.
Joining Delegation to Mexico City to Urge Cooperation on Mutual Security Challenges
This past weekend, as a member of the Senate Select Committee on Intelligence and ranking member of the Senate Appropriations Subcommittee on Commerce, Justice and Science, I joined a congressional delegation in traveling to Mexico to visit intelligence, drug enforcement and government officials there.
The delegation received briefings from U.S. intelligence officials, the U.S. Drug Enforcement Administration and U.S. Ambassador to Mexico Ken Salazar on the United States' security posture with regards to Mexico, recent killings of Americans in the country, efforts to stop drug trafficking and illegal immigration at the U.S.-Mexico border. The delegation also met with Mexican President Andrés Manuel López Obrador and members of his cabinet to discuss how to improve coordination between the two countries on these issues.
We traveled to Mexico to discuss how the U.S. and Mexico can work together to apprehend violent cartel members, stem the flow of deadly drugs like fentanyl and mitigate unchecked migration. During our meeting, I urged President Lopez Obrador to work with the United States on these serious challenges. I appreciated his interest in stopping the fentanyl precursors coming from China to Mexico and our dialogue regarding the purchase of Kansas corn under the USMCA. I will be monitoring developments on all of our mutual security and trade challenges.
Today, NBC News reported that the U.S. and Mexico are preparing to announce a deal to counter fentanyl coming across the southern border. This tentative agreement would allow U.S. federal law enforcement to work more closely with Mexican law enforcement in order to combat drug smuggling. You can read more from NBC News here.
Honoring World Food Programme Executive Director David Beasley
As respective co-chairs of the Senate and House Hunger Caucuses, Representative Tracey Mann and I hosted a joint reception to honor retiring World Food Programme (WFP) Executive Director David Beasley. We thanked him for his remarkable leadership and tireless work over the past six years with WFP. Director Beasley's leadership and passion for serving others stood in the gap to help provide food security for millions and stability for nations. I know his passion for serving others is ongoing, and I am eager to support him in any way I can in the future.
During this event, we also congratulated Ambassador Cindy McCain on her appointment to serve as WFP Executive Director. I look forward to working with her in the fight to end global hunger and to help those in need across the world.
Lunch with Midshipmen at U.S. Naval Academy
On Tuesday, I had the opportunity to have lunch with midshipmen from Kansas at the United States Naval Academy in Annapolis, Maryland. One of my most meaningful responsibilities as a U.S. Senator is nominating Kansas students to military academies, and I always enjoy the chance to hear from these young men and women about their service to our nation.
Thank you to those who had lunch with me, including several whom I had the honor of nominating: Blaise Hayden of Manhattan, Tom Joyce of Prairie Village, Rudy Rodriguez of Salina, Harden Boldt of Overland Park, Brooke Illum of Olathe, Grant Treaster of Newton, Sophie Scrivner of Andover, Ben Witte of Great Bend and Calvin Tran.
While at the U.S. Naval Academy in Annapolis, I also took a moment to visit the grave of Senator John McCain and pay my respects to a true American hero who sacrificed much in service to his country.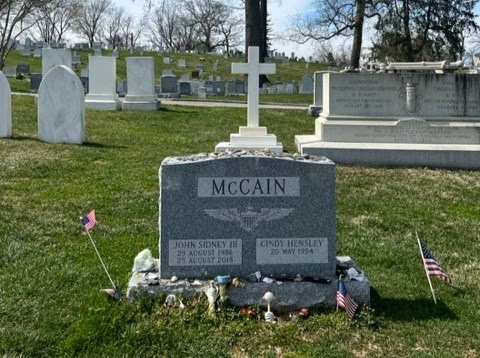 Commerce Committee Hearing on Federal Data Privacy
This week, the Senate Committee on Commerce, Science and Transportation held a committee markup on several pieces of legislation, including my NOTAM Improvement Act. The committee also considered legislation introduced by Sens. Ted Cruz and Maria Cantwell, the Informing Consumers About Smart Devices Act, which would require manufacturers of "smart home" devices to disclose whether their product contains a camera or microphone when not obvious to consumers. This bill was introduced in response to an increase in the incorporation of audio and video recording devices in everyday appliances, like refrigerators and washers.
I supported this bill passing the Commerce Committee this week, but introduced two amendments to the bill: 1) to prohibit manufacturers from collecting or processing data unless the owner has explicitly consented to such collection; and 2) to require the Federal Trade Commission (FTC) to submit a report to Congress on the data related to this legislation. I withdrew these amendments on the promise that comprehensive data privacy will be addressed and debated this Congress.
Enacting a federal data privacy standard that protects the data of all Americans is a priority of mine, and I have introduced legislation that would put consumers in control of their own data, require companies to implement data security measures and provide businesses certainty regarding their data privacy responsibilities. Enacting a data privacy law also has consequences for our national security and how Congress handles threats to our data from our foreign adversaries. I appreciate the commitment of Chair Cantwell and Ranking Member Cruz to work with me to pass a law that guarantees Americans the ability to determine how their personal data is used.
You can watch my remarks here.
Bill to Improve Safety of FAA System and Prevent Outages Passes Committee
During the Senate Commerce Committee hearing, the NOTAM Improvement Act passed out of committee. As ranking member of the Senate Commerce Subcommittee on Aviation and co-chair of the Senate Travel Caucus, I introduced this bipartisan legislation with Sens. Amy Klobuchar and Shelley Moore Capito to help prevent Federal Aviation Administration (FAA) system outages. The NOTAM Improvement Act would require the FAA to strengthen the resiliency and cybersecurity of the NOTAM system, which alerts pilots of safety and location hazards on flight routes. This bill comes after the recent Notice to Air Missions (NOTAM) system failure in January that grounded flights nationwide.
The complete failure of the FAA's NOTAM system stranded millions of Americans and was a warning of the need to strengthen and modernize our air travel system. The FAA has a responsibility to make certain air travel in our country is as safe and efficient as possible. Moving this legislation forward is an important step to help meet the demands of 21st-century travel and prevent a similar failure in the future.
You can read more from WIBW here.
Committee Hearing on VA Workforce Retention and Recruitment
This week, as Ranking Member of the Senate Committee on Veterans' Affairs, I led a hearing to discuss the needs of the Department of Veterans Affairs to bolster its workforce and improve recruitment and retention of health care professionals. VA is the largest integrated health care system in the country, with nearly 400,000 employees serving approximately 6.5 million veteran patients each year. Those veterans deserve to have the best health care possible, with caring and competent providers delivering high-quality, 21st-century care.
Instead, the Veterans Health Administration is often constrained by outdated rules. I am interested in how VA can overcome these challenges, improving on its current hiring and onboarding processes, and hire the right people without unnecessary delay. Our committee stands ready to support any necessary changes, and I look forward to updates on how VA is able to improve its hiring of health care professionals. Our veterans deserve the best, and VA must endeavor to make certain it is meeting this standard.
Questioning Transportation Secretary Pete Buttigieg
This week, I had the opportunity to question the Secretary of the U.S. Department of Transportation, Pete Buttigieg, during his testimony before the Senate Appropriations Subcommittee on Transportation, Housing and Urban Development. During the hearing, I questioned him on topics that will aid in bolstering the workforce within the trucking industry which is essential in moving goods and commodities. I also raised the importance of continuing to support the growing field of Advanced Air Mobility, which will make certain the U.S. remains competitive within the aerospace realm. I look forward to continuing to support these fields in my role on this subcommittee.
Meeting with Kansans
Kansas Bankers Association
On Tuesday, I met with members of the Kansas Bankers Association and received an update from them. Given the recent stress in the banking sector, I was encouraged by the reports of stability from Kansas banks. We discussed the safeguards in place to make certain Kansas banks can continue serving local communities for years to come. Our state's banks are diversified and not overly reliant on volatile markets, giving them increased insulation from potential shocks to the economy. Local lenders in Kansas know their communities and the families and businesses in them, filling a crucial role in our small towns. I look forward to continued support for Kansas banks as stable and reliable institutions for depositors.
National Association of Conservation Districts
This week, I met with a group representing the National Association of Conservation Districts, including Kansans Dan Meyerhoff, Amanda Scott, Andrew Lyon and Jerry Clasen. We discussed conservation developments in Kansas and how Farm Bill conservation programs support their work. The group stressed the importance of local conservation working groups and increased investment in a robust workforce to provide qualified technical assistance to producers. I want to thank each of them for taking the time to speak with me on these topics.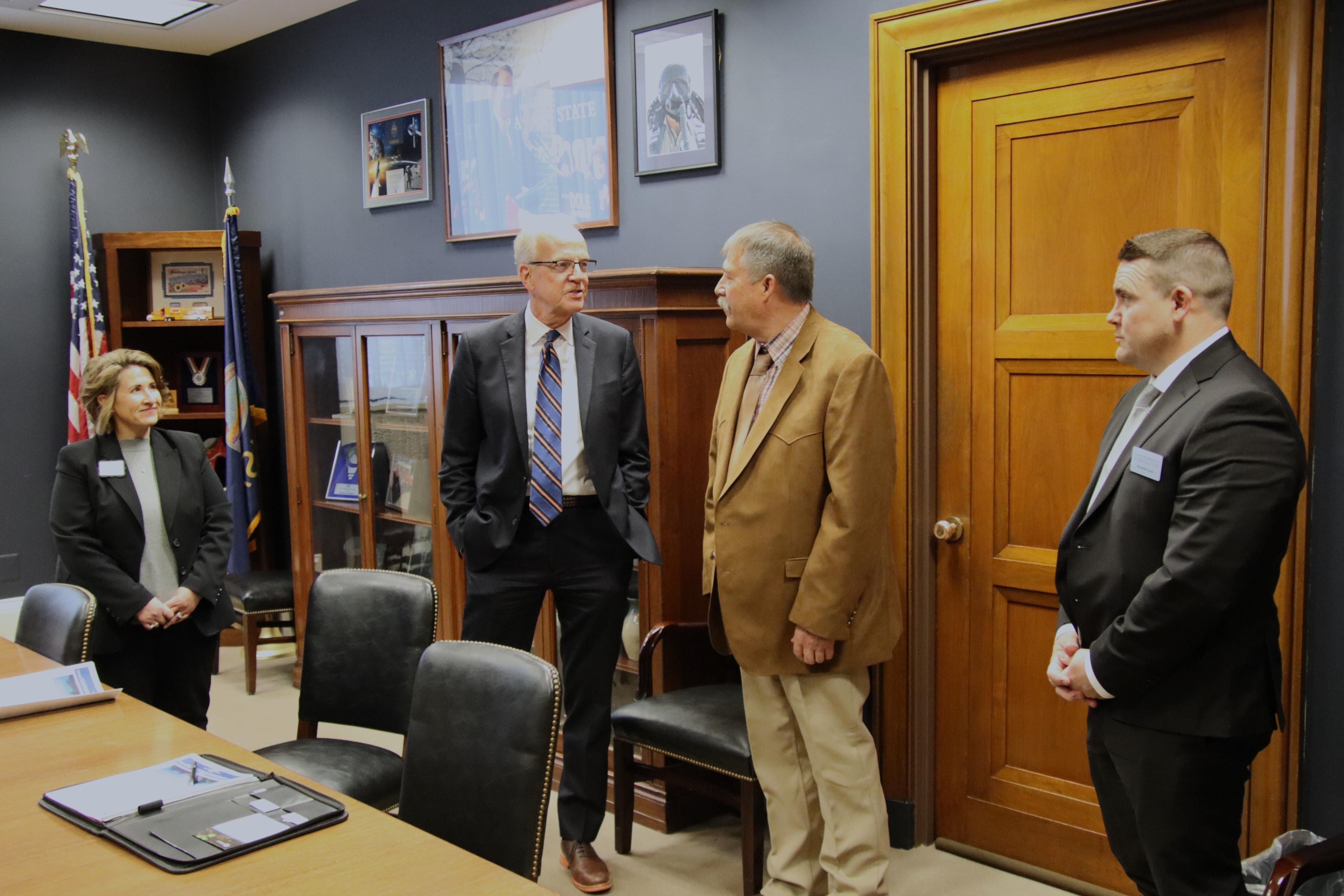 Kansas TRIO
On Wednesday, I enjoyed the chance to meet with participants and program leaders of TRIO, an educational opportunity outreach program that supports students from all walks of life. As a member of the Senate Appropriations Subcommittee on Labor, Health and Human Services, Education and Related Agencies, I understand the influence that organizations like TRIO have on a student's life and will work with my colleagues to continue to support them. Thank you to not only the TRIO participants for sharing their stories with me but also the leaders of this program for their continued dedication and efforts to invest in Kansas students.
Addressing American Association of Airport Executives Legislative Forum
On Wednesday morning, I addressed the American Association of Airport Executives & Airports Council International (AAAE/ACI) Legislative Forum. This is a two-day conference that brings together airport executives from across the country to collaborate on issues facing the industry and hear from legislators and other government officials. As consumers of air travel, we take advantage of the access it provides as it has become indispensable to our daily lives, and airports – whether large or small – are community anchors, providing local business and residents access to the global market.
As the lead Republican of the Senate Commerce Subcommittee on Aviation and with FAA Reauthorization set to expire this fall, I am committed to making certain our airports, regardless of size, remain strong. It was great to see Kansas airports represented, and I want to thank Jesse Romo, Dwight D. Eisenhower Airport Director, for his introduction at the forum.
Receiving an Update from Joby Aviation CEO
On Wednesday, I met with the CEO of Joby Aviation, JoeBen Bevirt. Joby Aviation is an Advanced Air Mobility company working to make travel easier and more efficient by utilizing electric aircraft. The company recently completed the second stage of the FAA Certification process and moves it one step closer to its goal of commercial passenger service by 2025. The promise of the Advanced Air Mobility sector is evident, and with Kansas' rich history in aviation and manufacturing capacity, our state seeks to gain from this exciting new technology and industry. I appreciated the update from JoeBen on the advancements in this sector.
Meeting with Plains Cotton Cooperative Association
On Wednesday, I met with Kevin Brinkley, the President and CEO of the Plains Cotton Cooperative Association. We discussed the upcoming Farm Bill and the importance of reauthorizing and updating the law to address issues facing cotton growers in Kansas. We also spoke about how vital it is to make certain that Congress pays attention to important farm safety net programs, including crop insurance, and the importance of trade and foreign market access.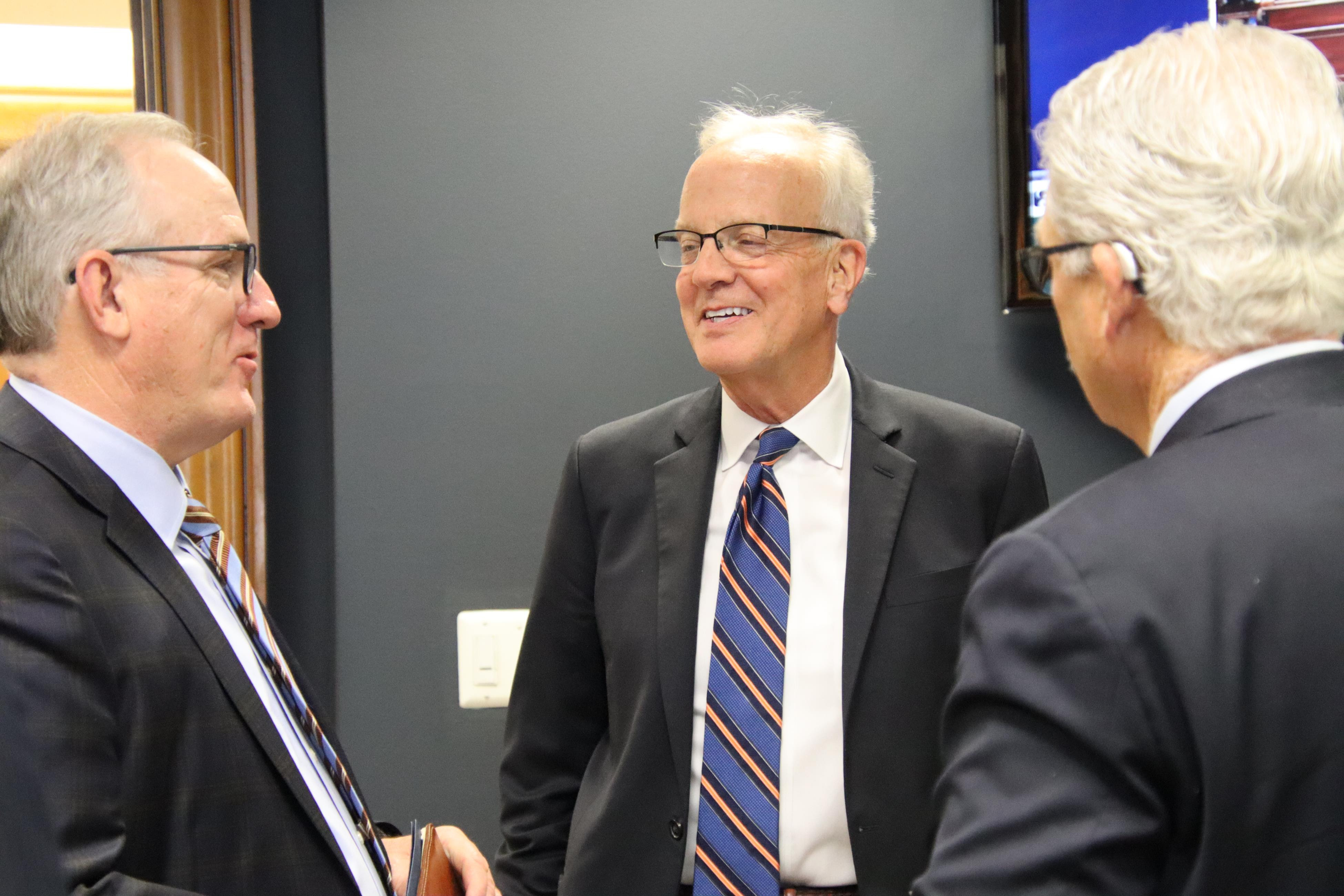 Coffey County Community Visit on CHIPS Funding
On Friday, I met with community leaders of Burlington to discuss economic development issues, particularly EMP Shield's plans for an expansion of their existing Coffey County operations. EMP Shield, a local semiconductor company, recently announced plans to invest $1.9 billion in a computer chip manufacturing facility in Coffey County that will create 1,200 well-paying STEM-related jobs in rural Kansas. A long-standing goal of mine has been to make certain Kansans can receive a world-class STEM education here in Kansas and are not forced to leave the state to put their education to use.
This project provides an avenue for Kansans to pursue a career in the semiconductor industry, a critical sector for our nation's economic and national security. I supported the CHIPS and Science Act last year in part to ensure America has a stable supply of semiconductors, which are included in a vast number of consumer and military products. As the lead Republican of the Commerce, Justice, and Science Appropriations Subcommittee, which has jurisdiction over the implementation of the CHIPS program, I will continue to oversee the Department of Commerce's implementation of these programs to make certain Kansas has the opportunity to play a role in shaping our nation's economic and military future.
Thank you to Mayor Stan Luke, Mayor Jacob Marsh, County Commissioners Jesse Knight and Tom Hugunin, State Representative Eric Smith, Bobby Skipper, Tim Carty, Peter Keegan, Dr. Will Reese, Brett Wagoner and Garret Nordstrom for sharing their time with me.
Visiting Yates Center Senior High School
On Friday, it was great to have the opportunity to visit Yates Center Senior High School to hear from students and faculty members. Thank you to Principal Tamara McMurray and these students for hosting me.
Celebrating World Down Syndrome Day
This week marked World Down Syndrome Day, when we celebrate members of the Down syndrome community and the joy they bring to those around them. As co-chair of the Senate Down Syndrome Caucus, I will continue working to promote policies and that support individuals with Down syndrome and their families.
Recognizing National Agriculture Day
Tuesday was National Agriculture Day. I am grateful to the farmers, ranchers and producers in Kansas and across the nation who sacrifice much and work tirelessly each day to put food on our tables. These men and women play a vital role in feeding our world and fueling our economy.
Now Accepting 2023 Service Academy Applications
Applications are now open for students to apply to a United States Service Academy for the Class of 2028. One of my favorite duties as a U.S. Senator is appointing Kansans to the U.S. Military Academy in West Point, New York; the U.S. Naval Academy in Annapolis, Maryland; the U.S. Air Force Academy in Colorado Springs, Colorado and the U.S. Merchant Marine Academy in Kings Point, New York.
For the list of requirements and to apply, you can visit my website here. All application materials are due to my Olathe office by Friday, September 1, 2023. After applications have been reviewed, applicants will be notified of interviews with my Service Academy Selection Board.
FOR PARENTS AND STUDENTS: You can learn more about the U.S. Service Academy application and nomination process from my Service Academy Coordinator Lisa Dethloff, representatives from each service academy, current academy students and parents of academy graduates. Details for the upcoming information sessions are below.