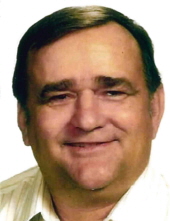 Richard Olson, 83, of Lenexa, Kansas went to be with the Lord on Saturday, April 25th, 2020. He was born in Erie, Kansas on August 14th, 1936. He was the son of Virgil Olson and Myrtle (McGuffey) Van Buskirk. He went to school in Erie where he played football and graduated in 1954.
He was drafted with his brother, Leon, out of college. He served in the Army in the 38th regimen in the 2nd infantry division out of Ft. Lewis in Washington State. He served as a sergeant for two years. After returning home, he continued his education at Chanute Community College and received his degree as a land surveyor. He worked for the state of Kansas to help build the I-70 Highway.
Richard was loved by his wife Mona (Matson) Olson and children Richie Olson, Tammy Olson, Pam Olson, Tony Olson, and Robert Olson and his wife Rachel Olson. He leaves behind two brothers, one sister, eight grandchildren and ten great grandchildren and numerous nieces and nephews.
He is proceeded in death by two brothers, Everett and Leon, and one sister, Norma.
If you would like to send condolences, cards, or flowers please send them to:
15944 S. Clairborne St. Olathe, KS 66062.
If you would like to donate in his name, please do so to either:
Korean War Veterans Association Memorial – Contributions (KWVA)
PO Box 407
Charleston, IL 61920
www.KWVA.org/in_memoriam/in_memoriam.asp
OR: Veterans of foreign wars at
406 W. 34th Street
Kansas City, Missouri 64111
www.vfw.org
Arrangements are under the direction of the Cheney Witt Chapel, 201 S. Main St., Fort Scott, KS. Words of remembrance may be submitted to the online guestbook at cheneywitt.com.