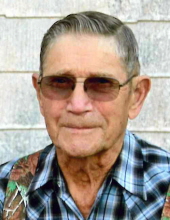 Elvis "Sode" Myrle Reeder, age 87, of Bronson, KS, passed away peacefully into the arms of our Lord on Friday, December 21, 2018, at Freeman West Hospital in Joplin, MO, after a sudden illness.
Elvis was born January 31, 1931, in Uniontown, KS, the firstborn of three children to Eldon "Buzz" Delois Reeder and Hazel Levonia "Vone" (Shull) Reeder.
He was raised in the Uniontown and Bronson area on his family's farm. His family lived in the area for several generations and Elvis worked on the family farm as well as for other farmers in the area as a young man while attending school. He graduated from Bronson High School, where he excelled in the sports he loved: football, basketball, track and boxing.
While attending high school, he met the love of his life, Geraldine "Geri" Patricia Wolford. Following graduation, they were married at the Bronson Methodist Church on July 16, 1950.
In 1952, he received his draft notification to report for induction into the United States Marine Corps for service in the Korean War. He proudly served his country for two years from 1952 through 1954, serving overseas in Korea.
He was honorably discharged following his service to his country and he and his wife Geri became an inseparable pair for the remainder of their 68-year marriage. To their union was born two sons, Elvis Erwin and Steven Wayne.
In the early days of their marriage, Elvis worked on the construction crews of Highway 54 near Bronson and in construction as Moran Grade School was being built. He then began work for the Bronson Grain Company where he was employed for 45 years. During his employment with Bronson Grain, Elvis also learned by correspondence course how to repair appliances and ran Reeder Appliance Repair. Not only did he repair appliances, but he did electrical work and repairs in the area as well. These things were all done in the small amount of time he had to spare while working for Bronson Grain, completely remodeling and nearly rebuilding his own home, raising a family and being active in community organizations.
Elvis was a 66-year member of Bourbon Masonic Lodge #268, having served in all or nearly every office and throughout that time made many friends and acquaintances. He was a 63-year member of the American Legion, first in Bronson and most recently in Moran, KS, having also served in many positions within. He was a faithful longtime member of the Bronson United Methodist Church, having served in many positions as well as maintaining the church building, church grounds and annex. Elvis was an active, longtime and faithful member of the Bronson Ruritan Club, serving in offices within the local organization, participating in each of the fundraising activities, working to maintain the local ball field as well as volunteering during events there. Elvis served on the Bronson Volunteer Fire Dept. in his earlier years and also served in elected Bronson city government positions.
He was fully committed to his hometown and believed in it and was a selfless volunteer, willing to help out anytime a neighbor or friend needed a hand. Elvis was known as an honest, hard worker, as someone who could repair or fix nearly anything, and a dependable man of his word. He was a man of few words, rather quiet and unassuming but never short on action.
He enjoyed hunting and fishing in his younger years as well as bowling with his fellow employees for Bronson Grain. Elvis also enjoyed raising a few calves a couple of times each year, had an immaculate and productive garden, loved working in and maintaining his yard and home, helping others, building, and woodworking. There was not a season that he didn't enjoy just being outside.
More than anything, Elvis loved his dear wife Geri, his family, children, grandchildren and great-grandchildren. He looked forward to each and every time he got to speak with them or see them. The great-grandchildren dearly loved the times that "Granddad" would take them on rides in the old gas-powered golf cart. Each will remember the ways in which he loved them with his kind but ornery smile and the ways in which he would tease them in a loving way.
Elvis was preceded in death by his parents Eldon and Vone; a son Elvis Erwin; and brother Lynn.
Elvis is survived by his wife, Geraldine "Geri", of the home; son Steve and wife Betty of Carl Junction, MO; granddaughter Sonia and husband Paul Jones of Garnett, KS; granddaughter Andrea and husband Mike Page of College Grove, TN; grandson Bill Reeder of Garnett; grandson Todd Reeder and wife Ashley of Smyrna, TN; granddaughter Kattia Andrews of Iola, KS; grandson Zach Andrews, currently serving in the U.S. Navy; sister Maxine Kruse of Cape Coral, FL; ten great-grandchildren: Sophia, Gavin, McKenzy, Cooper, Wyatt, Madison, Abigail, Corban, Brynnlee and Braxten; beloved nieces and nephews; many other beloved family and friends.
Rev. Jim Stigall will conduct memorial services on Sunday, January 6, at 3:00 PM, at the Bronson United Methodist Church.
Private burial of cremains will take place at a later date in Bronson Cemetery.
In lieu of flowers, memorial contributions are suggested to the Bronson United Methodist Church and may be left in care of the Cheney Witt Chapel, PO Box 347, 201 S. Main, Ft. Scott, KS. Words of remembrance may be submitted to the online guestbook at cheneywitt.com.