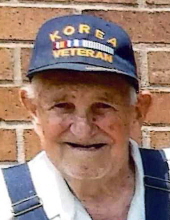 Walter Earnest Foulk, age 91, resident of Arcadia, KS, died Wednesday, October 23, 2019, at Ascension Via Christi Hospital in Pittsburg, KS.
He was the youngest of seven siblings, born on April 4, 1928, in Arcadia, the son of John and Lydia Moore Foulk.
Walter served in the Army during the Korean War.
He married Mary Alice Lynch in September 1955 and together they had four children (Connie, Lydia, Andrew and Lora).
She preceded in death on September 10, 2018.
He worked in Springfield, MO, beginning at the City Utilities, then Springfield Tablet, and finally for Litton Company.
Walter enjoyed fishing, watching football, tinkering with lawn mowers, and visiting with local friends.
He was a lifetime member of Arcadia American Legion Post #110 and a member of the Arcadia Christian Church.
Survivors include three children, Dorthy Lydia Baker, Springfield, MO, Andrew Foulk, Springfield, MO, and Lora Jean Pratt, West Alton, MO; seven grandchildren; and 11 great grandchildren.
Besides his wife, he was preceded in death by an infant son Connie; two brothers, John and Marion Foulk; fours sisters, Emma Suzetta, Violet Wilson, Vida Cullman, and Wanda Tullis; and his parents.
Funeral services will be held at 10:00 AM Saturday, October 26th, at the Arcadia Christian Church.
Burial will follow in the Sheffield Cemetery. Military honors will be provided by the Girard American Legion.
The family will receive friends from 5:00 until 7:00 PM Friday at the Cheney Witt Chapel, Fort Scott
. Memorials are suggested to the Arcadia Christian Church and may be left in care of the Cheney Witt Chapel, PO Box 347, 201 S. Main, Fort Scott, KS 66701. Words of remembrance may be submitted to the online guestbook at cheneywitt.com.