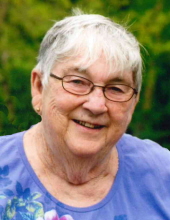 Linda June Hurd Riley, age 75, a resident of rural Ft. Scott, Kansas, passed away early Wednesday, May 30, 2018, at the Mercy Hospital in Ft. Scott.
She was born September 5, 1942, in Fort Scott, the daughter of Grant Wesley Wiggans and Osa Lavetta Morrow Wiggans.
Linda first married Willis L. Hurd on September 27, 1958, at Fort Scott. He preceded her in death on December 14, 2011.
Following his death, Linda married Richard Riley on April 6, 2013. Linda and Richard enjoyed six years of marriage.
In earlier years, Linda had worked in the cafeteria of both the Junior and Senior High Schools. She later retired from Smico-Norvell after many years of employment. Linda and Richard attended both the Fort Scott Church of the Nazarene and Diamond Community Church.
Linda enjoyed the fun times spent with her family and friends. She enjoyed nature and liked to spend time outdoors.
Survivors include her husband, Richard, of the home; three grandchildren, Ryan Robison, Charles Robison and Jayden Robison, all of Ft. Scott and a great-granddaughter, Elena Robison. Also surviving are her step-children, Christine Bosley and husband, Gary, of Ft. Scott, Belinda Yockey, of Joplin, Missouri, Nathan Riley of Newark, Ohio and Carol Johnson and husband, Mike, of Lawrence, Kansas; several step-grandchildren and step-great-grandchildren, a sister, Nancy Kelly, of Springfield, Missouri and numerous nieces and nephews.
In addition to her first husband, Willis, she was preceded in death by a daughter, Barbara Gibbs, a son, Charles "Chuck" Hurd, a great-grandson, Benjamin Robison; four brothers, Earl, Virgil, Don and Robert Wiggans and two sisters, Helen Lunday and Lois Wiggans.
Linda's niece, Lavetta Simmons, will conduct graveside services at 11:00 A.M. Monday, June 4th at the Clarksburg Cemetery.
The family will receive friends on Monday from 10:00 A.M. until leaving for the cemetery at the Cheney Witt Chapel. Memorials are suggested to Care to Share and may be left in the care of the Cheney Witt Chapel, 201 S. Main, P.O. Box 347, Ft. Scott, KS 66701. Words of remembrance may be submitted to the online guestbook at cheneywitt.com.