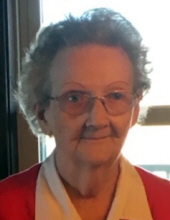 Mildred Irene Shelton, age 91, a resident of Ft. Scott, Kansas, passed away early Thursday, October 18, 2018, at the Guest Home Estates in Ft. Scott.
She was born December 31, 1926, in Stotesbury, Missouri, the daughter of Lee Dryer and Eleanora Stuart Dryer.
Mildred graduated from the Stotesbury High School with the Class of 1945. She married Everett Frank Shelton on June 27, 1946, in Nevada, Missouri. He preceded her in death on August 9, 2000.
Mildred was a devoted wife, mother and grandmother who always put the needs of her family above her own. She will be remembered for her quiet but loving personality and her love for children.
Survivors include her children, Linda Evans and husband, Sam; Dale Shelton and wife, Shelly and Lana Beerbower and husband, Gil, all of Ft. Scott; her daughter-in-law, Sue Shelton, of Redfield, Kansas and her seven grandchildren, Sherri Shelton, Kelly Eastwood, Scott Shelton, Katie Casper, Ryan Beerbower, Austin Beerbower and Braden Shelton and eleven great-grandchildren. Also surviving is a brother, Charles Dryer of Grants Pass, Oregon and a sister, Lora Mason, of Ft. Scott.
In addition to her husband, she was preceded in death by her son, Dennis Shelton, a granddaughter, Stephanie Shelton and two sisters, Iva Lee Scantlin and Alidene Brewer.
Graveside services will be held at 1:30 P.M. Monday, October 22nd at the U. S. National Cemetery.
The family will receive friends on Monday from 12:30 P.M. until leaving for the cemetery at the Cheney Witt Chapel.
Memorials are suggested to the Guest Home Estates Activity Fund and may be left in care of the Cheney Witt Chapel, 201 S. Main, P.O. Box 347, Ft. Scott, KS 66701. Words of remembrance may be submitted to the online guestbook at cheneywitt.com.