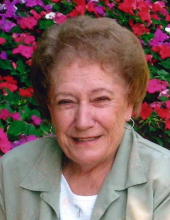 Margaret Mae (Boyle) Winter, age 88, of Fort Scott, passed away on July 13, 2019 at Moore-Few Care Center in Nevada, Missouri.
She was born June 29, 1931, in Las Vegas, New Mexico, the daughter of Charles and Agnes Boyle of Cuervo, New Mexico. Orphaned early in life, Margaret was raised by her grandparents Charles and Minnie Phelps in Fort Scott, Kansas.
She attended the First Baptist Church and was baptized into Christ as a young girl. Margaret attended Fort Scott schools graduating in 1951. On June 24, 1951, Margaret Boyle married the love of her life, Eugene Winter, in her grandparents' home. Margaret and Eugene recently celebrated 68 years of marriage.
After raising three daughters, she enjoyed working at Western Insurance Company in the coding department for 17 years, retiring in 1987. Upon her retirement, Margaret became active as a volunteer with CASA, Vacation Bible School, organizing church dinners and potlucks at Community Christian Church, CCC 55+ group, and her Thursday Deerfield breakfast crew.
Margaret was well-known for baking amazing pies, raising beautiful roses, loving her children, spoiling her grandchildren, and adoring her great grandchildren.
She is survived by husband Eugene of the home; three daughters–Joyce (Brad) Cowen, Fort Scott; Irene (Rick) Langerot, Mulvane, Kansas; Gina (Mike) Armstrong , Springdale, Arkansas; eight grandchildren– Amanda (Cowen) Hall, Amber (Cowen) Malone, Jill (Cowen) Cobb, Blake Cowen, Nathan Langerot, Nicholas Langerot, Erin (Armstrong) Merrill, Stacy (Armstrong) Meier; and 14 great grandchildren.
Margaret was preceded in death by her brothers Harold Richard Boyle, William Lewis Boyle, Robert Lee Boyle, Jimmy Ray Boyle; one sister Mildred Louise Leonard; grandson-in-law, Danny Hall; and great granddaughter, Blakely Jane Langerot.
Rev. Kevin Moyers and Rev. Tim Woodring will conduct funeral services at 10:00 AM Thursday, July 18th, at the Community Christian Church, 1919 S. Horton, Ft. Scott, KS.
Burial will follow in the U. S. National Cemetery.
The family will receive friends from 5:30 until 7:00 Wednesday evening at Community Christian Church.
In lieu of flowers, contributions can be made to the Show-Me Christian Youth Home (www.ShowMeHelpingKids.com), PO Box 6, La Monte, MO, 65337, or in care of Cheney Witt Chapel, PO Box 347, 201 S. Main, Fort Scott, KS 66701. Words of remembrance may be submitted to the online guestbook at cheneywitt.com.