Happy Kansas Day!
On January 29, 1861, the great state of Kansas was founded. Each year, Kansans everywhere celebrate the history, ideals, people and natural beauty that make our state unique. Our history is marked by the events and people that have shaped us into the state we are now, and I am encouraged by the many Kansans who paved the way before us over the years. I am grateful for the opportunity to represent the people of our state in the U.S. Senate and mindful of the many farmers, ranchers, teachers, entrepreneurs, parents and countless other unsung heroes who came before us.
Ad Astra Per Aspera. Happy birthday, Kansas!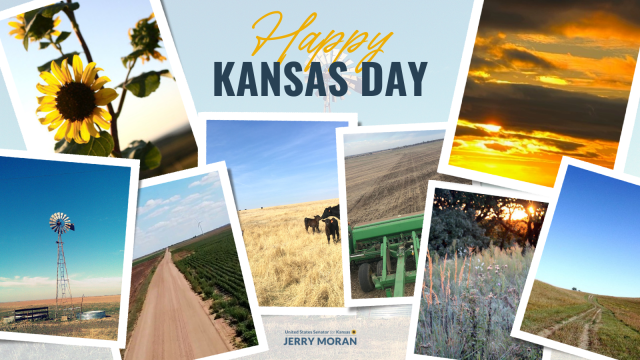 Congrats to the Kansas City Chiefs!
For the third time in four seasons, the Kansas City Chiefs are headed to the Super Bowl! This was truly a complete team win and that includes the entire training staff that helped get Patrick Mahomes and the Chiefs ready for the Bengals. It was also a special moment for Andy Reid and Clark Hunt to again hoist the Lamar Hunt Trophy at Arrowhead Stadium in front of Chiefs Kingdom.
Hosting Kansas Listening Tour Stop
Ellis County
On Friday, I hosted a Kansas Listening Tour Stop in Ellis County to speak with area residents regarding critical issues facing our state and nation. We discussed a number of important topics including the crisis at the border, Ukraine, support for our nation's veterans, special education funding and the FY2023 Appropriations Package.
Thank you to State Representative Barb Wasinger, State Senator Rick Billinger and everyone else from Ellis County who joined.
Meeting with U.S. Army Chief of Staff General McConville
This week, I met with U.S. Army Chief of Staff General James McConville and Sergeant Major of the Army Michael Grinston. We discussed my new role as co-chair of the Senate Army Caucus and how this caucus can help to advance Army priorities. General McConville recognizes Kansas' vital role in the Army's efforts to adapt and modernize the force. A strong U.S. Army is essential to our national security, and I look forward to working alongside the Army to advocate for our soldiers and their families. I will also continue to use my role as a senior defense appropriator to support Fort Riley and Fort Leavenworth, allowing them to continue their essential roles in ongoing missions.
Receiving an Update from DEA Administrator Anne Milgram
On Wednesday, I met with the U.S. Drug Enforcement Administration (DEA) Administrator Anne Milgram to discuss an update on the DEA's efforts to battle the flow of deadly fentanyl into the U.S. The DEA continues to target the two primary cartels in Mexico that are now operating worldwide. These cartels are involved in the trafficking of narcotics across the globe and are laundering hundreds of millions of dollars. In Kansas, the DEA has offices in Kansas City, Wichita, Topeka and Garden City where they are fighting drug-related violence as well as the influx of methamphetamine and fentanyl into our communities. I want to thank Administrator Milgram and her team for their work alongside state, county and local law enforcement to keep our streets and communities safe.
Introducing Legislation to Prohibit Sale of Oil from SPR to China
This week, I joined my colleagues in introducing legislation that would prohibit the sale of American crude oil from the Strategic Petroleum Reserve (SPR) to any company under the control of the Chinese Communist Party. This bill would also prohibit the export of any crude oil from the SPR to China.
After high inflation and crippling energy policies contributed to record-high gas prices, the Biden administration chose to release oil from the nation's emergency supply. Rather than unleashing American energy production, the Biden administration sold American crude oil from the SPR to the Chinese Communist Party. This decision has left our emergency energy supply critically low, risking our national security and aiding the Chinese government.
Introducing Legislation to Help Prevent FAA System Outages
As co-chair of the Senate Travel and Tourism Caucus and member of the Senate committee with jurisdiction over the Federal Aviation Administration (FAA), I joined Senators Amy Klobuchar and Shelley Moore Capito in introducing legislation to study and help prevent FAA system outages. This bill would require the FAA to establish a task force to strengthen the resiliency and cybersecurity of the Notice to Air Missions (NOTAM) system, which alerts pilots of safety and location hazards on flight routes.
The FAA has a responsibility to make certain air travel in the U.S. is as safe and efficient as possible. The complete failure of the NOTAM system on January 11, 2023 stranded millions of Americans and was a warning of the need to strengthen and modernize our air travel system. This legislation will help meet the demands of 21st century travel and help prevent a similar failure in the future.
Meeting with Big Brothers Big Sisters
This week, I met with Artis Stevens, CEO of Big Brother Big Sisters of America, Mary Shannon, President and CEO of Big Brothers Big Sisters of Kansas, and Tim Midkiff, Chief Operating Officer of Big Brother Big Sisters of America. We spoke about the work they are doing to provide our young people with positive role models and to set them up for success in the future.
For nearly one hundred years, Big Brothers Big Sisters has played an important role in our communities by providing mentorship to our youth who often face overwhelming adversity. Each year, their one-on-one mentoring program provides thousands of young Kansans with a positive mentor and friend to support them through tough times and to help give them brighter futures.
Meeting with Kansas Head Start
It was great to meet with members of Kansas Head Start this week to hear an update on their efforts to make certain children have the opportunity to begin their education at a young age. As a member of the Senate Appropriations Subcommittee on Labor-HHS-Education, I remain committed to supporting the resources necessary for Kansas Head Start to continue promoting and providing early childhood education in our state. Thank you to Joanie Burke, Kwamea Smith, Megan Cook, Michelle Taylor and Kim Sill for their update on this important work.
Welcoming New Riley County Police Director Brian Peete
On Thursday evening, I had the opportunity to join Manhattan and the entire Riley County community in greeting Brian Peete, the newly selected Riley County Police Department (RCPD) Director. I appreciated the chance to meet Director Peete and to speak with him about his priorities for the department. Our county sheriffs, chiefs of police, state troopers and all law enforcement officers play a critical role in keeping our communities safe, and I am grateful to Director Peete for his desire to serve in this role.
Attending Kansas Association of Wheat Growers Annual Meeting
This week, I attended the annual meeting of the Kansas Association of Wheat Growers (KAWG) and the Kansas Wheat Commissioners (KWC) at the Kansas Wheat Innovation Center in Manhattan. It was great to catch up with the board members and to visit about what they hope to see included in the new Farm Bill. We also spoke about the importance of a good wheat crop to the survival of many rural towns. The Kansas Wheat Innovation Center has played an essential role in a strong wheat industry in our state for 10 years now, and I look forward to continuing to work with KAWG and KWC to make certain our wheat farmers are successful.
Speaking at the Kansas Commodity Classic 
This week, I joined members of Kansas Corn, Sorghum, Soybean and Wheat at the Kansas Commodity Classic in Salina to discuss their priorities for the upcoming Farm Bill. We also spoke about the importance of crop insurance as a risk management tool for Kansas producers and the current challenges facing our farmers and ranchers with rising fertilizer and input costs. In addition, we discussed the negative impacts of the current administration's policies regarding Waters of the United States (WOTUS) and listing the lesser prairie-chicken as threatened.
These groups and their membership are a vital part of our strong agriculture community in Kansas, and I want to thank them for hosting me to speak about the many critical issues facing our farmers, ranchers and producers.
Successfully Delaying Listing of Lesser Prairie-Chicken
The U.S. Fish and Wildlife Service announced this week that it has delayed the effective date of the final rule to list the lesser prairie-chicken under the Endangered Species Act until March 27, 2023. This extension comes after I joined my colleagues in calling on Department of the Interior Secretary Deb Haaland to delay the listing date. While this delay gives industry stakeholders vital time to prepare, the choice to list the lesser prairie-chicken as threatened despite voluntary, locally-driven conservation efforts will still negatively impact critical industries in Kansas and remove any incentive for similar local efforts for wildlife conservation in the future. I am grateful for this extension, but I will continue to work to stop the listing from going into effect.
Speaking at Ribbon Cutting for Camber Hays
On Friday, I participated in the ribbon cutting for the Camber Children's Mental Health new building in Hays. This facility will allow Camber to greatly expand its patient base, allowing for 600 more kids to be treated each year and helping to make certain residents in Hays and the surrounding communities have access to quality care. I want to thank President Bobby Eklofe, KVC Health Systems CEO Jason Hooper, the generous donors and staff at Camber Hays for providing care to our children and helping them to achieve happy, prosperous lives.
Meeting with KVC Health Systems Leadership
While in Hays, I also appreciated the chance to meet with KVC Health Systems CEO Jason Hooper on Friday. We had a productive conversation about future projects and opportunities to increase access to quality health care for Kansans. I want to thank Jason for taking the time to meet with me and for his ongoing efforts to provide care in the area.
Remembering and Honoring Victims of the Holocaust
Friday marked Holocaust Remembrance Day. Each year, we remember the six million Jews and millions more who were murdered during the Holocaust. May we always remember those who perished and honor the courage and sacrificial love of those who risked or gave their lives to save others.
In February 2020, I visited the concentration camps in Auschwitz-Birkenau and signed the Remembrance Book. I wrote, "To the victims and the survivors – may all humans every day have the courage to never look the other way."