Kansans in the Office

Academy of Medical Surgical Notes
Monica van der Zee of Lenexa

Capitol Tour
Ryan Austin of Wichita

Peter Austin of Wichita

Rebecca Austin of Wichita

Tena Brucken of Soldier

Christie Britt of White City

Ryan Clements of Olathe

Abbie Clements of Olathe

Brooke Clements of Olathe

Madelyn Clements of Olathe

Emily Clements of Olathe

Sarah Hoefgen of Augusta

Emmie Johnston of Augusta

Peter Knutson of Prairie Village

Julie Knutson of Prairie Village

William Knutson of Prairie Village

Caroline Knutson of Prairie Village

Henry Knutson of Prairie Village

Lucy Knutson of Prairie Village

Dave Lien of Louisburg

Karen Lien of Louisburg

Erik Lien of Louisburg

Matthew Lien of Louisburg

John Migliazzo of Leawood

Linda Migliazzo of Leawood

Patrick Migliazzo of Leawood

Isabella Migliazzo of Leawood

Ramya Muvva of Wichita

Kayden Nield-Broadhead of Augusta

Rebecca Schmidt of Overland Park

Sara Schmidt of Overland Park

Nathan Smith of Overland Park

Lisa Smith of Overland Park

Stephanie Webb of Leawood

Braden Webb of Leawood

John Wells of Sedan

Marlene Wells of Sedan

Dr. Sean Wheeler of Olathe

Susan Wheeler of Olathe

Christopher Wheeler of Olathe

Lauren Wheeler of Olathe

Ben Wheeler of Olathe

Margaret Wheeler of Olathe

Sammy Wheeler of Manhattan

Virginia Wirtz of Overland Park

Tom Wirtz of Wichita

James Madison Foundation
Sonja Czarnecki of Lawrence

Sarah Hoff of Dodge City

Bryan Little of McPherson

Micah Corps – Great Plains United Methodist Church
Madelyn Johnson of Wichita

Emily Smith of Andover

NTCA
Brian Boisvert of Wilson

Rock Regional Hospital
Barry Bens of Derby

Landon Fulmer of Buhler

Tim Hand of Wichita




Celebrating Independence Day

Happy Independence Day! I hope each of you were able to spend the holiday with your friends, family and loved ones, celebrating our nation's founding and freedom. I also hope each of us took the time to express gratitude to our veterans and service members who have sacrificed to preserve our liberties and our American way of life. Without them, we would not experience the freedom and blessings we enjoy today.
50th Annual Sundown Salute Parade
It was great to be in Junction City yesterday for the 50th annual Sundown Salute Parade. This is a community of military men and women, veterans and people who care about them and their families. Military service is family service, and I was grateful for the opportunity to thank them as we celebrate our Independence Day.
Visiting Community Colleges

Groundbreaking Ceremony at Garden City Community College
Last Monday, I was at Garden City Community College (GCCC) to attend the groundbreaking ceremony for a new STEM building. The new facility will help the college expand its technical outreach and education programs, including programs on crop production, robotics and cyber security. The expansion of STEM education will also aid in expanding technical infrastructure, improve the quality of life in rural Kansas and help recruit new residents to our state.
As a member of the Senate Appropriations Committee, I was also able to help secure a federal investment for GCCC to bolster technological infrastructure and increase rural high school participation in dual credit courses. Thank you to GCCC President, Dr. Ryan Ruda, for inviting me to join this celebration. Most importantly, thank you to GCCC for ensuring that the next generation of Kansans will be STEM professionals dedicated to fostering technological advancements in the heartland.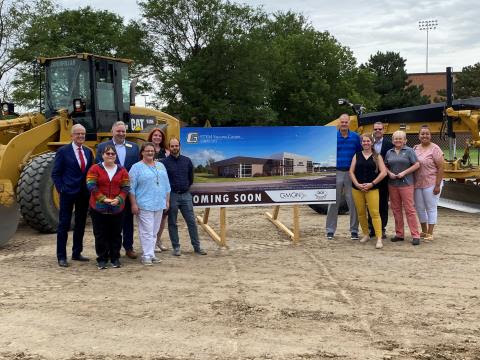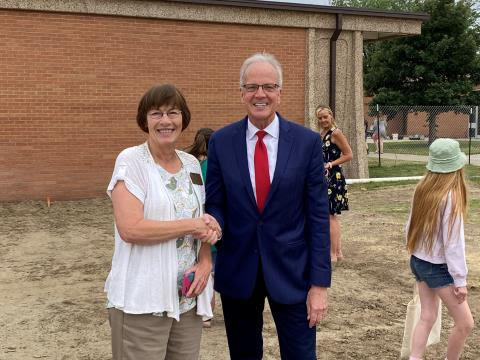 Seward County Community College
While I was in Liberal this week, I had the opportunity to tour Seward County Community College (SCCC). SCCC's talented staff and competitive education programs draw students from the community and across Kansas. From its Nursing program, to its Agriculture, Bio Diesel, and Commercial Vehicle Operation programs, SCCC is educating young professionals to meet the workface demands our country is facing. SCCC is also helping train and equip individuals who have immigrated to the U.S. by implementing language education alongside their technical programs.
I appreciate President Brad Bennett, Dr. Amber Jones and Trustees Kay Burtzloff and John Engel for inviting me to spend part of my morning at SCCC. Furthermore, I appreciate the hard work of SCCC to make certain that their educational programs are translated into real-world job opportunities.
Touring Kansas Hospitals
Morton County Health System
Earlier this week, I visited the Morton County Health System in Elkhart for a tour of their facilities and to learn more about their valuable role providing care to the surrounding community. As a result of legislation passed by Congress in December 2020, the facility is working towards a new Centers for Medicare and Medicaid (CMS) hospital designation that is designed to provide rural hospitals with a higher reimbursement rate. It was great to see the dedicated work of the hospital firsthand, and I remain committed to investing in rural Kansas hospitals by supporting their efforts to ensure access to quality care for the surrounding community.
As a member of the Senate Appropriations Committee, I was able to secure a federal investment for the Morton County Health System to renovate and consolidate outdated wings of the building so they can continue providing care for rural Kansans. Supporting access to quality health care in our rural communities is a critically important effort, and I am honored to be part of this vital initiative. Thank you to Brian Mitchell, Patrick Custer, Bill Light, Jim Tucker, Dr. Todd Johnson, JW Finn and Mayor Tim Hardy for their warm welcome and for their insight into the challenges facing their community.
Stevens County Hospital
I also visited the Stevens County Hospital in Hugoton where they gave me a full tour of their facilities and provided me with an update on the work they are doing to provide access to quality care in southwest Kansas. I want to thank Linda Stalcup, CEO of the Stevens County Hospital, for hosting me on this tour and for speaking at length with me about the unique challenges they face as they attempt to attract health care workers to the area, despite current staffing shortages.
We also discussed the benefits they have experienced from the flexibility provided by Nurse Aid, a key part of recent COVID legislation passed by Congress. Our health care providers are the cornerstone of our Kansas communities, and the work they do is an invaluable investment in a healthy future for our state. I remain committed to supporting these efforts of our health care providers, and I am always grateful to those who take the time to provide insight into the challenges they are facing. I also want to thank Stevens County Hospital Board Members Seth Gillespie, Johnnie Denton and Shannon Crawford for their warm welcome during my visit.


Bob Wilson Memorial Hospital
While in western Kansas, I visited Bob Wilson Memorial Hospital which is operated in Ulysses by Centura Health. During my tour, I was able to see firsthand the wide variety of services their facility offers to the surrounding area. It was great to meet the many talented health care professionals who work on a daily basis to serve rural Kansas and to make certain rural communities have access to quality health care. Our rural hospital systems provide vital support to our Kansas communities, and it is important that we support the training of medical professionals who choose to practice in this region. Thank you to Shawna Deal, Rodney and Ashley Johnson, Nora Elizadle, Sarah Wilmore, Bob Dale, Marietta Hauser and all of the dedicated staff at Bob Wilson Memorial Hospital for their time and insight during my visit.


Hodgeman County Health Center
I also visited Hodgeman County Health Center for a tour of their services and to hear from hospital leadership about the current challenges they face as they work to ensure access to quality care for surrounding Kansas communities. Thank you to Hodgeman County Health Center CEO David-Paul Cavazos for the tour and former State Representative John Ewy for joining us. We discussed the challenges they are facing as they battle the impacts of inflation on the day-to-day operations of the hospital, from the cost of fuel to rising prices for medical equipment. They also updated me on the future opportunities they see as they look ahead to responsibly expand services for surrounding regions. We also discussed their efforts to attract new physicians to their facility in spite of current workforce challenges.
Speaking to the Montezuma Lions Club
This week, I had the opportunity to speak with the Montezuma Lions Club. It was great to discuss the importance of preserving Kansas values and our special way of life here in the heartland. Through their commitment to service, civic organizations, such as the Lions Club, play a vital role in ensuring the success of our communities, and I am grateful to these members for their dedication to their communities.
I want to thank President Al Olinger for his warm welcome to the club meeting. I also appreciate Garrett Love, Greg Love, Daniel Berg, Tom Jones and Ryan Reed for hosting me and for their input on how to help our rural Kansas communities succeed.
Touring Arrowhead West in Dodge City
On Tuesday, I had the opportunity to visit Arrowhead West in Dodge City. It was inspiring to learn about the good work Arrowhead West does to ensure that people with developmental disabilities are empowered to lead healthy, productive and meaningful lives. Clients of Arrowhead West are employed in vital functions at businesses around Ford County including a partnership with Flame Engineering.
Thank you to Mike Stein, who is the incoming president, for the opportunity to visit this morning. And a special thank you to Lori Pendergast who is retiring after 40 years in the industry including over 20 years at Arrowhead West.
Visiting with Veterans at the Kansas Soldiers' Home in Fort Dodge
It was great to visit with veterans at the Kansas Soldiers' Home in Fort Dodge. There is no group of Americans who I respect and admire more than our country's veterans, and it is always a privilege to spend time visiting with them about their views on current happenings in our state and country. This facility in Fort Dodge, located on the grounds of a former military post which was active from 1865 to 1882, has been serving veterans for over 130 years. Today, the Fort Dodge Kansas Soldiers' Home offers a wide range of quality health care services for veterans, including restorative care, physical and occupational therapy and psychological services. As the lead Republican on the Veterans' Affairs Committee and a member of the Appropriations Committee, I worked to secure federal resources to improve and renovate the kitchen at the Kansas Soldiers' Home. Improving the quality of life for veterans across the country is a top priority for me, including the nearly 200,000 veterans living in Kansas. It is critical that our veterans receive the quality services, dignified care, and access to benefits they have earned in a timely fashion. I appreciate Superintendent Dave Smith for hosting me during my visit. I also want to express my gratitude to Alan Williams, Roy Taylor, Elmer Sparke, Gary Stowe, Jesse Rogers, Ben Black, Jerry Phelps, George Anderson, Bob Guern and Manford Koehn for their selfless service to our country and for taking the time to offer their perspectives on the unique set of challenges our veterans face.
Visiting the Ness City Rotary Club
While in Ness City, I had lunch with members of the local Rotary Club at More Than Coffee in Ness City. I enjoyed the opportunity to visit with community leaders from Ness City, as well as the chance to make new acquaintances and learn their perspectives on current issues. Our conversation focused on a variety of topics, including the importance of preserving our Kansas values, the burden of inflation on daily life, the consequences of the Biden administration's energy policies and the considerable role civic organizations, such as the Rotary Club, play in serving communities across Kansas. Thank you to those who hosted me at this event, including Club President Nathella Humburg, District Magistrate Judge Hon. R. Scott Barrows, Richard McCleon, Boyd Beutler and Joel Fitzgerald II.
Ribbon Cutting for South Kansas and Oklahoma Railroad in Cherryvale
On Thursday, I attended the ribbon cutting for the South Kansas and Oklahoma Railroad, celebrating the beginning of construction on a $27 million Consolidated Rail Infrastructure and Safety Improvements grant. Through the "Accelerating Economic Prosperity in the Heartland" project, I was honored to secure a federal investment in this crucial effort. This grant will provide valuable improvements to this rail system that runs through several rural communities in Kansas. Throughout the years, the South Kansas and Oklahoma Railroad has played a key role in ensuring our commodities make it to market, strengthening Kansas's role as a significant food source for our country and beyond. Without efficient and varied transportation options, our agricultural community here in Kansas is at a disadvantage. Modernizations to the South Kansas and Oklahoma Railroad will improve safety and efficiency while allowing heavier shipments to travel across the region providing new economic opportunities to our farmers and manufacturers in rural Kansas. I want to thank Watco CEO Dan Smith and SKOL Manager Jerry Waun for their work in this effort, as well as members of Bartlett Grain for attending this ceremony. I look forward to seeing the benefits of this project come to fruition.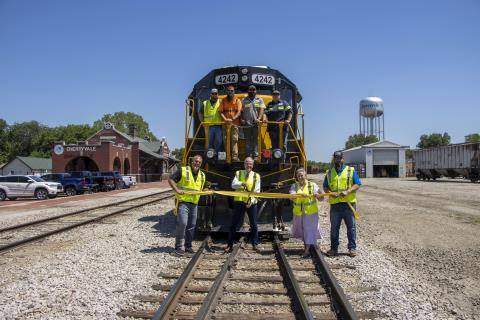 Meeting with Seaboard Corporation
This week, I was able to meet with executives of the Seaboard Corporation at their headquarters in Shawnee Mission. During our meeting, we discussed the current issues impacting their industry, as well as their day-to-day operations of food production, processing and shipping. I want to thank President and CEO Bob Steer, Vice President and CFO David Rankin, Vice President and General Counsel David Becker and Seaboard Foods President and CEO Peter Brown for hosting me during my visit.
Tour of Kubota Tractor Corporation Midwest Division
On Wednesday, I had the opportunity to tour the Midwest Division of the Kubota Tractor Corporation in Edgerton. During my visit, I was able to get an in-depth look at the state-of-the-art logistics facility that Kubota has built here in Kansas. I appreciate Kubota's decision to plant roots in our state, as this business is one that actively supports the agricultural interests of our Kansas communities. The Kubota branch in Edgerton not only benefits our farming community, but also plays a key role in strengthening our state's manufacturing abilities and creating new jobs for Kansans. I appreciate Corey Sowers, Kathi Dailey, Donald Orum, Ashlin O'Brien, Justin McGarry and Jerry Burau for their warm welcome and informative tour.
Visiting Baldwin City
I also had the chance to stop in Baldwin City to visit local businesses and organizations and to spend time speaking with several city leaders about the issues facing their local community. I always appreciate the valuable insight I receive from Kansans during these conversations. During my time in Baldwin City, I was able to visit City Hall, the Baldwin City Chamber of Commerce, Clear Wave Fiber, Baldwin State Bank, Farm Bureau Financial, Edward Jones and Baker University. I want to express special thanks to Dr. Lynne Murray, President of Baker University, for taking the time to meet with me and for updating me on the important work they are doing to train tomorrow's workforce.