Resources

To find further resources on how to protect you and your family, visit
coronavirus.gov or the Kansas Department of Health and Environment website here.

Vaccines in Kansas

Visit kansasvaccine.gov for information regarding COVID-19 vaccinations in Kansas, including availability and FAQs.

To find providers offering COVID-19 vaccinations, use KDHE's Find My Vaccine map tool. Enter your zip code or address to find the providers nearest you.

Assistance

If you are a Kansas resident and you or your family needs assistance with matters related to COVID-19, please click here.

Kansas Informational Resources

Please visit the Kansas Department of Health and Environment here.

U.S. Small Business Administration Resources

For information regarding the Paycheck Protection Program (PPP), please visit the U.S. Small Business Administration's website by clicking here.

For information regarding Economic Injury Disaster loans, please click here.

Veteran Resources

For information on veteran and VA related topics, resources and contact information, please click here.

———–

Phone Calls to Kansans

Vern Hendricks, Rotary International, Manhattan

Jeff & Marla Copper, Copper Agency, Hays

Richard Ross, Retired Kansas Supreme Court Reporter, Topeka

Bob & Lynne Haines of Manhattan

Tom Gentile, Spirit AeroSystems, Wichita

Marcia Mies, Manufacturing Development, Inc., Cheney

Jim Lee, Lee Aerospace, Wichita

Henry Newell, Orizon Aerostructures, Kansas City

Pierre Tremblay, CEO, Learjet, Wichita

Tony Mahoney of Bunker Hill

Greg King, H.M. Dunn Aerosystems, Wichita

Lindsay Koster, Mid Continent Instruments, Wichita

Jason Cox, Cox Machine, Wichita

Dr. Roy Jensen, University of Kansas Cancer Center, Fairway

Brian Mackey, Dynamic NC, Rose Hill

Brenda & Les Herrman of Hays

Pat Gideon, President, Silver Lake Bank, Topeka

Jason Marietta, Jake's Fireworks, Pittsburg




Hello,

Welcome to "Kansas Common Sense." Thanks for your continued interest in receiving my weekly newsletter. Please feel free to forward it on to your family and friends if it would interest them.

We Shall Never Forget

Remembering September 11, 20 Years Later

Saturday marked 20 years since the September 11 attacks that razed New York City's Twin Towers, decimated the west side of the Pentagon, hallowed a field outside of Shanksville, Pennsylvania and claimed 2,996 American lives. Two decades later, those initial moments of fear and uncertainty still burn brightly in America's collective memory and stand as a defining moment in our nation's history.

We shall never forget. As the events of September 11 have brought profound change to America and the world, we will never forget the lives lost that day and the sacrifice of so many—firemen, law enforcement officers, co-workers, friends, neighbors and strangers—who answered the call to serve and save their fellow Americans and to those who have answered the call to service since.
Following the September 11 attacks, our military servicemembers and veterans in Afghanistan fought honorably to accomplish every mission their country asked of them. Over the past two decades, veterans, their fellow servicemembers and their families have sacrificed greatly while fulfilling their mission in Afghanistan. As the lead Republican of the Senate Committee on Veterans' Affairs, I want each veteran to know that they not only have my support, but also my admiration and confidence for what they have achieved and what they will go on to achieve for our country.
May we never forget the way we united in the aftermath of the attacks, as one nation under God. And may we renew our commitment to respecting one another, to working together for the common good and to answering the call to serve.
Delivering Remarks Commemorating the 20th Anniversary in McPherson
On Saturday, I participated in McPherson's ceremonies commemorating 20 years since the September 11 attacks. When I remember that Tuesday, I think about the shared devastation we, as Americans, felt. But, I also remember the way we pulled together to support each other, as Kansans and as a country forever changed. I was humbled to be a part of the ceremonies, and it is my hope that everyone takes a moment to reflect on the events of September 11, remember those who lost their lives in the attacks and rescue efforts, and honor those who have sacrificed through their service since that day.
Thank you to Fire Chief TJ Wyssmann for organizing the event. Thank you also to Mayor Tom Brown for the invitation and kind introduction, and for his service to our nation as a U.S. Marine. Finally, thank you to Police Chief Mikel Golden and to the McPherson community for taking time this weekend to formally honor our servicemembers, veterans and first responders on Saturday's 20th anniversary.
Bolstering Kansas Leadership in Aviation
Announcing $103 Million in Grants for Kansas Aviation Manufacturers
This week, I announced grants for over 30 Kansas aviation manufacturers through the Aviation Manufacturing Jobs Protection (AMJP) program. These funds will help Kansas aviation employers retain 4,284 employees and was created by legislation I introduced with Congressman Ron Estes.
The aviation manufacturing industry in Kansas plays a critical role in providing our state with high-paying jobs and supporting commercial and general aviation across the country. As our economy continues recovering from the pandemic, having a trained, fully-staffed workforce will help aviation manufacturers recover more quickly and meet the demand for new aircraft and repairs. I'm pleased the AMJP program is providing support to this important industry and their invaluable workforce. Read more in the Wichita Eagle here.
Unveiling the Boeing 777 with WSU, Aerospace Industry and State Leaders
This week, I was also pleased to help welcome a new company to the Wichita community, the Kansas Modification Center (KMC). The KMC, in partnership with Wichita State University's National Institute for Aviation Research (NIAR) WERX program, will help solidify the Wichita area as a leader in the maintenance, repair and overhaul (MRO) industry. During the welcome ceremony, KMC and NIAR WERX's first project was on hand, a Boeing 777-300ER passenger aircraft which will be converted into a freighter that meets the growing needs of the e-commerce and express cargo market industry. The official announcement of the new partnership and unveiling of the Boeing 777 aircraft marks a new era for the 'Air Capital of the World' and exemplifies the community's innovative spirit.
The creation of the MRO arena will benefit WSU, the regional aerospace industry and our entire state. This is just the start, and I look forward to seeing all that will be accomplished in the years to come. Thank you to WSU Senior Vice President for Industry & Defense Programs John Tomblin, WSU President Rick Muma, WSU Tech President Sheree Utash, WSU Tech Dean of Aviation and Manufacturing Jim Hall and Kansas Modification Center Owner Jim Gibbs and Partners Dave Murfin and Bryan Mackey for their leadership.
Read more from the Wichita Business Journal here.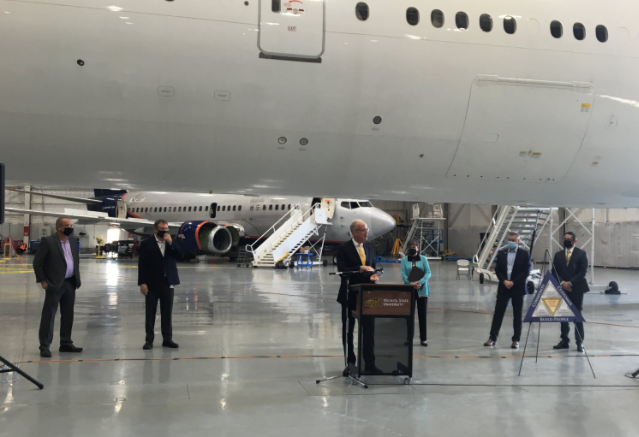 Visiting with Kansans at the State Fair

Speaking with the Kansas Farm Bureau
On Saturday morning, I spoke with farmers and ranchers from across the state at the Kansas Farm Bureau's Agricultural Leadership Breakfast at the State Fair. On the 20th anniversary of September 11, I told them about reading Amanda's note to her father at Ground Zero following the attacks and the way that day changed my outlook on my role serving as a member of Congress. I also discussed my role on the Agriculture Appropriations committee and the work I do to secure funding for agriculture research projects across Kansas. KFB members and I talked about importance of agriculture to communities in Kansas and the importance of rural Midwest values to the moral compass of the nation as a whole.
I thank Senator Roberts for joining and for his years of service to agriculture and the state of Kansas, and to KFB President Rich Felts for allowing me to join your Ag Leadership Breakfast.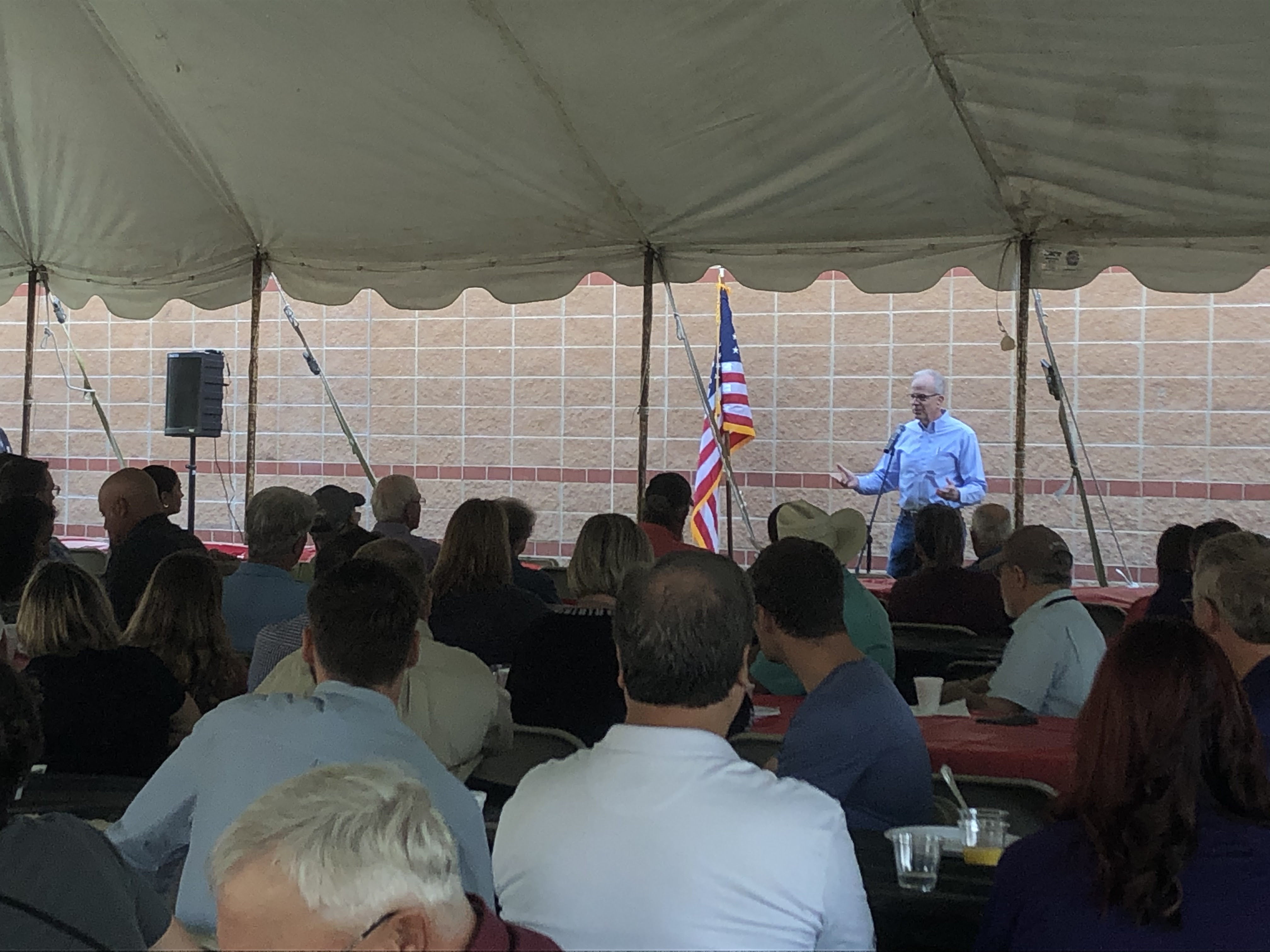 Visiting the Exhibit Buildings
While walking through the exhibits, I stopped by the American Legion booth to thank those working for their commitment to honoring our nation's veterans. Organizations like the American Legion play a critical role in supporting veterans, which has been especially important over the last month as many have struggled while watching the events in Afghanistan unfold.
I also paid my respects to the many Kansans who have given their lives for our country since September 11 at the Remember Our Fallen exhibit. If you attend the fair in the coming days, I highly recommend visiting this pictorial memorial in the Pride of Kansas building which serves as a poignant reminder that freedom is never free.
Opposing President Biden's Federal Vaccine Mandates
This week, President Biden announced new federal mandates for the COVID-19 vaccine. There is no doubt that through the success of American science and ingenuity, the COVID-19 vaccine has provided the best shot at ending the pandemic and taking critical steps towards normalcy.
I am vaccinated, and I will continue to urge Kansans to get the shot. These decisions should be left to each individual, and that decision should be guided by conversations with trusted doctors and not dictated by Washington, D.C. Furthermore, this government overreach comes at the expense of small business owners who are trying to strike a balance between keeping their businesses safe and open, and respecting their employees' personal health decisions. This mandate will also only deepen divisions in the country regarding the vaccines, as well as make it even harder for employers to find workers and cause some employees to drop out of the workforce in protest. I strongly oppose the Biden administration's extreme government overreach in requiring vaccinations and urge them to focus on solutions that will empower patients to make educated decisions of their own choosing.
Taliban Expands Control in Afghanistan
This past week, the Taliban formed their government and included terrorists previously detained at Guantanamo Bay, currently wanted by the FBI and sanctioned by the United Nations. The Taliban is limiting the number of flights out of Afghanistan that would safely bring Americans home, and I continue to work to ensure those who need to evacuate for their safety are able to do so. The new Taliban is the same as the old Taliban—a terrorist organization. It is important for sanctions to be enforced so long as they collaborate with groups that seek to attack Americans, prevent freedom of travel and reject basic human rights.
Suicide Prevention Awareness
Supporting Our Veterans Following Withdrawal from Afghanistan
As the lead Republican on the Senate Veterans' Affairs Committee, I continue to be focused on supporting our veterans here at home as some are struggling watching the U.S. withdraw from Afghanistan and marking 20 years since the September 11 attacks. The veterans who answered the call to protect our nation after September 11 deserve our utmost respect and gratitude. These veterans brought justice to Osama bin Laden and served with duty and purpose. They need to know they are not alone and that we will never forget their sacrifice. I encourage each of us to reach out to our friends and loved ones who have served to check-in and make certain they know they are loved and that their service made a difference.
Click here for a list of resources available to veterans and veteran families and caregivers following the recent events in Afghanistan.
Prioritizing Mental Health this National Suicide Prevention Awareness Month
September is National Suicide Prevention Awareness Month, and Friday was World Suicide Prevention Day. To anyone who may be struggling: you are loved and you are not alone. It's okay to ask for help.
You can call the National Suicide Prevention Lifeline at 1-800-273-8255. Veterans, call 1-800-273-8255, then press 1 to be put in touch with qualified VA responders at the Veterans Crisis Line. Let's all do our part to check in with our friends, family and loved ones.
Discussing Cyber Security with Emporia State
On Wednesday afternoon, I met with met with Emporia State University faculty and administrators to discuss their pandemic response and several of the university's academic programming initiatives. As a member of the Senate Appropriations Committee, this discussion provided an opportunity for me to learn about their proposed cyber security program and how this program would support the education of students seeking degrees in Computer Science, Information Systems, Business Data Analytics and other cyber-related degrees, as well as meet the augmented needs of the cyber security industry throughout the Kansas City Metro Area.
Thank you to Emporia State University President Allison Garrett, Vice President of Administration and Finance Diana Kuhlmann, Provost George Arasimowicz, School of Business Dean Ed Bashaw and Government Relations Liaison Greg Schneider for meeting with me this week.
Read more about my visit from the Emporia Gazette by clicking here.
Meeting with Civic Club Members
Hays
I appreciated the opportunity to meet with civic club members in Hays on Tuesday. The Lions Club members and I touched on a number of issues, including their concerns about the ability of elected officials to work together and the importance of finding common ground. I heard form Ellis County members about their drought and irrigation concerns, and discussed how my work on the Senate VA Committee will continue to operate with veterans' mental and physical health needs as a top priority. I also shared with those at The Press how my casework team has been working to help those in need following the administration's failed withdrawal from Afghanistan. Thank you to everyone who spent their afternoon speaking with me.
Marion
I joined the Marion Kiwanis on Wednesday where we discussed the importance of civic clubs in communities across Kansas and how local government is best suited to serve its community's needs. Kiwanis members posed questions regarding my work helping small businesses get the resources they need, and we discussed the importance of access to rural health care, pharmacies, education, technology and broadband. We also had a chance to discuss the importance of agriculture and farming to keeping small town economies and rural America alive.
Thank you to Kiwanis President Chris Mercer and Treasurer Gene Winkler, Superintendent of Marion-Florence Schools Aaron Homburg and to everyone who shared their thoughts and concerns with me yesterday. Thank you to Café 256 for hosting our conversation and to Johsie Reid for letting me stop by the newly opened JR Hatters Mercantile on Main Street while I was in town.
MRIGlobal's Work for National SecurityI I visited MRIGlobal in Kansas City on Thursday to see the innovative research and development work being done to support our national security. MRIGlobal is a national leader in countering chemical and biological weapons of mass destruction. They are also working to address global biological threats, like COVID-19, and have connected with the Air Force and other federal partners as our nation struggled with this pandemic. MRIGlobal's work to defend our nation from chemical and biological attacks and protect Americans facing a global pandemic is to be commended, and I was pleased to visit with their leadership to offer my support. I want to thank the leadership team at MRIGlobal for hosting me, and I look forward to working with them in the future.
ATF Director Nomination Withdrawn

This week, the nomination of David Chipman – who has an extensive track record of pushing a radical and partisan anti-Second Amendment agenda – to be Director of the Bureau of Alcohol Tobacco and Firearms (ATF) was withdrawn. The Second Amendment states that the right of the people to keep and bear arms shall not be infringed. Yet, the Biden administration continues to push its gun control agenda against law-abiding gun owners. Since entering office, President Biden has made every effort to limit the ability of gun owners and retailers to exercise their rights under the Second Amendment, and this includes the nomination of David Chipman to head the ATF. I remain committed to preserving the rights enshrined in the Constitution under the Second Amendment and will continue to oppose any nominee who will not do the same.
Visiting WaKeeney
My morning view in WaKeeney on Tuesday. Thank you to everyone I visited with while I was in town.