Welcoming the 250,000th Honor Flight Veteran to Washington, D.C.
This month, the Honor Flight Network will bring the 250,000th veteran to see the memorials built in their honor. I've had the opportunity to welcome hundreds of veterans on Honor Flights to Washington, D.C. and have witnessed the impact these trips have on them. I'm grateful that we could stand at the World War II Memorial – that was built largely due to the tireless work of World War II veteran and Kansas Senator Bob Dole – to recognize Honor Flights and the 250,000 veterans who have embarked on their journey to our nation's capital.
I joined Sen. Elizabeth Dole and veterans across the country on Tuesday to commemorate this milestone. Honor Flights have also made it possible for veterans like my dad, a WWII veteran, to come to Washington, D.C. and visit the WWII Memorial, the Vietnam Veterans Memorial, the Korean War Memorial, and many more. These memorials serve as an important reminder to the rest of us that we owe a great deal of thanks to those who have served and sacrificed.
To our veterans and our servicemembers: We respect you; we thank you for your service, and we love you.
Welcoming Airbus to the Air Capital of the World
On Friday, I hosted Airbus Americas Chairman and CEO, Jeff Knittel, and his team in Wichita to showcase the Air Capital of the World. I'd like to thank the Kansas Aviation Museum and the Greater Wichita Partnership for hosting a community reception with local stakeholders and public officials to welcome Mr. Knittel and his team. At the reception, Mr. Knittel announced a donation from Airbus to the United Way Andover Tornado Fund. I am thankful for their aid to the Wichita community and for the time they spent touring suppliers.
Following the reception, we toured Dynamic NC, Cox Machine and Atlas Group with the Airbus CEO and procurement team. I'd like to thank Bryan Mackey, President of Dynamic NC, Jason Cox, CEO of Cox Machine and Jim McMullen, CEO of Atlas Group, for showcasing the talent and capabilities of these incredible companies.
Later in the day, I made my way to Newton where I visited Park Aerospace. Park's 103 employees, including seven brand new additions, develop and manufacture composite materials for commercial, military and space customers. Thank you to General Manager Cory Nickel and his team for the informative tour and for taking time to meet with Airbus leadership earlier in the week. Thank you also to Harvey County Commissioners Don Schroeder and Chip Westfall, Harvey County Economic Development Director Beth Shelton and Newton Community Development Director Zach McHatton for joining me.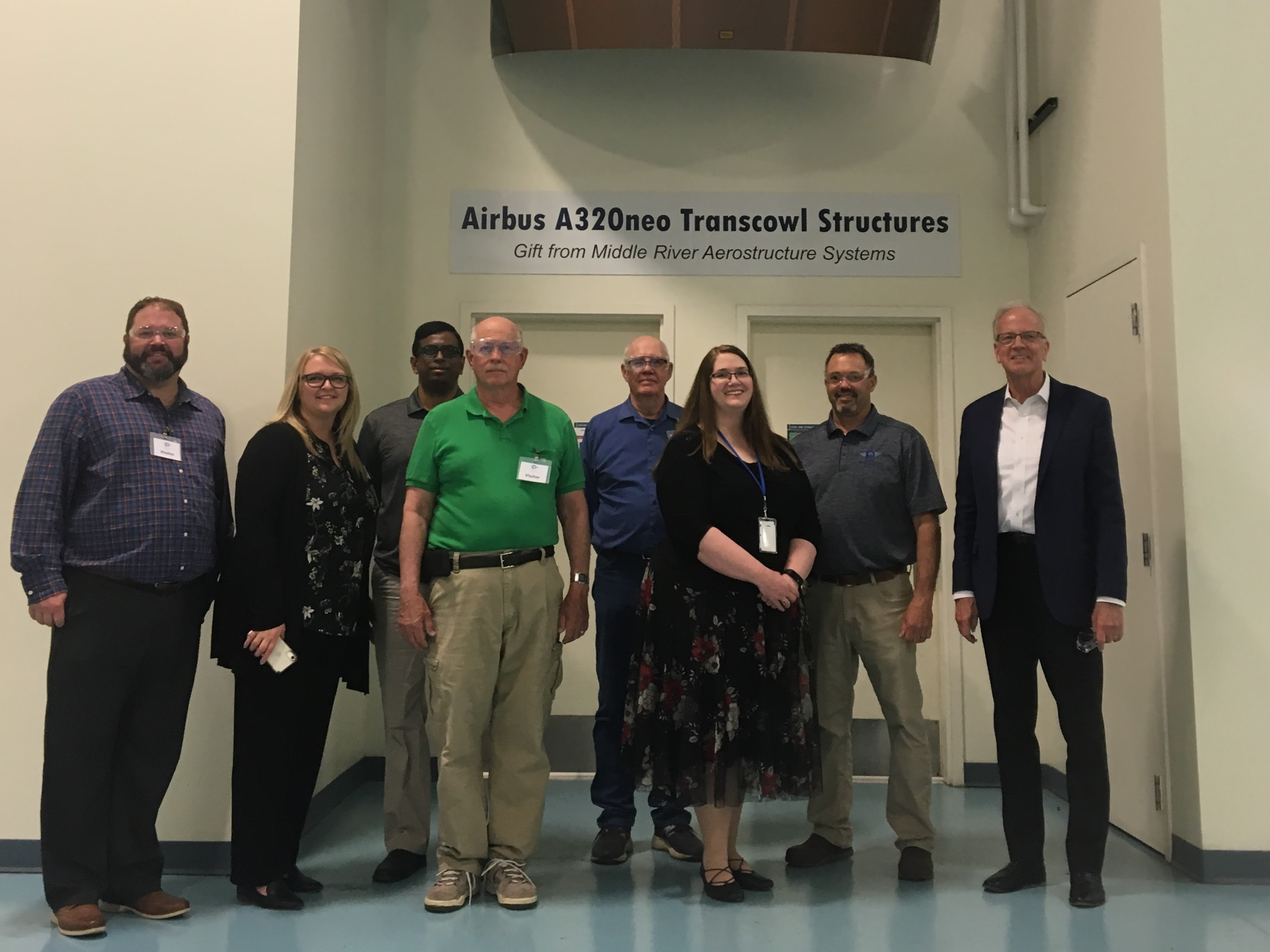 Questioning Administration Officials
NASA Administrator Bill Nelson and National Science Foundation Director Sethuraman Panchanathan
NASA and NSF have the opportunity to capitalize on their missions to encourage students across the country, no matter where they live, to pursue activities and careers in STEM. The country needs a workforce in each and every state that is ready to push the frontiers of knowledge and has the skills to thrive in an intensive economy.
On Tuesday, I questioned NASA Administrator Bill Nelson and National Science Foundation Director Sethuraman Panchanathan regarding their FY2023 budget requests. It is vital the United States maintains our leadership in space, aeronautics and science. Watch my opening remarks here.
HHS Secretary Xavier Becerra
I questioned Health and Human Services (HHS) Secretary Xavier Becerra on several topics during the Labor, Health and Human Services Appropriations Subcommittee hearing on the department's FY2023 budget request. I again raised my deep concerns with the national liver allocation policy developed in 2018, which Senator Roy Blunt and I have sounded the alarm on for several years. The national liver allocation policy is the difference between life and death for our family and neighbors needing an organ transplant. It must be fair no matter where you live or who you are. The contract between HHS and the United Network for Organ Sharing (UNOS) is up for renewal next year, and I questioned Secretary Becerra on the steps HHS might take to increase competition for future contracts with the Organ Procurement and Transplantation Network so the contract is not dominated by UNOS, whose bias against the Midwest and the South is abundantly clear.
I also received his commitment to ensuring the Strategic National Stockpile is re-filled in the aftermath of the pandemic and fully maintained with domestically manufactured vaccines and supplies for public health emergencies. Additionally, we discussed the $700 million request from HHS for the implementation of the 9-8-8 National Suicide Prevention Hotline number, which is scheduled to launch on July 16. As the sponsor of the bill that created the new three-digit number, it is a priority for me to ensure 9-8-8 is working effectively for Kansans and has the necessary resources and congressional input for a smooth rollout process.
Defense Secretary Lloyd Austin and Chairman of the Joint Chief of Staff Mark Milley
On Tuesday, I heard testimony from Secretary of Defense Lloyd Austin and Chairman of the Joint Chiefs of Staff General Mark Milley on the President's FY23 defense budget request. Their testimony highlighted current threats to U.S. national security. Of these threats, they identified China as the pacing threat—the threat the U.S. needs to keep pace with or outpace when it comes to defense readiness. They also discussed Russia's posture as a regional threat in Europe, and shared that North Korea, Iran, and violent extremist organizations remain significant threats to the U.S.
Through my work on the Appropriations Subcommittee for Defense, I continue to work to ensure our servicemembers receive the warfighting tools they need to succeed in any mission. My questions to Secretary Austin and General Milley centered on our military's hypersonic capabilities, both offensive and defensive. Hypersonic missiles travel five times the speed of sound or faster. Russia and China have rapidly developed these capabilities, and we must develop them too to keep our country safe.
Recognizing VE Day
Sunday commemorated the 77th anniversary of Victory in Europe Day, in which the German Nazis unconditionally surrendered to end World War II. This day remains a powerful reminder of the threat of aggressive dictators and the price required to defend freedom. I remain grateful to my father and all who served to defeat fascism. As Ukrainians wage their inspiring fight for liberty and the right to determine their own future, the United States will continue to provide support to help end Russia's illegal and immoral invasion of Ukraine.
The Supreme Court Draft Leak is a Breach of Its Deliberative Process
Leaking a draft opinion of the Supreme Court is a flagrant breach of its deliberative process and an attempt to intimidate justices and damage the court's judicial independence. I support the Chief Justice's probe to investigate this leak and hold this individual accountable.
Keeping Kansas Competitive Roundtable
The Senate and the House of Representatives have both passed different versions of a bill to hold China accountable and compete with China's growing economy. I was selected to join the conference committee to help bridge the gap between the Senate's bipartisan legislation that is strongly focused on increasing and improving research and development in this country, and the House's partisan bill that contains a number of Democratic priorities that are unrelated to improving American competitiveness. Making certain the U.S. is the global research and development leader and has the ability to manufacture high-tech products in this country is critical to ensuring that the next technological revolution is American, not Chinese.
On Monday, I hosted a roundtable discussion with Kansas stakeholders interested in the upcoming conference committee to hear about what priorities should be included in the final competition bill. We discussed the need for support for downstream semiconductor manufacturers, the importance of improving supply chain transparency and how a boost to the EPSCoR program would increase research funding that goes to Kansas. The National Science Foundation's EPSCoR program provides funding for states that have traditionally received very small amounts of federal research dollars, including Kansas. The Senate included a significant boost to this program within its competition bill, while the House excluded such a boost in its bill. An increase in funding for EPSCoR is one of the priorities that I will advocate for during the conference committee, along with other provisions that will benefit our state.
I would like to thank all stakeholders who participated in the roundtable, including Alan Cobb, President and CEO of the Kansas Chamber of Commerce; Adam Timmerman of the Greater Kansas City Chamber of Commerce; Sheri Gonzalez, VP and Director of the KC Civic Council; Ryan Weber and Kara Lowe of the KC Tech Council; Kevin McGinnis, President and CEO of the Keystone Innovation District; Simon Atkinson, Vice Chancellor of Research at the University of Kansas; Shawn Naccarato of Pittsburg State University; Luther Lee, VP of Administration at Washburn University; Josh Maxfield, Associate General Counsel at Garmin; Stuart Shaw, Marty Travers, and Scott Roesle from Black & Veatch; Greg Unrah, CFO of Integra Technologies; Steven Bellinger, CEO of Radiation Detection Technologies; Wyatt Cobb, CEO of SoftWARfare; and Tim Carty, CEO of EMP Shield.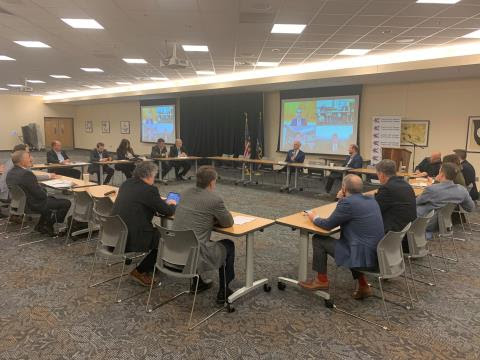 May is Military Appreciation Month
Every day is an opportunity to thank those bravely serving our nation, and this Military Appreciation Month I especially want to recognize our servicemembers' commitment to protecting our freedoms.
I deeply appreciate their service and sacrifice as they defend us at home and abroad. I also thank our military spouses who share in the sacrifices made in service to defending this country.
Speaking with Kansans in Washington, D.C.
Kansas Association of Realtors
On Tuesday, I addressed the Kansas Association of Realtors (KAR) for their annual trip to Washington, D.C. As prices for homes continue to climb and our housing supply stagnates, too many Americans are being priced out of homeownership. Owning a home is the foremost way to create generational wealth, and we need to pursue responsible reforms that allow the private market to grow the supply of affordable housing. Legislation I've cosponsored would expand more development of affordable housing, promote the rehabilitation of homes in low-income neighborhoods, and provide incentives for development in rural areas. I'm grateful for the KAR's efforts to support homeownership for Kansans.
Community Bankers Association of Kansas
On Tuesday, the Community Bankers Association of Kansas visited to discuss the issues facing Kansas community banks. In order to support the credit needs of local families and businesses, community banks need tailored regulations which decrease the cost of credit. Additionally, we discussed the Enhancing Credit Opportunities for Rural America (ECORA) Act, legislation I introduced to increase access to agricultural credit and lower interest rates on rural home mortgages. Supporting the lenders that serve rural communities gives more families and small businesses the financing they need to thrive. I appreciate our community bankers' work to expand access to financial services across Kansas.
ESOP Association
I met with Brendan Hogan of Wichita to discuss the benefits of Employee Stock Ownership Plans (ESOP) for companies, their employees and local communities. ESOPs are an important tool for business succession and provide a foundation for local job retention and economic stability. Brendan's employer, Transitions Group, has been an ESOP for nearly a decade, and I appreciate him sharing his experience working at an employee-owned company.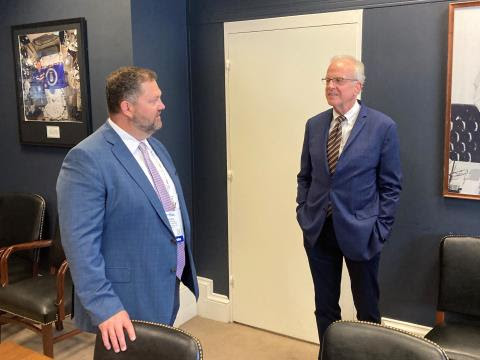 Kansas Electric Coops
I was pleased to meet with a group of representatives from electric cooperatives across Kansas this week while they were in town for the National Rural Electric Cooperatives Association (NRECA) legislative conference. In our meeting we discussed our shared priorities, including passing the Flexible Financing For Rural America Act, which would allow electric cooperatives to reprice Rural Utilities Service (RUS) loans to take advantage of lower interest rates, and advancing my legislation, the Southwestern Power Administration Establishment Act, which would provide the Southwestern Power Administration greater financial ability to plan for and respond to drought. The Southwestern Power Administration is a Power Marketing Administration within the Department of Energy which is responsible for marketing and delivering federal hydropower to Kansas and five other states in the region. My legislation will allow the Southwestern Power Administration to better plan for and respond to drought in order to keep rates as low as possible for customers, including many Kansas electric cooperatives and municipalities.
The services electric cooperatives provide are critical for preserving Kansas' rural way of life and fostering the quality of life in our communities. I thank these electric cooperative leaders for taking the time to visit me in Washington.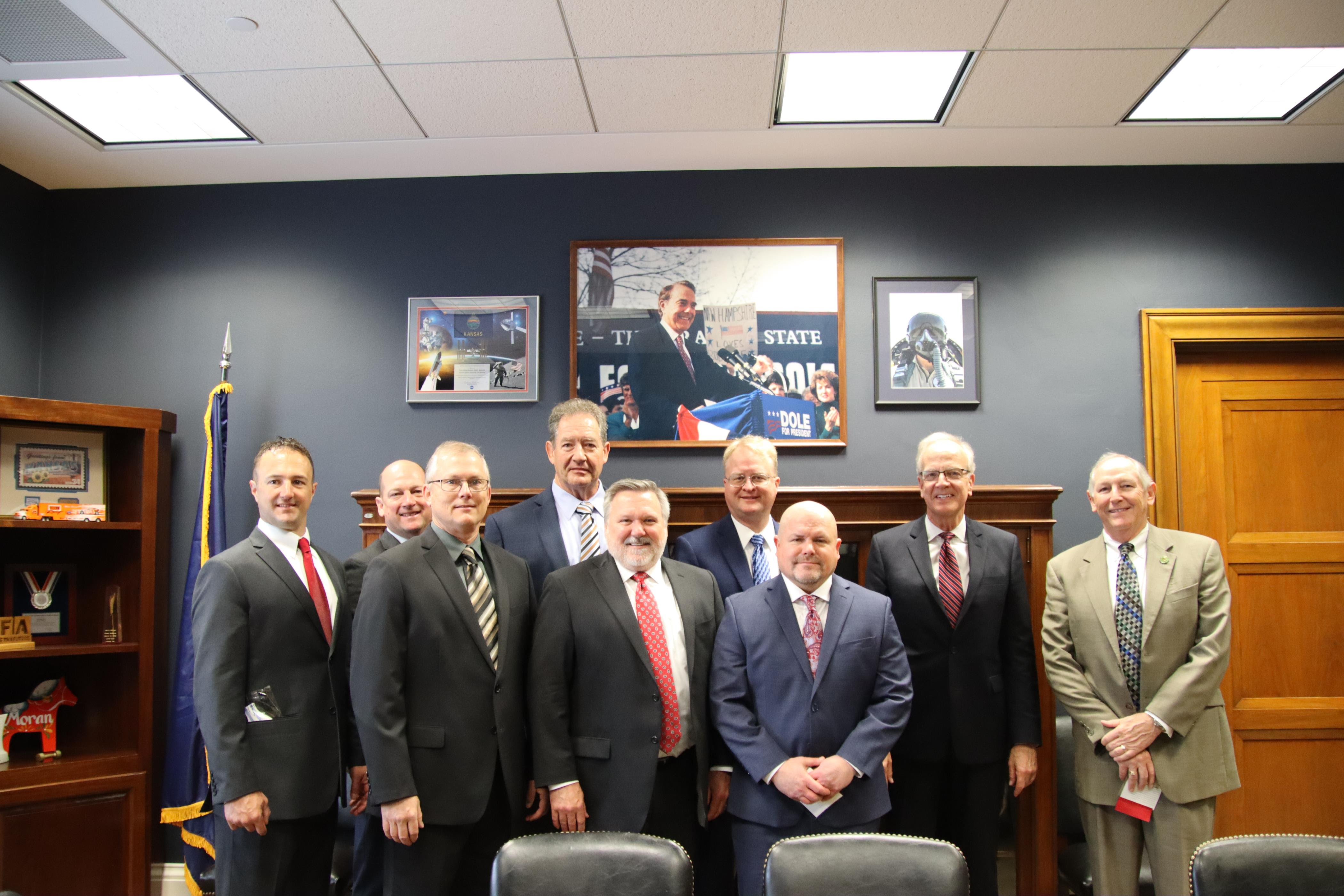 National Association of Evangelicals
This week, I met with the National Association of Evangelicals (NAE), including two of their Kansas members, Pastor Reid Kapple of Christ Community Church in Olathe and Pastor Nathan Paulus of Radiant Church in Wichita. I appreciate those who make faith a central part of their life, and pastors play a large role in guiding, inspiring and uplifting their communities.
Homeland Security's Disinformation Governance Board is Alarming
The Biden administration's proposed Disinformation Governance Board is alarming. Amid the confusion of what this board will actually do, one thing is clear: the Biden administration would rather focus resources on policing speech, rather than securing our southern border.
The Department of Homeland Security has no business in regulating the speech of Americans, and other government bodies exist to tackle foreign propaganda and disinformation. This board is just another example of big government bureaucracy, and it should be abolished immediately. Read more from the Wall Street Journal here.
Questioning DHS Secretary on Misuse of Taxpayer Dollars
This week, Senator Thom Tillis of North Carolina and I led five of our Senate colleagues in questioning Department of Homeland Security (DHS) Secretary Alejandro Mayorkas regarding an Office of Inspector General (OIG) report that outlined the misuse of taxpayer funds to acquire housing to accommodate migrants who crossed the border illegally. The OIG report found that U.S. Immigration and Customs Enforcement (ICE) did not go through the proper process to secure a contract for housing, and with the contract ICE secured, hundreds of beds were left empty totaling nearly $17 million of wasted spending.
The manner in which DHS executed a contract to house migrant families raises serious questions about the department's initial response to this humanitarian crisis and its ability to respond to increasing illegal migration. Read the full letter here.
Small Business Week
Small businesses are the foundation of our communities, the glue that keeps our main streets alive and the economic engines that make small towns across America competitive.
Small Business Week celebrates the tenacity of our nation's entrepreneurs. Their work is at the heart of the American Dream, and I thank them for their dedication. Learn more from SBA here.
Participating in Ag Panel
This week I joined the Crop Insurance Professionals Association (CIPA) for their annual meeting in Kansas City. The success of rural communities is directly tied to agriculture, and the ability for farmers to stay in business is dependent on a strong federal crop insurance program. Farmers and ranchers face significant uncertainty in their farming and ranching operations, but crop insurance policies serviced by CIPA agents help producers manage their risk and stay in business when a disaster strikes. As work begins on the next Farm Bill, maintaining a strong crop insurance program is a top priority for me. I appreciate the agents from across Kansas who attended the meeting and look forward to working with CIPA in the future.
Speaking at Eagle Scout Court of Honor Ceremony in Mankato
Yesterday, I joined the community of Mankato for a special ceremony where four young men were awarded the rank of Eagle Scout. In 2015, they were all involved in bringing a Boy Scout troop back to Jewell County after more than 20 years. I appreciated the opportunity to take part in the ceremony and to commend them for their initiative in chartering Troop 46 whose service will benefit the community for years to come.
It takes a community to teach and instill the values of Eagle Scouts – duty, honor and responsibility. Very few Boy Scouts earn the Eagle Scout rank, and to have four young men in a small community like Mankato achieve this rank, demonstrates the importance the community places on developing the character of its young men and women.
Thank you to Scoutmaster D'ann Garnder and to the families for the invitation to join this ceremony. Congratulations again to Jacob, Rylan, Andrew and Conor. One person can make a tremendous difference, and after yesterday, I know these four will continue to lead by example.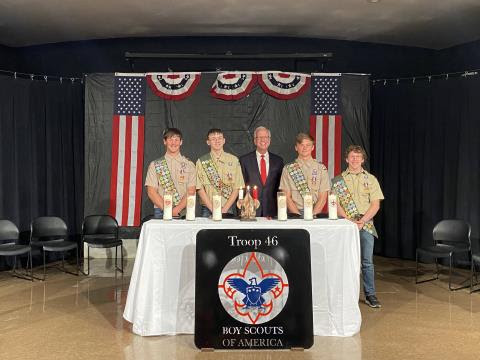 Touring North Central Kansas Technical College in Hays
On Thursday, I visited NCK Tech's Hays campus to tour their 2021-2022 Carpentry House. Each year students on both the Hays and Beloit campuses apply the skills they have learned in the classroom to constructing a project home. Students from the Carpentry/Cabinetmaking, Electrical Technology and Plumbing, Heating and Air Conditioning programs all contribute to the build of the home, and once construction is complete, it is sold through an auction.
While on campus, I also had the opportunity to see their new virtual cadaver and dissection table. This tool is a technologically advanced 3D anatomy visualization and virtual dissection tool for anatomy and physiology education. NCK Tech was able to purchase this table through COVID relief funds allocated through State of Kansas' Maintenance of Effort fund along with several other teaching tools and equipment for their various programs. I have been a longtime advocate of technical education, as it plays a critical role of making certain students can reach their full potential in their careers and lives. NCK Tech has done a fantastic job ensuring its students receive high-skilled training and are prepared to immediately join the workforce following graduation.
I'd like to thank NCK Tech President Eric Burks, Vice President of Finance and Hays Operations Diana Baumann, Department Chair and Instructor of Carpentry/Cabinetmaking Brandon Jacobs and General Education Instructor of Science Kathy Albert for the opportunity to visit campus and learn more about their efforts.
Teacher Appreciation Week
This week was Teacher Appreciation Week. I thank each of our Kansas educators who play an important role in shaping and inspiring our children. While visiting Kansas schools, students often express to me how much their life path has been impacted by their favorite teachers. I believe that the world is changed one person at a time, and there is no place that happens more frequently than in the classroom.