Updating Kansans on Recently Launched 9-8-8 Mental Health Crisis Hotline
This week, while visiting mental health care centers in western Kansas, I provided an update on the 9-8-8 National Suicide Prevention Lifeline that went live earlier this month. The lifeline is a nationwide network of crisis centers linked through a 24/7 toll-free number that connects callers in crisis to immediate intervention services and care with trained counselors. In 2019, I introduced the National Suicide Hotline Designation Act to establish 9-8-8 as the new hotline.
I also want to recognize the dedication of members of the Kansas legislature who worked tirelessly to implement this legislation on the state level, making certain Kansans have access to this critical service. As with the implementation of any new law, there are sure to be challenges and changes that need to be made. I will work with my colleagues to make certain this hotline is being implemented according to statute and address any changes needed to best serve the American people.
Promoting Kansas as the Air Capital of the World
This past weekend, I led a delegation of Kansans, along with the Greater Wichita Partnership, to the Farnborough International Airshow. This was the largest delegation of Kansans ever to attend. The Farnborough International Airshow is one of the world's largest aerospace events, hosting leading innovators from the aerospace, aviation and defense industries and showcasing the talent and innovation of key industry leaders and stakeholders from across the globe. As an Appropriator and a member of the Commerce Committee, I am a lead advocate for the defense, aviation and aerospace realm. The goal of our significant presence at the airshow is to bring new business, partnerships and opportunities to our state.
For nearly 100 years, Kansans have promoted and embodied a culture of innovation in aerospace, which not only improves the lives of Kansans but reverberates across the aerospace industry as a whole. Wichita is home to more than 450 world-class suppliers and is the number one manufacturing city in the nation, solidifying its roles as the cornerstone to forging the future of aerospace. Years ago, we recognized that if Wichita was going to remain the 'Air Capital of the World,' we needed to expand and grow our current businesses. Hearing firsthand the strengths and talent that we can offer is extremely beneficial to garnering more partnerships with our already top-tier companies. Opportunities like the Farnborough Airshow allow us to showcase our talented workforce, innovation and growth that Kansas brings to the aerospace industry.
Read more about the Airshow in the Wichita Business Journal.
Calling on President Biden to Change His Energy Policy
On Wednesday, I was on the Senate floor to call on President Biden to prioritize American energy and decrease dependence on foreign powers for oil production. This follows the President's recent travels to Saudi Arabia to discuss the country's oil and energy production.
Kansas is an energy producing state and could play a key role in increasing domestic energy production for our country. Through this, we could increase supply and cut costs at the pump. But instead, President Biden chooses Saudi Arabia for assistance. The United States has the resources, the expertise and the domestic demand to be an energy independent nation, and Kansas has the opportunity to be a participant in that.
A far more enduring and stable solution for affordable energy prices to fill our vehicles, to power our homes or to operate our farms is for the President to support an all-of-the-above domestic energy strategy.
Watch my full floor speech here.

Senate Veterans' Affairs Committee Hearing
On Wednesday, the Senate Veterans' Affairs Committee held a hearing regarding ongoing issues with the Electronic Health Record Modernization program, which faces substantial delays and cost overruns. Given the actual cost estimate of this project, we must determine what is needed to make the system function safely and effectively, as well as questioning the VA on why solutions are not being implemented. The Office of the Inspector General has issued 14 reports, including two new reports last week, sounding alarms about many aspects of this program. The VA already considers the system unsafe to roll out in a large, complex medical center, and the path to making it safe is still unclear. A frank discussion about the reality of this situation, and how to fix it, is required. Our veterans and employees of the VA deserve better than what they have received to date.
USITC Rules to Suspend Duties on Select Nitrogen Fertilizer Imports
This week, the U.S. International Trade Commission (ITC) voted to not impose antidumping and countervailing duties on urea ammonium nitrate fertilizer from Trinidad and Tobago. Eliminating these duties on fertilizer imports provides the most immediate opportunity for a near-term, partial remedy to the high cost of fertilizer U.S. farmers are facing. Over the past few months, I, along with Congressman Tracey Mann, have sent multiple letters urging the ITC, the Biden administration, and Commerce Secretary Raimondo to provide relief for farmers by not enacting new duties on nitrate fertilizer. While I applaud the ITC determination, I also continue to urge the Biden administration to eliminate duties on phosphate fertilizer products from Morocco and reverse anti-energy policies that are driving up the cost of natural gas, which in turn, affect the price of fertilizer.
Questioning FDA Commissioner Califf During Ag Appropriations Subcommittee Hearing
On Wednesday, the Senate Agriculture Appropriations Subcommittee held a hearing on food safety and the Food and Drug Administration (FDA). During this hearing, I questioned FDA Commissioner Robert Califf on the status and timeline of returning FDA staff to in-person work. After two and a half years, the country has returned to normal following the COVID-19 pandemic, and Kansans expect their government to do the same. I also worry that remote work is causing issues to fall through the cracks at the FDA. In addition, I conveyed my concern about the fact that it currently takes three to five years for new food ingredients to be approved by the FDA's Center for Veterinary Medicine. In FY2022, I worked to secure additional funding to improve this process, and I look forward to the FDA taking steps to improve the timeliness of reviewing and approving animal feed ingredients.
Meeting with Kansans in Washington, D.C.
Flinchbaugh Kansas Food and Ag Policy Fellowship
This week, I had the opportunity to meet with Kansas students who are serving as interns in Washington D.C. as part of the Flinchbaugh Kansas Food and Ag Policy Fellowship Program. This program was established in honor of the late Professor Barry Flinchbaugh, an educator and agricultural policy titan who was well-known in Kansas and across the country. Through the program, Kansas students have the opportunity to gain valuable experience at the state and federal levels in food and agricultural public policy. But Professor Flinchbaugh was more than a policy expert; he was also a personal friend to me – and a mentor and friend to many young Kansans who he met during his time at Kansas State University, where he taught for nearly a half-century. His students benefitted greatly from his wisdom and empathy, and I am touched to see his legacy live on through this fellowship program. Special thank you to J.W. Wells, who is participating in this program through my office, as well as Parker Vulgamore, who is participating through Senator Roger Marshall's office. I look forward to continuing to see the benefits of this program for our future Kansas leaders.
Leadership Sorghum Class V
On Tuesday, I met with Kansans who are part of the Leadership Sorghum Class during their visit to my Washington, D.C. office to discuss the current issues they see impacting this industry. I enjoyed meeting with these Kansans from all across our state and hearing their insights on current challenges facing the sorghum industry. During this meeting, we discussed the importance of crop insurance, as well as the challenges posed for our farmers by high input costs and rising interest rates. I appreciate the insight these members shared with me during our meeting, and I look forward to continue representing the interests of our Kansas sorghum farmers and advancing our shared priorities on the federal level.
Fort Hays State University Faculty & STEM Teachers
On Wednesday, I had the pleasure of visiting with faculty and STEM teachers from Fort Hays State University during their visit to my D.C. office for a Capitol tour. It was great to meet with those who are so instrumental in shaping our next generation and who are encouraging young Kansans to pursue careers in the important fields of science, technology, engineering and math. Thank you to Dr. Janet Stramel, Paul Adams, Bill Weber, Earl Legleiter, Karisma Vignery, Nicole Voss, Emma Reif, Keagan Shubert and Nathan Stark for taking the time to visit with me and for the tireless work they do to prepare young Kansans for rewarding futures in STEM.
Kansas Young Republicans
Earlier this week, I met with members of the Kansas Young Republicans during their visit to Washington, D.C. Thank you to these young people for stopping by and providing an update on their organization's mission to get young people involved in politics and to cultivate the next generation of Kansas leaders. As someone who first interned in Washington, D.C. in order to gain valuable experience in public service, I am always glad to speak with future young Kansas leaders who are seeking to benefit our state and nation through public service.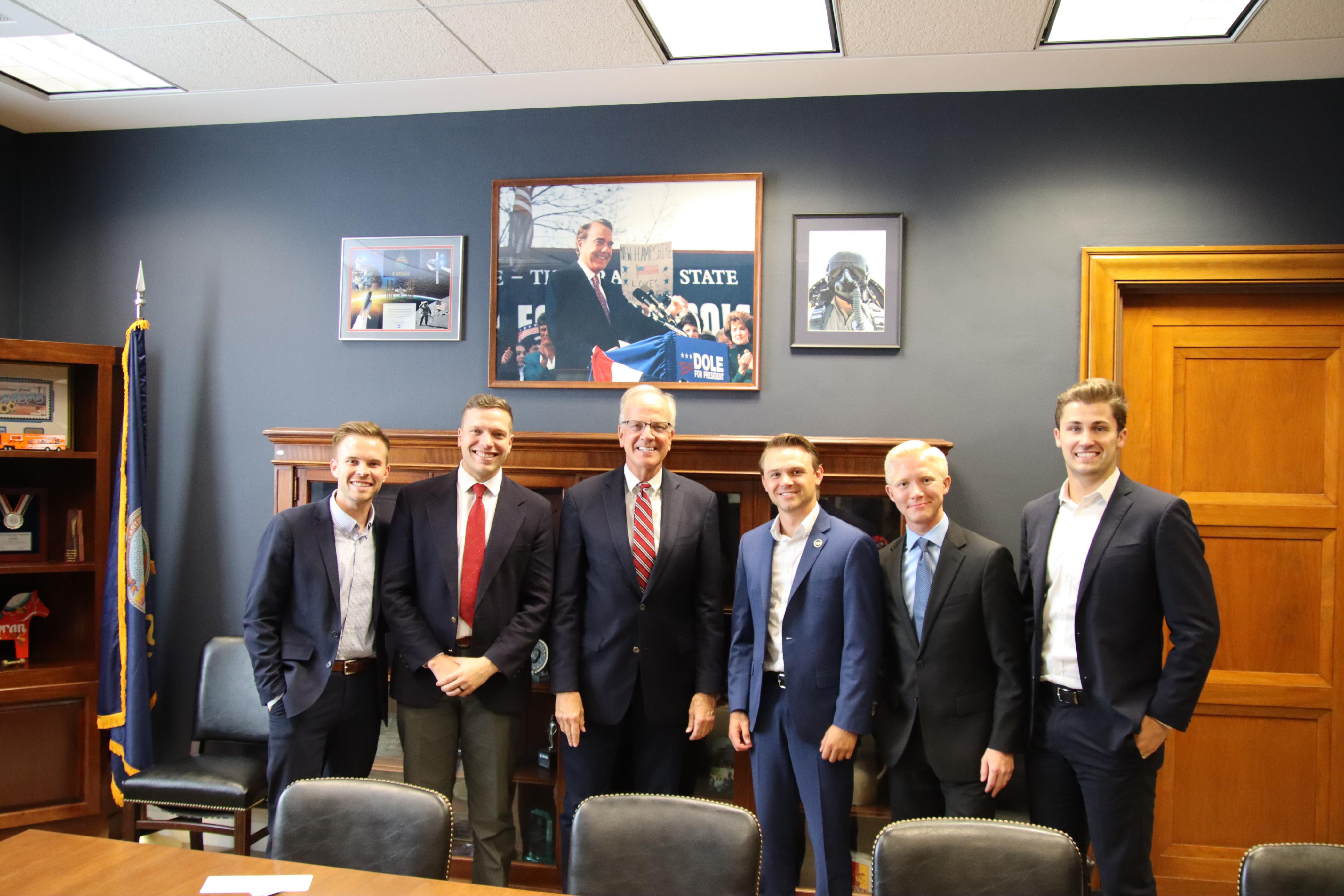 Visiting Mental Health Care Centers in Western Kansas
KVC Hospital
On Friday, during a visit to western Kansas, I toured the site of the new KVC Hospital that is expected to open in January 2023. The hospital will provide youth in-patient psychiatric services and treatment programs for children ages 6 to 18 who are struggling with depression, anxiety or other mental health needs. Through this new hospital, young people in western Kansas will have greater access to medical and behavioral health services, benefitting an additional 600 children and teens. Thank you to President Bobby Eklofe and Clinical Director Sarah Berens for hosting me during my tour and to all the staff at the KVC Hospital, a non-profit organization, for investing in our rural Kansas communities and providing much-needed services to young Kansans.
High Plains Mental Health
Also during my time in Hays, I met with Walt Hill and Kaley Conner of High Plains Mental Health to discuss the important work they are doing in the western Kansas region to provide access to mental health services for Kansans in the surrounding communities. In July, High Plains Mental Health was among the first six community mental health centers to achieve Certified Community Behavioral Health Clinic (CCBHC) status in Kansas.
The vital work they are doing is crucial in making certain that all Kansans have access to mental health care. I congratulate High Plains Mental Health on achieving CCBHC status, and I look forward to continuing to work with them in the future to increase access to mental health care for Kansans.
Visiting Hoisington
This week, I also had the chance to visit Hoisington to meet with Kansans and stop at several local businesses and organizations in town, including Cardinal Pharmacy, the Hoisington Chamber of Commerce, Ehler Chevrolet (formerly Manwiler Chevrolet), the Municipal Building, First Kansas Bank, Caleb Schultz Insurance Agency and Clara Barton Hospital. While in Hoisington, I was pleased to see Marla and Gene Mooney, owners of the Cardinal Pharmacy, along with their daughter Mallory, who is working at the pharmacy for the summer, as well as pharmacy employees Victoria Childs and Megan Thompson. It's always great to see familiar faces during my visits across Kansas.
Attending the Clay County Fair
On Saturday, I attended the Clay County Fair in Clay Center where I visited with Kansans about their current views on what is happening across our country and here in our state. It was great to see old friends and meet new ones during my time at the fair. While there, I had the pleasure of visiting with Russ and Paige Taddiken of Taddiken Land & Cattle.