Senate Passes SFC Heath Robinson PACT Act
This week, the Senate approved historic health care for our nation's veterans through the SFC Heath Robinson PACT Act, passing with a vote of 86-11. I introduced this bipartisan legislation, advocated for it and voted for it because our veterans have waited long enough for care and benefits. I look forward to the President signing this important legislation into law this week.
This is an historic moment for our nation's veterans. My legislation with Sen. Tester will provide comprehensive relief for all generations of veterans, from Agent Orange to the 3.5 million post-9/11 veterans exposed to burn pits during their deployments. Our nation's veterans and their families will no longer have to fear being turned away from the VA for illnesses related to toxic-exposures. Thank you to SFC Heath Robinson's family and all the veterans and advocates for their input and commitment to get this long-overdue bill passed through Congress.
I spoke on the Senate floor regarding the SFC Heath Robinson PACT Act shortly before the bill's final passage. You can watch my full speech here.

Voting to Oppose Senate Democrats' Tax and Spending Bill
I voted to oppose the Democrats' tax and spending bill. The idea that spending more money and increasing taxes will be helpful in combating inflation is false and confirmed by the Congressional Budget Office. Rather than taking steps to curb spending and expand energy production, the so-called Inflation Reduction Act will raise taxes on small businesses and working families, including by hiring 87,000 more IRS agents to target more Americans with tax audits. Instead, the Senate should be focused on pro-job, pro-growth policies to reduce the cost of gas, goods and services for Kansans.
Meeting with the Kansas National Guard
On Tuesday, I met with Major General David Weishaar, the Adjutant General of the Kansas National Guard. As the Adjutant General, Major General Weishaar serves as the Commander for 7,000 Airmen and Soldiers in the Kansas National Guard and oversees their training and readiness. MG Weishaar is also responsible in assisting more than 100 county emergency managers and 2,300 state and federal employees, all aligned toward the mission of providing rapid response to crises and security in Kansas. Our conversation this past week centered on the military's current recruiting concerns which has the potential to greatly impact the readiness of the Kansas National Guard.
I remain committed to finding solutions to the military's recruiting crisis and will continue to advocate for sound policies that maintain the high standards to serve in our military while working to bring testing requirements into the 21st century. We also discussed the incredible work of the 284th Air Support Operations Squadron (ASOS) and their Tactical Air Control Party (TACP) Airmen that provide critical support in coordinating aircraft, fires and aerospace operations for the Joint Force. Many thanks to MG Weishaar for his leadership of our Kansas National Guard and thank you to all of our brave men and women who continue to answer the call to serve our country.
Meeting with National Association of Police Athletic Leagues Youth Summit
On Thursday, I met with Detective Elaine Moore, Officer Rodney Boston, members of the Kansas City Kansas Police Department, as well as four young Kansans who were in Washington, D.C. attending the National Association of Police Athletic Leagues Youth Summit. During our meeting, we spoke about the work the Police Athletic League of Kansas City is doing to provide our youth with positive interactions with members of law enforcement and the positive impact it has on their lives. The Police Athletic League of Kansas City offers interactive programs for youth and members of the Kansas City Police Department. Five full-time officers, two sergeants and a captain are dedicated to building lifelong relationships with encouragement and commitment to the children they serve every day. I remain committed to assisting the Police Athletic League of Kansas City Kansas and other youth-focused organizations with their work of providing young Kansans with opportunities. Thank you to the Police Athletic League and all the officers who are involved for your dedication to making a better life for many.
Meeting with Colombian Ambassador Juan Carlos Pinzón
This week, I met with Ambassador Juan Carlos Pinzón of Colombia again to discuss maintaining strong relations between our two countries and the challenges currently facing Colombia. I sponsored legislation that promotes economic growth, strengthens security cooperation and advances peace and democratic governance. All of this is crucial as China and Russia expand their influence in Latin America and other countries in the region are ruled by authoritarians. Colombia has recently elected a new president, and Ambassador Pinzón will be returning home. I have appreciated the insight he has provided during his visits to my office, and I look forward to continuing to build relationships that serve the interests of the United States and our friends in Colombia.
Voting to Admit Finland and Sweden into NATO
Finland and Sweden have long been our partners in Europe, and this week I supported admitting them into NATO to further strengthen the alliance. These countries joining NATO will enhance defense and security cooperation in Europe and beyond.
Meeting with Chairman of the Joint Chiefs General Mark Milley
On Wednesday, I met with the Chairman of the Joint Chiefs of Staff, General Mark Milley, to discuss the military issues facing our nation today. I especially appreciate the interest General Milley has taken in Kansas, when I hosted him at Fort Riley and during his visits to Fort Leavenworth. During our meeting, I asked General Milley about the military's recruiting crisis and expressed my commitment to continue working with my colleagues in the Senate to assist in finding solutions to these issues. We also discussed at length the war in Ukraine and how Vladmir Putin has destroyed the rules-based order established to maintain peace between sovereign nations. In addition, we discussed the growing competition between the U.S. and China and the risks posed to our national security by China's continued aggression towards Taiwan. As a member of the Appropriations Subcommittee on Defense, I will continue to support and advocate for funding to increase the readiness of the Joint Force to protect our country at home and abroad. Thank you to General Milley for your service and leadership of our country's military.
These photographs are provided by the Chairman of the Joint Chiefs of Staff – Public Affairs as a courtesy and may be printed by the subject(s) in the photograph for personal use only. The photograph may not be manipulated in any way and may not otherwise be disseminated, reproduced, or broadcast without the written permission of the CJCS – Public Affairs Officer. These photographs may not be used in any commercial or political materials, advertisements, emails, products, promotions that in any way suggests approval or endorsement by the Secretary of Defense, Department of Defense, Chairman of the Joint Chiefs of Staff, or the Joint Staff.
Commerce Subcommittee on Communications, Media and Broadband Hearing
On Tuesday, I attended a Commerce Subcommittee on Communications, Media and Broadband hearing about the future of spectrum policy in the U.S., including the Federal Communications Commission's (FCC) expiring spectrum auction authority. Spectrum is a critical resource that allows you to talk on your cell phone, enables music to play on the radio and ensures weather satellites are able to track storms. Congress has authorized the FCC to allocate portions or "bands" of spectrum for specific uses, like cellular communications, and to auction licenses to these bands to companies for their exclusive or shared use. These spectrum auctions raise revenue for the federal government and, if Congress has specifically authorized the sale of the band, Congress may have a say in how the funds are spent. Unfortunately, the number of spectrum bands that Congress has specifically authorized and will have a say in how the funds are spent is small.
This year, at the end of September, the FCC's spectrum auction authority given to it by Congress will expire. During Tuesday's hearing, I stated that Congress should authorize the FCC's spectrum auction authority for 18 months to allow time for a "pipeline" of spectrum bands to be specifically authorized by Congress. This will make certain that Congress has a say in how the auction proceeds are spent and will provide certainty to industry stakeholders that are working to increase access to 5G. I will continue to work with my colleagues on the Commerce Committee to maintain the FCC's spectrum auction authority and to increase the availability of advanced communications networks across the country.
Speaking at the Commercial Drone Alliance Reception
This week, I spoke to a gathering of Advanced Air Mobility (AAM) and Unmanned Aerial Systems (UAS) industry leaders in Washington, D.C. The gathering was a great opportunity to celebrate U.S. leadership in advanced aviation. For nearly 100 years, Kansans have promoted and embodied a culture of innovation in aerospace, which is more crucial today than ever before if the United States is to maintain our superiority in aerospace development. The innovation happening within industry and academia back home is critical for our future, and it was great to have the opportunity to highlight this fact to the more than 250 industry representatives in the audience.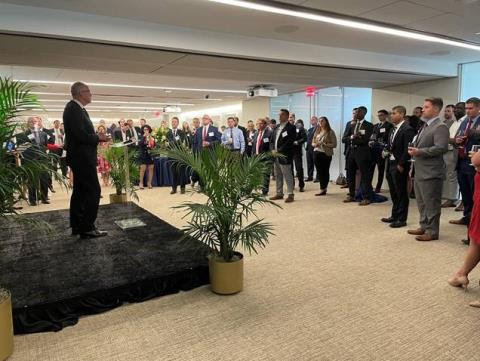 Announcing Federal Investment for Pittsburg State University
On Monday, I joined Pittsburg State University President Dan Shipp to announce a $3 million federal investment to establish a new Center for Commercialization at the National Institute for Materials Advancement (NIMA) at Pitt State. The Kansas Polymer Research Center and NIMA are internationally-recognized research facilities in the world of polymers and plastics, leading cutting-edge projects that could revolutionize the plastics industry. The new center will provide opportunities for the innovators at the university to take their work and turn it into job-creating businesses. I appreciate Pitt State's commitment to ensuring that the advancements made in the lab make it out into the world to benefit our local and regional economy. It was great to meet PSU President Dan Shipp for the first time, and I know he will do an excellent job in his role. Thank you to President Shipp and Shawn Naccarato for your hospitality, and to Daron Hall and Jay Byers at the city and Blake Benson with the chamber of commerce for the community's support of Pitt State in their efforts of remaining a global leader in polymers and plastics.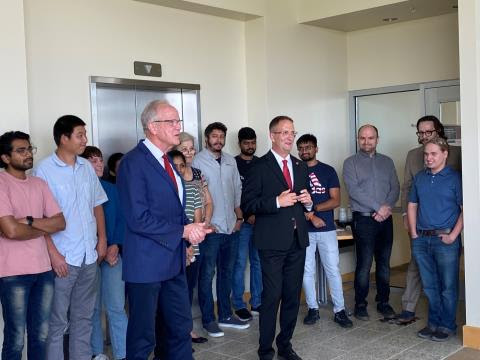 Visiting the Girard Medical Center
Also on Monday, before heading back to Washington, I had the opportunity to visit the Girard Medical Center, where I toured their facility and met with the center's medical staff and administration. It was great to meet members of the faculty and learn more about their experiences working in a small-town Kansas medical center. With the negative impacts from the pandemic, supply chain issues and workforce shortages, I appreciate the dedication of health care providers now more than ever. Thank you to the center's CEO, Ruth Duling for the warm welcome, and to everyone at Girard Medical for your continued efforts to provide southeastern Kansas with exceptional care.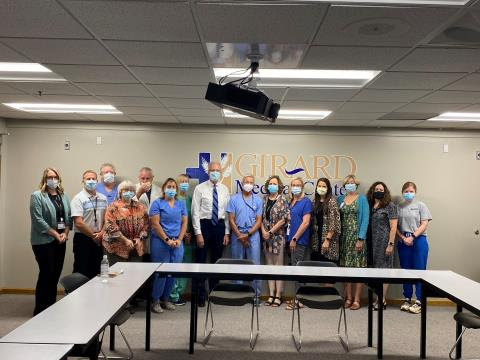 Announcing New Federal Resources for Cherokee County Sheriff's Office
Earlier this week, I announced new federal resources for the Cherokee County Sheriff's Office. As the lead Republican on the Senate Appropriations Subcommittee that funds the Department of Justice, it is my priority to support our law enforcement and provide officers and departments with the resources they need to keep our communities safe, including our more rural areas. I look forward to working with Sheriff Groves and law enforcement leaders across the state to continue bringing these crucial public safety tools to Kansas. Thank you to the Cherokee County Sheriff's Office, Sheriff Dave Groves, and County Commissioners Lorie Johnson, Myra Carlisle Frazier and Cory Moates for joining me for this announcement.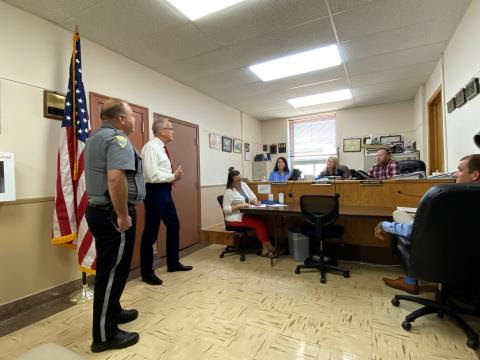 Touring Key Apparel in Fort Scott
While in Bourbon County, I toured Key Apparel in Fort Scott, a clothing wholesaler that manufactures durable workwear from men, women and children. This local Kansas business first opened in Fort Scott in 1908 and has expanded throughout the years as it rapidly gained a reputation for producing quality work apparel. Known for their iconic bib overalls worn by farmers, ranchers and blue-collar workers, Key Apparel was announced as the official clothing supplier of the Kansas FFA earlier this year. This company also partners with the Kansas State Fair. Thank you to President and CEO Chris Barnes for providing a tour of the facility and for sharing how consistent, long-term policies are important to him and other business owners to provide stability as they navigate markets and government regulations. Special thanks as well to Rob Harrington, Bourbon County Economic Development Director, Katie Harrington, Fort Scott Mayor, and Kelly Zellner, Fort Scott City Manager for joining us.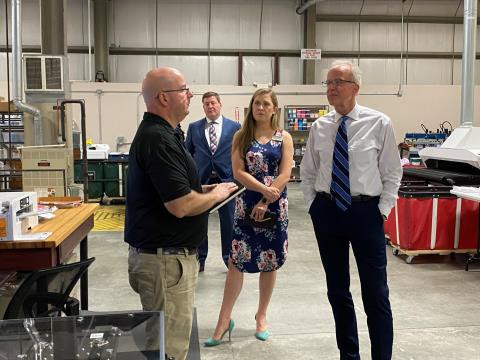 Meeting with Kansans in Washington, D.C.
Kallisti Mandanis from Andover High School
During this past summer, Kallisti Mandanis has been serving as my Senate page in Washington, D.C. I appreciate her hard work throughout her time here in the Senate, and I look forward to seeing what the future holds for her as she returns back to Kansas this fall. I hope her time in the Senate, learning about our federal government and serving Kansans, has been a valuable experience for her.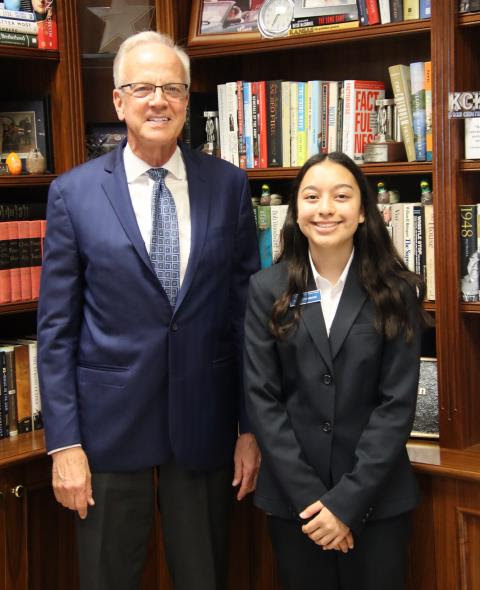 Capitol Tour Groups
Visiting with Kansans during their trips to Washington, D.C. is a highlight for me. This past week, I met with several groups during their visits to my office for Capitol tours. It is always great to meet with these folks and to speak with Kansans about the issues that are important to them.
This great group below includes visitors from many areas: Barbara Gatewood (Manhattan), Deborah Marsh (Rostraver, PA), and Karrah Timko (Elizabeth, PA); Marcia Williams (Topeka), Kim Williams-Gaston (Topeka), and Jaelyn Gaston (Topeka); Dustin and Ashleigh Mengarelli and children, Cooper and Keaton (Topeka) and Jon and Desiree Gaul and son, Adler (Springfield, VA); Ellis and Karen Hutchison and foster son, Tommy Reynolds (Belton, TX).
Stendebach Family from Olathe
I enjoyed meeting Randy and Steven Stendebach from Olathe this week while they were Washington for a Capitol tour with my office.
Grandcolas Family from Leawood
It was great to meet with Gary and Margaret Grandcolas and their son David from Leawood during their visit to my D.C. office for a tour this week.
1st Infantry Division Soldiers from Fort Riley
It was great to visit with 1st Infantry Division soldiers from Fort Riley as they were getting ready for the Dodge City Days 5k & 1 Mile Shootout!