Visiting with Kansas Cadets at the U.S. Air Force Academy
This week I enjoyed getting to visit with Kansas cadets at the United States Air Force Academy. One of my most meaningful responsibilities as a U.S. Senator is nominating young Kansans to attend our nation's service academies, and to support them in accomplishing their desires to serve their country. These men and women are some of Kansas' best and brightest. Having Kansans at our service academies is just one of the many ways our state is playing a pivotal role in fortifying our nation's current and future defense.
I want to thank Cadet Malachi Feil from Wichita, Cadet Robert Wright from Wichita, Cadet Lauren Steinlage from Olathe, Cadet Andrew Emerson from Topeka, Cadet Nelson Loosli from Dodge City, Cadet Chase Dwonrnicki from Wichita, Cadet Michaela Birkholz, Cadet Tyler Simms from Olathe, Cadet Zachary Bollinger from Hesston, and Cadet Mason Vasta from Overland Park for joining me at lunch.
Update on Quivira National Wildlife Refuge
On Thursday, I spoke with the United States Fish and Wildlife Service (FWS) Director, Martha Williams, to discuss concerns about her agency's Request to Secure Water with the Kansas Depart of Agriculture-Division of Water Resources related to senior water rights of the Quivira National Wildlife Refuge in south-central Kansas. I reiterated concerns from Kansans on the potential uncertainty and unpredictability for farmers and ranchers, which could devastate rural Kansas communities and the agricultural economy. I re-emphasized and asked Director Williams to meet with and continue working with local stakeholders and state leaders to find a solution that works for everyone.
Open House at Colmery O'Neil VA Medical Center
On Friday morning, I spoke at the ribbon cutting for the expansion of Colmery-O'Neil VA Emergency Department, This is the completion of Phase Two of the expansion, providing six additional beds for a total of eleven beds available for patient care. The enhancements to the facility include single occupancy rooms for enhanced privacy as well as two additional trauma bays and two behavioral health rooms, providing a secure environment for veterans experiencing a mental health crisis. An additional service is the participation in the VA National Telestroke Program (NTSP) which serves veterans with acute stroke symptoms at VA emergency departments, urgent care centers and hospitals in order is provide acute stroke expertise to front-line staff via videoconference with a telestroke neurologist.
Thank you to Director Rudy Klopfer, Emergency Department Chief Dr. Stephanie Davis and everyone in the Eastern Kansas VA Health System, as well as Bill Turner, Director of the Kansas Commission of Veterans Affairs, for your commitment to serving our veterans.
Captain Richard Federico, Nominee for 10th Circuit Court of Appeals
While in Topeka, I met with Captain Richard Federico to discuss his nomination to serve on the United States Circuit Court of Appeals for the Tenth Circuit, which has jurisdiction over Kansas. I appreciated the opportunity to ask him more about his career and how he views the role of a judge. I look forward to hearing his testimony at his confirmation hearing.
Attending Kansas Agriculture Summit Reception
On Wednesday, I attended the 2023 Governor's Summit on Agricultural Growth reception in Manhattan. I enjoyed speaking with Kansans on the upcoming farm bill, hunger and water issues and new growth opportunities for the agricultural industry. It's important that I hear from producers and industry professionals to support our Kansas farmers and ranchers.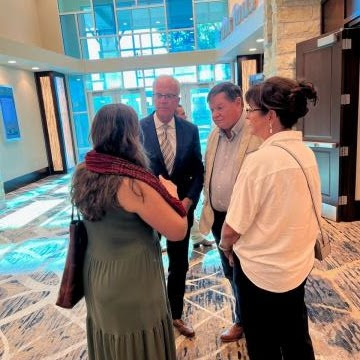 K-State's School of Veterinary Medicine
On Saturday, I was pleased to speak with Kansas State President Richard Linton and Senior Vice President Marshall Stewart in Manhattan. During our meeting, we discussed the current successes and future of K-State's School of Veterinary Medicine. The Vet School is highly regarded within the animal science industry, and has remained at the forefront of our state's efforts to increase competitiveness in the agriculture industry.
I thank President Linton and Vice President Stewart for their dedication to bringing additional research, educational and economic opportunities to the state of Kansas and look forward to working with them on expansions and improvements to the Vet School.
Ohlde Seed Day
On Thursday, I had the opportunity to speak with Kansas farmers at Ohlde Seed Field Day in Palmer. I provided an update on the 2023 Farm Bill and the priorities that must be included, such as crop insurance, farm conservation programs and risk management products. Ohlde Seed Farms has been producing seed in Palmer for 75 years and supplied resources for farmers across the nation. I was able to learn about the latest and best agricultural technology alongside Kansans who are working hard to keep our state a top agriculture producer.
It is vital to our state and nation that we support our Kansas farmers and ranchers who are producing the high-quality food and fiber that clothe and feed the world.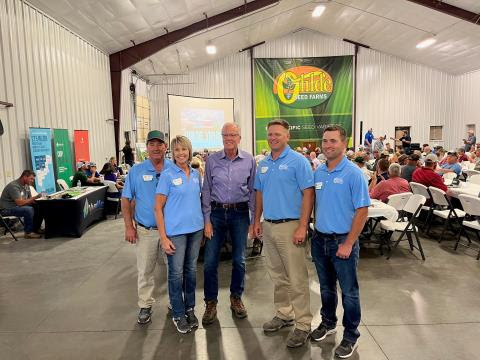 Meeting with Compass Minerals
I met with CEO Kevin Crutchfield on Friday in Overland Park at the Compass Minerals office. The organization provides various minerals that are necessary for agriculture and transportation. In the 30 years since its founding, Compass Minerals has created thousands of U.S. jobs and is the largest producer of salt in North America. Thank you to Kevin for welcoming me to the office headquarters.
Speaking with Lieutenant General Beagle 
This weekend, I spoke with Lieutenant General Milford Beagle Jr., the Commanding General, U.S. Army Combined Arms Center and Fort Leavenworth. Fort Leavenworth is renowned for its high-caliber training programs, spearheaded by the Combined Arms Center (CAC) and the Command and General Staff College. Both the CAC and the Command and General Staff College are pivotal within the Army. The CAC shapes Army doctrine, defining how our troops train and engage in combat. The Command and General Staff College serves as a crucible for future leaders, extending its training not only to Army officers but also to personnel from sister services and partner nations. These institutions play a crucial role in cultivating the next generation of our military thereby having a direct impact on our national security. Fort Leavenworth has indispensable contributions in the training of our military force and I am committed to ensuring our military education and training centers have the essential resources needed for achieving excellence.
Thank you to Lieutenant General Beagle for his commitment and leadership at Fort Leavenworth and his service to our Nation. I look forward to witnessing the continued excellence emanating from the Combined Arms Center, Command and General Staff College, and all of our other great organizations found at Fort Leavenworth.
KIOGA Chairmen's Reception in Wichita
On Sunday evening, I attended the Kansas Oil and Gas Association Chairmen's Reception in Wichita. I appreciated speaking with Kansans about advocating for independent oil and gas producers. It is important to promote Kansas gas and oil industries on the local, state and federal levels to encourage American energy development. KIOGA identifies public policies and deciphers regulations that are fundamental to their member's success and crucial for the betterment of Kansas.
Traveling across Kansas
I love being in Kansas. This time of year, a cool place can be hard to find.