Visiting with Kansans 
This week I had the opportunity to spend time away from Washington, D.C. and meet and listen to Kansans across our beautiful state. Personally visiting with Kansans reinforces my long-held belief in the strength and spirit of our communities and the values that make Kansas a great place to live, work and raise a family. I believe our state will continue to thrive thanks to the work ethic, concern and kindness of its people – but it's vital that Congress to be an ally of the people, not an adversary.
I truly appreciate the input I get from you during my Listening Tour stops and Community Visits. Please continue to give me your questions, complaints and marching orders. I will work to make certain policymakers in our nation's capital understand them as well.
Listening Tour Stop in Cheyenne 
Saturday I was able to participate in the Cheyenne County Fair Parade, in Saint Francis. I appreciated the opportunity to ride in the parade and celebrate the end of the Cheyenne County Fair with the community. A special thanks to veteran and local VFW post commander Bob Ogdon for driving me during the parade. After the parade, I walked downtown St. Francis and visited with members of the community. We discussed matters important to Cheyenne County and Northwest Kansas as well as the state of our country.
I want to thank Rodney Shay for taking time to visit with me as he was getting gas before leaving town.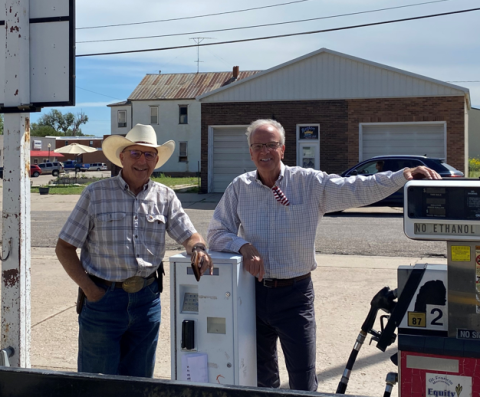 On my way out of St. Francis, I stopped in Wheeler at the American Implement Dealership and visited with staff about the state of the crops in the area and the recent hail storms and severe weather that had damaged corn in some parts of the county.
Visiting McCarty Family Farms
This week I toured McCarty Family Farms in Rexford. The McCarty Family operates a state-of-the-art dairy and milk processing facility that provides specialized milk products to meet the needs of current consumer trends. The McCarty's decided to invest in Northwest Kansas over 20 years ago and they continue to expand and upgrade their operations for the future providing new employment opportunities and economic development for the region.
The dairy industry in Kansas is growing and with that growth the needs of the industry will continue to grow as well. Dairies like McCarty Family Farms require a workforce that is technically trained to operate and maintain mechanized and robotic machinery that is found in modern day dairies as well as a reliable and efficient supply chain for milking and milk processing equipment. Thank you to brothers Ken and Dave for providing me a tour of their operation and I look forward to working with them to support the growing dairy industry in Kansas.
Attending Greeley County Farm Bureau Annual Meeting
On Tuesday I was in Tribune and joined the Greeley County Farm Bureau for their annual meeting. Before the meeting I was able to visit with members of the county board as they were preparing the meal for the meeting as well as the student agricultural ambassadors of the Greeley County Farm Bureau. It is the role of these students to help educate their fellow classmates on agriculture and the food system. I enjoyed visiting with the students about their future plans and their projects in the upcoming Greeley County Fair.
During the meeting I visited with Farm Bureau members about their operations and the fortunate change of drought conditions in the area and thanks to rain this summer. Special thanks to all the Farm Bureau members for speaking with me and for being strong advocates for farming.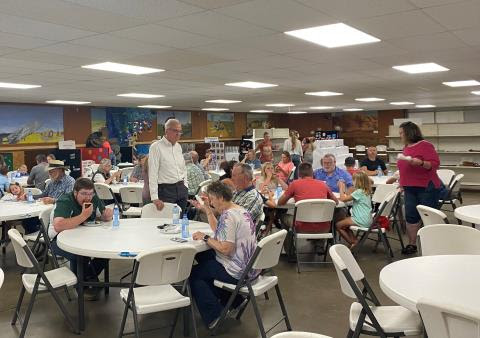 Brewster Community Visit  
This week, I stopped in Brewster to visit businesses and to hear from members of the community. While in Brewster Grocery I had the opportunity to visit with the employees of the store and patrons. I was pleased to see the success of Brewster Grocery and learn about how they source local fresh produce from 4B Farms in Grinnell.
I also was able to visit with Kansans at Farmers Bank & Trust to talk about banking in the Brewster area. I also spoke with staff at Frontier Ag where we discussed the recent wheat harvest. While at S&T Telephone I had the opportunity to talk about rural broadband access and how important internet connectivity is for rural businesses and education. Thank you to Heather McDonald and Bonnie Holm for taking time out of their day to visit with me. Thank you to all the Kansans I visited with while in Brewster for allowing me to take a break from the heat in their air conditioning.
Belleville Community Visit 
On Monday, I travelled to Belleville and made several stops across town to hear from Kansans about what was new in town and across Republic County. While walking downtown I stopped in at Gottschalk & Company CPAs to talk with the staff about their business and issues with the tax system. At the Republic County Court House I appreciated the opportunity to speak with fellow public servants in the Register of Deeds office and the County Treasurer and Clerk's offices. We spoke about the issues they are facing as they serve the communities in Republic County and what ways the federal government could better provide assistance. At City Hall I spoke with the City Clerk's office and had similar conversations on public service and heard more about issues specific to the City of Belleville. I also stopped by the Chamber of Commerce and Mainstreet Program office. While there I learned about the work the Chamber is doing to support businesses in Belleville and to keep main street a thriving center for business and commerce.
This week was fair week across many Kansas communities, including Republic County. Before leaving town I made sure to stop by the United Methodist Church Food Court for a piece of Apple Pie!
Touring Flame Engineering
In the 1950's Ralph and Mike Pivonka began using homemade torches for weed control on their family farm. Interest in their products grew and they decided to establish Flame Engineering. Today, Flame Engineering's products can be found on shelves in retailers across the United States and Canada. I appreciated the opportunity to tour their factory floor and learn more about their business and culture of safety. For over 21 years, Flame Engineering has not had a lost time work accident. Thank you to Mike, Jason, and Tyson Pivonka and Linda Miller for their time and willingness to share their experience with me.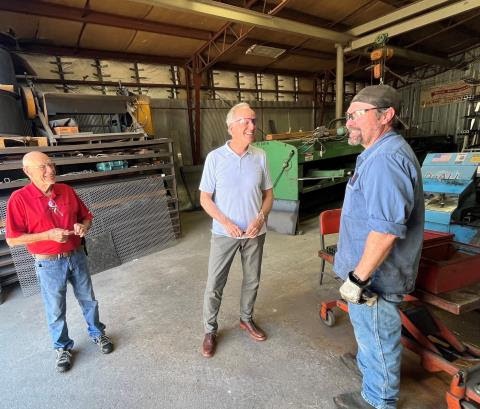 Visit to U.S. Drug Enforcement Administration (DEA) Rocky Mountain Field Division
This week, I had the opportunity to meet with the hard-working Agents of the Drug Enforcement Administration, assigned to the Rocky Mountain Field Division. The agents took the time to brief me on fentanyl precursor chemicals from China, which are regularly shipped through the US Postal System. It is also difficult to track Transnational Criminal Organizations because they often utilize cash to crypto currency.
As the lead Republican on the Senate Appropriations Subcommittee on Commerce, Justice, Science and Related Agencies I have oversight of the DEA and visits like this are important as we work to make certain the DEA has the right resources to better protect our communities and nation.
Visiting with Kansas Bankers Association
This week, the Kansas Bankers Association (KBA) held their annual leadership meeting. Throughout the conference we discussed right-sizing federal regulation for Kansas banks to best serve their customers and limiting federal efforts to increase the cost of credit which would harm their ability to service the needs of their communities.
This week's gathering was an opportunity for me to hear directly from Kansas lenders about the issues they are experiencing. Banks are critical to growing communities both large and small, and we discussed how to continue improving the regulatory environment to satisfy their customers' needs. The Access to Credit for Rural Economies (ACRE) Act, a bill I introduced with Sen. King (I-ME), would help community banks lower interest rates for ag real estate and mortgages in rural towns. I'm grateful for the opportunity to attend the KBA's annual meeting and look forward to continuing the dialogue with Kansas lenders.

Radio Interviews Across Kansas
KMAN in Manhattan
This week, I was on KMAN radio in Manhattan, where I had the opportunity to discuss the recent passing of the NDAA and the resources it will have for our servicemembers and for Fort Riley. I worked with my colleagues to ensure that Fort Riley has the resources to construct an aircraft maintenance hangar, air traffic control tower and has new investments to the power generation and micro grid. It also includes resources for the Bob Dole railyard to transport our military equipment rapidly in times of deployment.
You can listen to my full interview here.
KXXX in Colby
On Tuesday, I spoke on KXXX 790 in Colby about my visit to McCarty Farms and my plans for touring the state during the month of August. It was great to talk with Joel about the dairy industry and expected growth in the future as national dairy companies look to Kansas to utilize its resources.
As large businesses and government agencies are moving from cities to the Midwest, we discussed the need for more affordable housing and childcare options as job opportunities increase in the state. Both federal and state programs are working to provide entry-level housing development and renovations so that families and individuals can afford buying a home.
You can listen to my full interview here.
Creating a Fair Organ Donation System 
The Senate recently passed legislation to give the Human Resources and Services Administration (HRSA) statutory authority to break up the monopoly contract currently held by the United Network for Organ Sharing (UNOS) to manage the nation's Organ Procurement and Transplantation Network (OPTN). The bill already passed the House of Representatives and is now on the President's desk to be signed into law.
I introduced the Securing the U.S. OPTN Act with Sens. Ron Wyden (D-Ore.), Chuck Grassley (R-Iowa), and Bill Cassidy (R-La.) to improve the management of our organ procurement and transplantation system by allowing HRSA to divide the OPTN contract and increase competition for those contracts through an open, transparent bidding process. UNOS' over 30-year hold on the sole OPTN contact has resulted in everything from damaged organs to discriminatory organ donation policies. It has long been clear that UNOS should no longer be the sole contractor for the organ donation system.
I have worked for years to shed light on the mismanagement of the organ donation system and have consistently called for the contract to be divided. Congress has now given HRSA the authorities needed for the agency to bring in new contractors and we will continue urging HRSA to review the unfair policies and regulations put in place under UNOS' direction. Once signed into law, this legislation will help provide greater transparency to the organ donation system and change how the contract is divided. Every organ counts, and now the system will be overhauled to help save lives.
Improving the VA & Holding Bad Actors Accountable
I recently introduced the Leadership, Engagement, Accountability and Development (LEAD) Act of 2023 to improve oversight and whistleblower protection at the Department of Veterans Affairs (VA) in order to enhance the quality of service provided to our veterans. My colleagues, Senators Jon Tester (D-Mont.) and Mike Rounds (R-S.D.) joined me in introducing this legislation. This effort will help in building a comprehensive package, complementing another bipartisan bill I recently introduced, the Restore Department of Veterans Affairs Accountability Act, that would provide VA with the authority to discipline bad employees in a more timely, fair, manner to help foster a healthy workplace and more importantly, put our veterans first.
In my role as the Ranking Member of the Senate Veterans' Affairs Committee, I've seen far too often – across the nation and in our state of Kansas – instances of a few bad employees disrupting the culture and service at the VA, and negatively impacting veterans. That is unacceptable. Department leaders at all levels need to take more proactive measures to root out bad actors and empower rank-and-file employees to hold leadership accountable. Bills like the LEAD Act and the Restore Department of Veterans Affairs Accountability Act would help prevent wrongdoing and leadership failures while also increasing patient safety and the quality of services, care, and benefits at VA facilities across the country. While I know the vast majority of VA employees are upstanding employees and wholeheartedly believe in VA's mission, we need to ensure that the Department has the tools it needs to hold the few bad apples to account. I look forward to working with my colleagues to pass both bills in the Senate.
Introducing Legislation to Remove Hidden Hotel Fees 
High prices are forcing Kansans to account for all their expenses, and they should not need to guess how much they will end up paying for a hotel room. I introduced the Hotel Fees Transparency Act with Senator Klobuchar (D-Minn.) to improve transparency for consumers by requiring anyone advertising a hotel room or short-term rental to clearly show up front the final price a customer will pay to book lodging. This commonsense legislation requires hotels and other short-term lodging providers to display and advertise the total price of their room, so Kansans can be certain that the listed price is what they will pay at check out. I look forward to working with my Senate colleagues to pass this important legislation.
Introducing the Farmer to Farm Education Act
I also recently introduced the Farmer to Farmer Education Act, allowing Kansas farmers and ranchers to leverage and expand their networks to address conservation challenges, including weather events, drought, floods, wind erosion and general best practices. The legislation authorizes the USDA-National Resources Conservation Service (NRCS) to enter into cooperative agreements with community-agricultural groups in Kansas to establish and develop conservation peer networks. Farmers and ranchers in Kansas are the original conservationists and we should give them all the necessary tools available so they can continue to produce high-quality food and fiber.