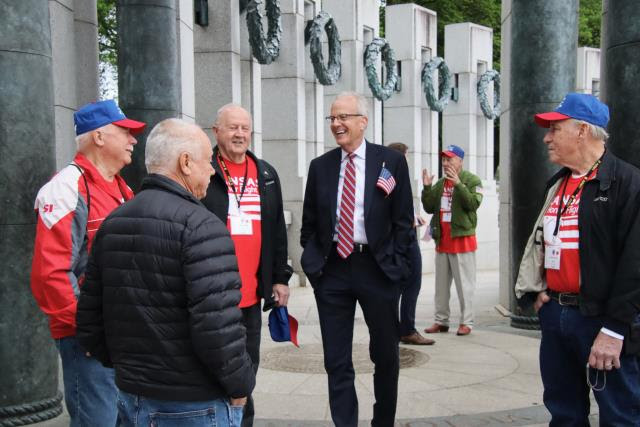 FAA Reauthorization Update
It is Time to Vote on FAA Reauthorization
According to the Transportation Security Administration (TSA), Friday, June 30 marked the single busiest day in history at U.S. airports, with TSA screening nearly 3 million passengers alone. While airports, airlines and the Federal Aviation Administration (FAA) all predicted the demand, passengers were still left stranded and sleeping on airport floors instead of celebrating Independence Day with family due to the delays, cancellations and chaos that ensued.
A Department of Transportation Inspector General (DOT IG) report released the week prior highlighted air traffic controller staffing challenges the FAA currently faces, stating the levels present a "risk to the continuity of air traffic operations" – only meeting 54% of its staffing target in the New York area. The risks detailed in this report were validated this last weekend.
As the lead Republican of the Commerce Aviation Subcommittee, I helped craft the FAA Reauthorization legislation. It is critical that we provide certainty and a long-term reauthorization to the FAA to meet the current demands. Senate Majority Leader Chuck Schumer (D-N.Y.) stalled a markup of the Senate's bipartisan FAA Reauthorization product last month, and I urge Commerce Committee Chair Maria Cantwell (D-Wash.) to have the committee vote on this critical legislation as soon as possible.
FAA Safety Starts at the Top
The FAA is responsible for the safety of travelers and is vital to our nation's economy, which is why it is also deeply concerning that the FAA has not had a permanent, Senate-approved leader – the FAA Administrator – for more than 450 days. Leaving this post vacant is having a ripple effect not just in aviation but on multiple sectors and industries. Even with new resources and modernized authorities, these are just words on paper if we don't have an FAA administrator. The FAA is too critical to be guided by interim leaders.
While Congress can help ensure resources, craft authorizing language and provide the FAA with most of the tools it needs to succeed, the agency must have a leader with a steady hand at the helm.
The White House must act to nominate an individual with extensive experience in transportation and aviation, an understanding of the role the FAA plays in consumer safety and knowledge of the business models by which aviation works in the U.S. and around the world.
I urge the president to put forward an experienced nominee so the FAA can reduce disruptions for air travelers, ensure the safety of our skies and guide us into the next era of aviation.
You can read my full op-ed in Aviation Week here.

Urging President Biden to Prioritize Defense Spending
Ahead of the NATO summit this week in Lithuania, I sent a bipartisan letter to President Biden with 34 of my colleagues advocating for making defense spending a key agenda item. In 2014, after Russia illegally annexed Crimea, all NATO members agreed to spend 2 percent of their GDP on defense. Nine years later, only seven of the then-30 members are meeting their commitment. The letter expresses concern that this limits Europe's ability to contribute to the alliance's shared interest in defending against Russia and warns that American support for NATO could be undermined if our allies do not assume more responsibility for their own security. Europe's stability is essential to the United States, and our commitment remains strong, but it is necessary for our European friends to share more of the burden of defense and thereby free American military resources to meet other challenges.
You can read more from USA Today here.
Bill to Streamline VA Minor Construction Projects
The Department of Veterans Affairs Minor Construction Threshold Adjustment Act of 2023 seeks to streamline the nationwide delivery of minor construction projects within the Department of Veterans Affairs (VA). Recognizing the recent increase in construction costs, due to factors like inflation, supply chain challenges and material prices, the proposed legislation aims to optimize the VA's rules and regulations. By doing so, it intends to expedite the implementation of projects at local VA facilities across the country while also achieving cost savings for taxpayers.
Additionally, the bill mandates the establishment of a new process, subject to biennial review, which will determine the feasibility of carrying out projects locally, with appropriate oversight from Congress. This pragmatic approach will accelerate the completion of construction projects and the modernization of facilities, ultimately enhancing veterans' access to high-quality health care. Notably, this bill represents the first significant improvement to the program since the enactment of the VA MISSION Act of 2018.
Marking Anniversary of Hong Kong Handover, National Security Law
This past week marked the anniversary of Hong Kong's transfer from British control to China's in 1997. China agreed to permit Hong Kong to operate its own economic and government systems for a period of 50 years, but beginning in 2019, China began to dramatically curtail Hong Kong's freedoms, culminating in the passage of the National Security Law in 2020.
I joined the leaders of the Senate Foreign Relations Committee and 26 other colleagues in a bipartisan statement condemning the National Security Law, which has been used to unjustly charge democracy supporters with sedition and to charge and intimidate individuals beyond China's borders, including in the United States. I will continue to speak out in defense of freedom and the rule of law around the world.
Leading Legislation to Encourage Responsible Lending
I joined my colleagues in introducing the Middle Class Borrower Protection Act. This bill would unwind the recent harmful changes made by the Federal Housing Finance Agency (FHFA) to the Loan Level Pricing Adjustments (LLPA), one-time, upfront fees charged to lenders when Fannie Mae and Freddie Mac purchase their loans. The change to the LLPA effectively raised rates for those with credit scores above 680 to subsidize lower rates for those with lower credit scores. Since nearly two-thirds of Americans meet this credit score threshold, this change will result in a loss of $1.8 billion from borrowers and raise mortgage rates for millions.
I also signed a bipartisan letter to the FHFA in April pushing back on this misguided policy. We need to encourage responsible lending, not punish those who pay back their loans with higher fees.
Increasing Access to Advisor Information Act
I introduced legislation aimed at supporting investment research into small-capital public companies. The bill would extend a Securities and Exchange Commission (SEC) no-action letter that currently excludes brokers and dealers compensated for research services from being defined as investment advisers. Since many broker-dealers that provide research coverage do not have an affiliated registered investment advisory business, nor do they otherwise act as investment advisors, the no-action letter's expiration will subject them to a costly, largely inapplicable regulatory framework, and drastically reduce investment research on small-cap firms.
Additionally, I sent a bipartisan letter to the SEC highlighting the decrease in available small business research when the no-action letter expires. At a time when small issuers face increased hurdles to public offerings, this legislation and bipartisan letter aim to make it easier to invest in small public companies.
Now Accepting Fall 2023 Internship Applications
My own interest in public service was sparked by an internship for Kansas First District Congressman Keith Sebelius in 1974. As an intern, I had the chance to learn firsthand how a Congressional office operates and how the legislative process works. I am glad to be able to offer this same opportunity in my Senate office today, where I have interns working year-round with my staff to serve Kansans.
Applications for internships in my Washington, D.C. and Kansas offices for the fall 2023 session are due on Sunday, July 16. Congressional internships are open to qualified undergraduate and graduate students who have an interest in public service and have achieved academic excellence. Click here for more information and to apply.
Now Accepting 2023 Service Academy Applications
Applications are now open for students to apply to a United States Service Academy for the Class of 2028. One of my favorite duties as a U.S. Senator is appointing Kansans to the U.S. Military Academy in West Point, New York; the U.S. Naval Academy in Annapolis, Maryland; the U.S. Air Force Academy in Colorado Springs, Colorado and the U.S. Merchant Marine Academy in Kings Point, New York.
For the list of requirements and to apply, you can visit my website here. All application materials are due to my Olathe office by Friday, September 1, 2023. After applications have been reviewed, applicants will be notified of interviews with my Service Academy Selection Board.
Honored to Serve You in Washington
It is an honor to serve you in Washington, D.C. Thank you to the many Kansans who have been calling and writing in to share their thoughts and opinions on the issues our state and country face. I appreciate the words of Kansans, whether in the form of a form of letter, a Facebook comment or a phone call, who wish to make their voice heard.
Please let me know how I can be of assistance. You can contact me by email by clicking here. You can also click here to contact me through one of my Kansas offices or my Washington, D.C., office.
Very truly yours,
Jerry
To unsubscribe from this newsletter, please click here.
Hays
1200 Main St.,
Suite 402
P.O. Box 249
Hays, KS 67601
Phone: (785) 628-6401
Manhattan
1800 Kimball Avenue,
Suite 270
Manhattan, KS 66052
Phone: (785) 539-8973
Fax: (785) 587-0789
Olathe
23600 College Blvd.,
Suite 201
P.O. Box 1154
Olathe, KS 66061
Phone: (913) 393-0711
Fax: (913) 768-1366
Washington, D.C.
Dirksen Senate Office Building
Room 521
Washington, D.C. 20510
Phone: (202) 224-6521
Fax: (202) 228-6966
Wichita
100 North Broadway,
Suite 210
Wichita, KS 67202
Phone: (316) 269-9257
Fax: (316) 269-9259

Garden City
1511 East Fulton Terrace, Suite 1511-2
Garden City, KS 67846
Phone: (620) 260-3025

Pittsburg
306 N. Broadway, Suite 125 (rear entrance of bank)
P.O. Box 1372
Pittsburg, KS 66762
Phone: (620) 232-2286
Fax: (6