Veterans Need the PACT Act Passed Now
The most important business before the United States Senate is passing the SFC Heath Robinson PACT Act for our nation's veterans. This weekend, I spoke with my Senate colleagues, both Democrats and Republicans, veteran committee staff and veterans in Kansas about getting the PACT Act passed as quickly as possible. I introduced this historic bill, advocated for this bill, voted for this bill and I will work until we have this bill done and signed into law.
On Thursday, I spoke on the Senate floor urging my Senate colleagues to support the PACT Act. Veterans need this bipartisan legislation passed now. This is an issue that's taken too long to resolve – delivering health care and benefits to thousands of veterans who are ill due to their exposure to burn pits and other toxic substances. For more than two years, I have worked with Sen. Tester, our colleagues in the House and Senate, multiple VSOs, veterans and their families to provide veterans with the health care and benefits they deserve.
As the lead Republican on the Senate Veterans' Affairs Committee, I have worked to make certain this bill is the best version that it can be. There are not many certainties when it comes to Congress, but I assure our veterans, we will get this bill passed; and we will get it signed into law.
You can watch my full speech here.
Unveiling Amelia Earhart's Statue in the U.S. Capitol
This week, I joined members of the Kansas delegation and Congressional leadership in unveiling a statue of our state's very own Amelia Earhart in the U.S. Capitol. Her statue now joins President Dwight D. Eisenhower representing Kansas as part of the National Statuary Hall Collection. With Dwight D. Eisenhower and now Amelia Earhart, Kansas officially has two of the most iconic and recognizable American heroes representing any state in the United States Capitol.
Amelia Earhart is someone who is recognized for her historic renown as an aviator, but also someone who broke barriers, created opportunities for others and captivated the attention of the world with her adventurous spirit. Between two and three million people from around the world visit the U.S. Capitol every year. It is my hope that this statue of Amelia Earhart will encourage other girls and boys from small towns across the country to dream big and work hard to achieve their dreams. And for those who can't travel to the U.S. Capitol, they can visit the Amelia Earhart Hanger Museum in Atchison where a replica statue will be on display of a determined young woman with short cut hair, a curious smile, a bomber hat in hand and a sunflower on her belt buckle.
I want to thank a few people who attended the ceremony this week, and without their hard work, the Amelia Earhart statue would not have been possible: Jacque Pregont, Karen Seaberg and Rick and Reed Berger with the Atchison Amelia Earhart Foundation. Thank you for never giving up on Amelia and leading the effort to bring this statue to the United States Capitol.
You can watch my full speech during the Amelia Earhart Statue Dedication Ceremony here.
Fox News Interview on Sen. Schumer's Tax and Spending Spree
On Saturday, I joined Fox News before the Dodge City Days Parade to discuss Sen. Schumer's reckless tax and spending spree. In Dodge City, folks are worried about the rising costs of everything and are saying times are tough for us and that Congress needs to get spending under control.
With inflation at a 41-year high and two consecutive quarters of negative GDP, Sen. Schumer wants to spend more money, raise taxes and attack American energy production. This makes no sense.
Kansas is an energy-producing state, and I'm for an all-of-the-above energy strategy that includes oil, gas, ethanol, wind, solar and electric. We need pro-growth policies, not more spending and higher taxes.
You can watch my full interview here.
Meeting with Kansans in Washington, D.C.
Kansas Grain and Feed Association
On Wednesday, I met with the 2022 Tomorrow's Agribusiness Leaders class, a leadership and professional development program for members of the Kansas Grain and Feed Association and the Kansas Agribusiness Retailers Association. During our meeting, we discussed issues facing producers and grain handlers, including difficulties in shipping products to market. They conveyed the importance of crop protection products for growing high-yield crops, as these products help make it possible for farmers to feed the world. We also discussed Farm Bill priorities, such as the working lands conservation program, which encourages good land stewardship and soil health while keeping land in production. I look forward to advancing our shared priorities in the upcoming Farm Bill and continuing to advocate for producers in Washington, D.C.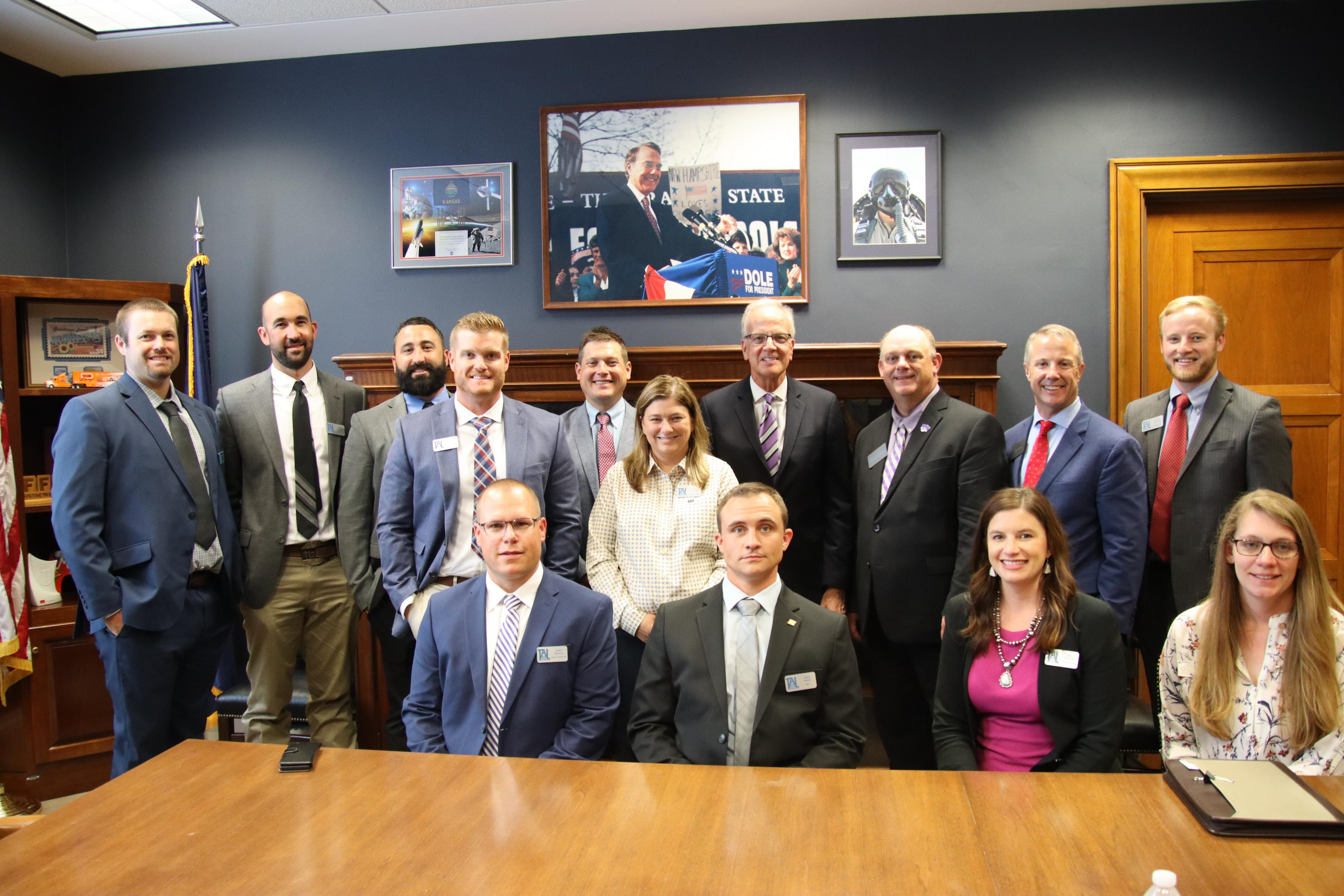 Pittsburg State University
This week, I was pleased to meet with Professor Amy Hite from the Irene Ransom Bradley School of Nursing at Pittsburg State University (PSU) during her visit to Washington, D.C. for the Nurse Practitioner Consortium Conference. Amy spoke with me about the Kansas Nurse Practitioner Residency Program, a partnership among PSU, Ascension Via Christi, Girard Medical Center, and the Community Health Center of Southeast Kansas, a topic she presented on during the conference. We also discussed the important role of medical education partnerships with local health care providers in addressing the health care workforce shortage, which is especially prevalent in Kansas' rural communities. Without proper education and training for future medical professionals, our rural towns will struggle to strengthen our health care workforce. It is local efforts like PSU's that will truly make the difference. Thank you to Professor Hite for taking the time to speak with me during your visit to D.C. and for your work to train our future generations of nurse practitioners.
American Legion Boys Nation and American Legion Auxiliary Girls Nation
On Thursday, I had the opportunity to meet with young Kansans visiting D.C. who are participating in the American Legion Boys Nation and American Legion Auxiliary Girls Nation, both selective, educational programs for high school juniors. Through these respective programs, high school students learn about government, public service and civic responsibility and have opportunities to exercise leadership skills and participate in the political process. These young men and women were each elected by their peers from these respective programs to represent Kansas in Washington. While in the nation's capital, they receive valuable educational and leadership experience as they learn about the structure and function of the federal government.
We also discussed the value and responsibility of public service. Visiting with our future leaders is always a highlight for me, and I know these young people will go on to do great things for our state and country in the future. Thank you to Konnor Quinn-Coleman from Leavenworth, Lukas Haas from Overland Park, Grace Malin from Lawrence and Isobel Li from Overland Park for meeting with me.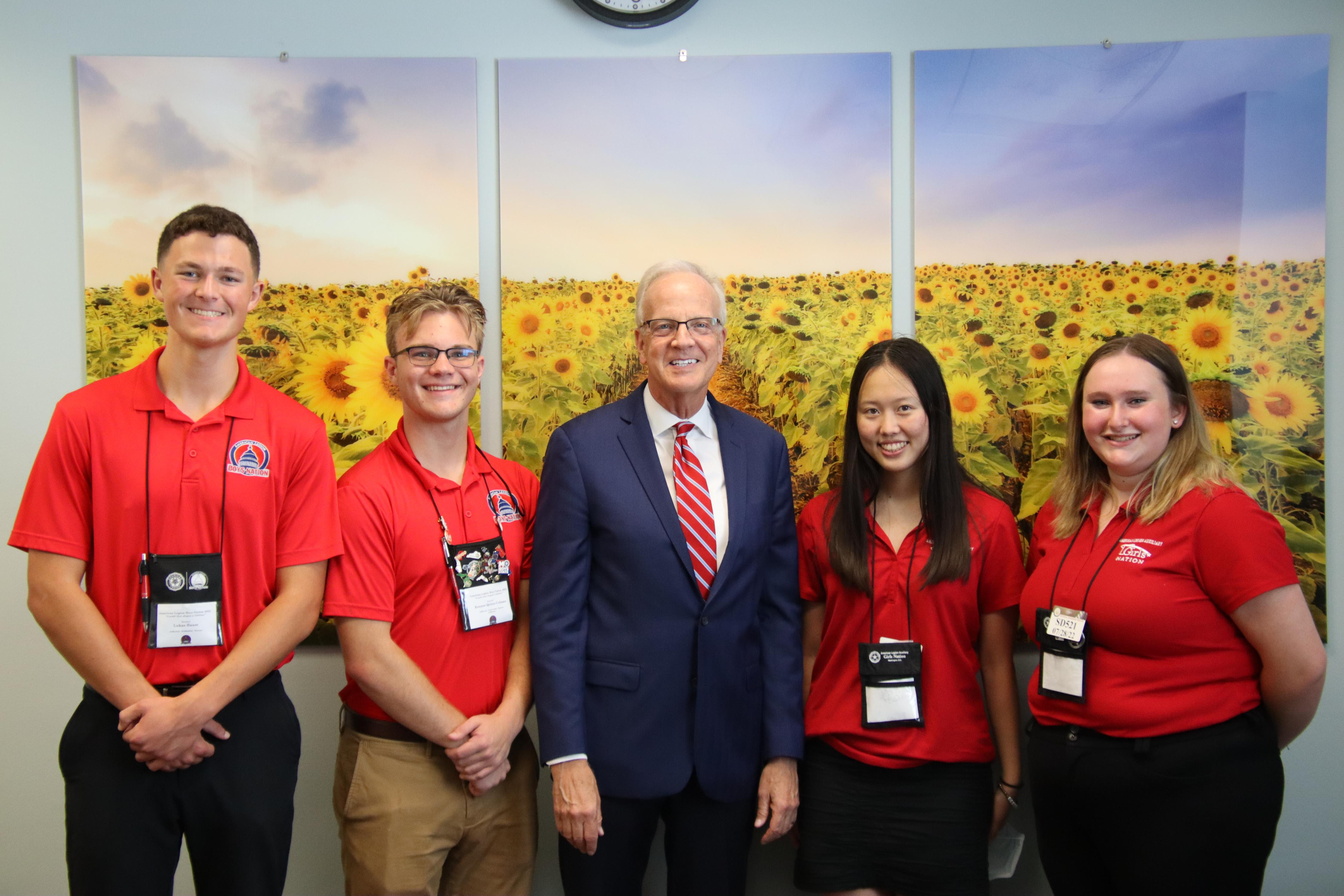 Boyd Family from Mission Hills
I was pleased to meet Rick and Gayle Boyd, along with their children, Georgia and Hampton, during their visit to my Washington, D.C. office for a Capitol tour led by my staff.
Springer Family from Lenexa
I also enjoyed meeting Steven and Jessica Springer and their children, Grace, Faith and Christian, when they visited my D.C. office for a Capitol tour.
Attending Dodge City Days
This weekend, while attending Dodge City Days, I was especially honored to meet Jean Lantis, a 104-year-old resident of Dodge City who, along with her late husband Bob, has raised horses and cattle in the area for years. It was great to hear about all the ways she has invested in the local community throughout the years.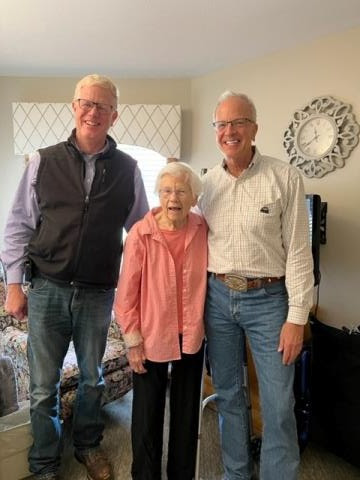 Dodge City Western Days Parade
A highlight of the festivities in Dodge City this weekend was the Dodge City Western Days Parade. It is always good to see familiar faces and to visit with Kansans, and this weekend's parade was no exception. Thank you to all who came out and participated in this great event. It was also great to visit with AG Derek Schmidt, Melanie and Gary Harshberger and Dr. Scott and Mark Fischer during the parade.
Hilmar Hamburger Feed
While in Dodge City, I also attended the Hilmar Cheese Hamburger Feed where Hilmar CEO David Ahlem and members of his team provided hundreds of hamburgers for the event. Last year, Hilmar Cheese announced they will be building a new, state-of-the-art cheese factory in Dodge City. I have long been an advocate of expanding dairy and dairy processing in western Kansas, and I am pleased to see Hilmar's efforts to establish operations here and to support the community.
Announcing Apache Digital Twin at Wichita State University's NIAR
On Friday, I was in the Air Capital of the World to help announce the creation of the Apache Digital Twin at Wichita State University's National Institute for Aviation Research (NIAR). This important program will extend the useful lifespan of the world's most advanced, proven attack helicopter as the U.S. Army advances our nation's security interests. As a Defense Appropriator, I am pleased that Pentagon leadership continues to solidify the important role NIAR plays in the defense of our nation. Thank you to Wichita State President Rick Muma and Senior Vice President for Industry & Defense Programs John Tomblin for their continued leadership in this crucial field. Thank you also to Major Generals Todd Royar and Wally Rugen as well as Brigadier Generals Rob Barrie, Jr. and Francisco Lozano for participating in this important announcement.
Recruiting Efforts Successful to Wichita – Operations Center and Corporate Headquarters
While I was in Wichita, I also joined Novacoast, a national leader in cybersecurity development, to announce its decision to relocate its corporate headquarters to Wichita from California. This exciting announcement comes shortly following the news of Novacoast opening its new Security Operations Center in downtown Wichita earlier this year. This move by Novacoast is further confirmation of the crucial role Wichita plays as a thriving hub for business, and solidifies opportunities for regional Kansas leaders in cybersecurity technology research and development, including Wichita State University, Friends University, Butler Community College and the 177th Information Aggressor Squadron at McConnell Air Force Base.
Our state continues to be an important leader in this field, and South Central Kansas is quickly becoming a pipeline for some of our nation's most talented cybersecurity professionals. Novacoast's presence is creating many rewarding partnerships, along with well-paying technology industry jobs for our community. Congratulations to Greater Wichita Partnership CEO Jeff Fluhr and his team for leading this successful recruitment effort. Special thanks to Novacoast CEO Paul Anderson for his leadership and for making Wichita home for his company and employees.
More Physician Education in Kansas! 91 Students Started Today
On Friday evening, I spoke at the grand opening of the Kansas Health Science Center's Kansas College of Osteopathic Medicine (KansasCOM). Headquartered in downtown Wichita, KansasCOM is our state's first osteopathic medical school. Here, students will participate in a program that combines innovative, integrative and holistic teaching methods that prepare them to meet the health care needs of patients. A foundational part of this college's mission is to address disparities in health care access between urban and rural regions of Kansas. As a member of the Health, Education, Labor and Pensions Committee and member of the Appropriations Committee, I remain committed to developing policy and identifying resources to assist this college in fulfilling its mission to serve Kansans. Thank you to the local and state leaders who attended this grand opening in support of this school. Special thanks to Dr. Tiffany Masson, President of Kansas Health Science Center, Dr. Vadim Levitin, Chair of the Kansas Health Science Center Board and Dr. Michael Horowitz, President of TCS Education System, for their leadership and the work they have done to bring this health care resource to our state.
Recognizing Tyler York as Distinguished Young Professional of 2022
This weekend, I had the opportunity to present Tyler York with the award for Distinguished Young Professional of 2022, recognition he earned from the Wichita Regional Chamber of Commerce. Tyler's dedication to our state and heart for public service have been apparent to all throughout the years he has spent working tirelessly on behalf of Kansans in my office. I was honored to be there to present him with this award and to celebrate his accomplishments, as well as the positive influence he has had on his community.
Visiting Hillsboro Community Hospital Leadership


On Friday, I visited the Hillsboro Community Hospital to check in to see the latest changes. Hillsboro Community Hospital is a 15-bed critical access hospital providing medical services including emergency services, a full-service laboratory, inpatient care, radiology, surgery, physical therapy and more. Thank you to CEO Mark Rooker for hosting me on this tour and to Hillsboro City Administrator Matt Stiles for joining us as well.

Announcing New Federal Resources for Ford County Sheriff's Department
This weekend, I announced an investment of new federal resources for the Ford County Sheriff's Department. Our law enforcement officers work tirelessly to protect our local communities, and they need our support in this difficult work. I joined Sheriff Bill Carr and Undersheriff Dale Coleman in announcing a new grant to purchase body and in-car cameras for their officers, a crucial investment in new technology for their office. I appreciate the work of the Ford County Sheriff's Department in keeping our residents safe and look forward to continuing to support their efforts.

Meeting with Ambassador Hautala
This week, I welcomed Finland's ambassador to the United States, Mikko Hautala, to my Washington, D.C. office to discuss Finland's bid to join NATO and the current threats to European security. Finland borders Russia for 830 miles and takes its defense seriously—it will exceed the 2 percent GDP spending on its military, maintains high readiness, and already works well with NATO. Previously stationed in Moscow, Ambassador Hautala shared valuable insight into Russia and Vladimir Putin's imperial ambitions. To protect another European country from invasion, I intend to support Finland's accession when the Senate votes in the near future. During our meeting, Ambassador Hautala and I also discussed the need for other European countries to do more to contribute to the collective defense as America seeks to focus on the Pacific. Listening to the perspective of our European friends is important, and I thank Ambassador Hautala for making the time to visit.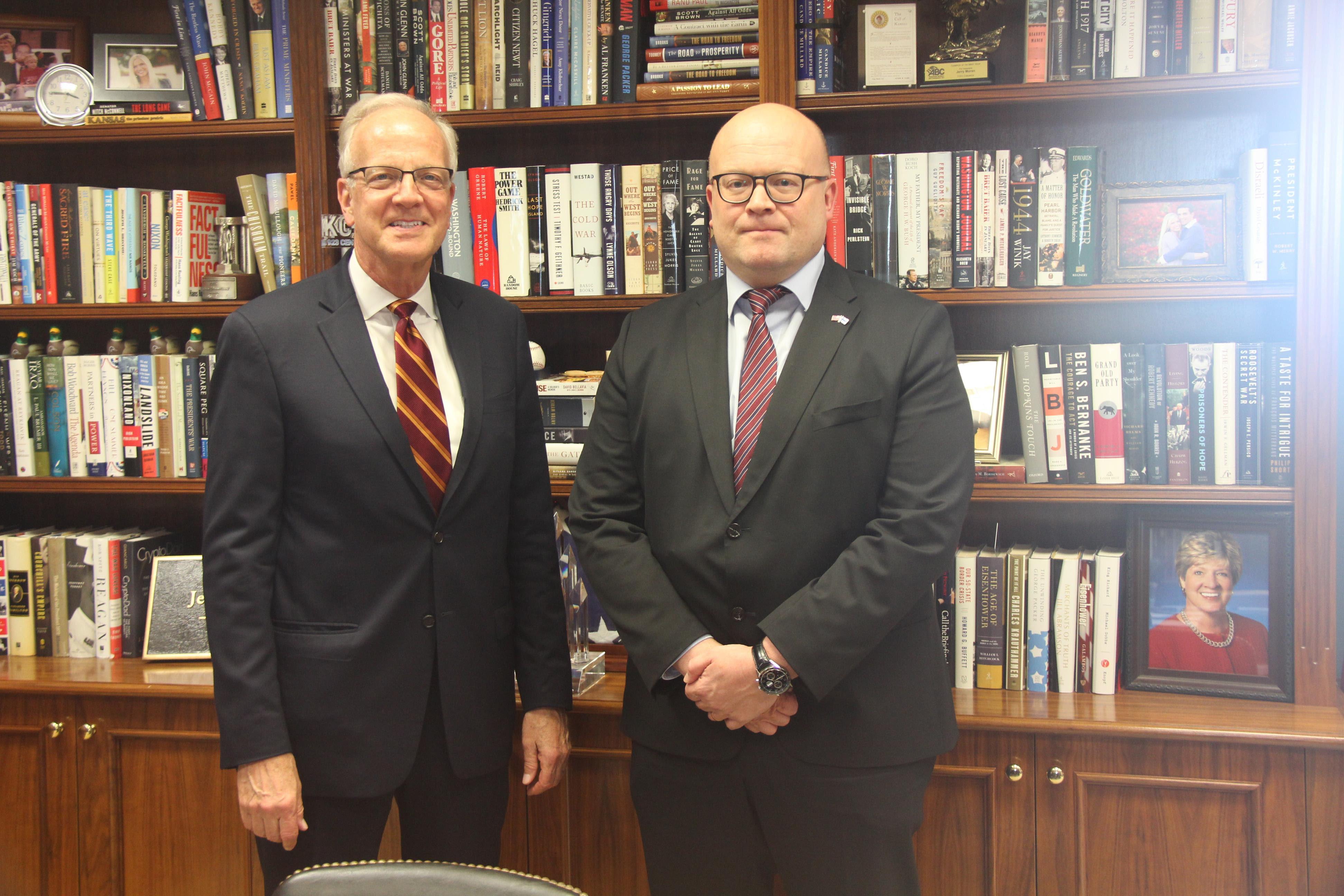 Attending the Kansas Society Annual Banquet
On Wednesday evening, I attended the annual Kansas State Society Dinner in Washington, D.C. This event is an opportunity for Kansans to gather together and share pride in our state. It was great to see so many friends and colleagues who attended. As part of the program, I was honored to present Senator Pat Roberts with the 2022 Kansan of the Year award. Sen. Roberts has been a friend to me throughout the years and has always exemplified true public service. I appreciate his quick wit and wise advice. It was also a pleasure to hear from the 2022 Kansas Cherry Blossom Princess, Jenny Nguyen. Thank you to the members of the Kansas delegation who attended this event and to all at the Kansas State Society for hosting.
Senate Veterans' Affairs Committee Hearing on Pending Nominations
This week, the Senate Veterans' Affairs Committee held a hearing to consider nominees to serve as General Counsel and Board of Veterans' Appeals Chairman at the Department of Veterans Affairs. The General Counsel must make certain the VA is following the laws Congress passes. The BVA Chairman is charged with making sure that the VA gets decisions on veterans' claims right, so veterans can access the benefits they deserve. Both roles are key positions tasked with making certain the VA is delivering for our veterans.
During this hearing, I reminded the two nominees of the important relationship between Congress and the VA and how critical it is for the VA to faithfully execute the law so veterans can access the care and benefits they deserve. The work my colleagues and I do in Washington, D.C. is driven by what we hear from our constituents in our states. It is vital that these nominees, and any leaders within the VA, always keep foremost in their minds that the programs and policies we charge them with implementing are for those veteran constituents we talk to and whom we are trying to assist. I was pleased by the response of each nominee on the important, collaborative relationship that the VA and Congress must have, and I appreciated their commitments to work collaboratively with our committee as we all try to better serve veterans.
Briefing by the Department of Justice
On Thursday, I received a briefing from the Assistant Attorney General for the Criminal division at the Department of Justice on the department's decision not to pursue criminal prosecutions against the FBI agent who failed to investigate allegations of sexual assault. In 2018, I lead an 18-month-long investigation into the decades of abuse of amateur and Olympic athletes by Larry Nassar, and the systemic failure of those in positions of power, including the United States Olympic and Paralympic Committee (USOPC), USA Gymnastics, Michigan State University, and even the FBI, to protect young athletes after learning of credible claims of abuse. In particular, we learned of significant misconduct by at least two FBI agents in the Indianapolis field office who knew of Nassar's abuse, failed to act and made false and misleading statements in documenting the case and describing their conduct to DOJ Inspector General (IG) investigators. After conducting an investigation into this misconduct, the DOJ Inspector General made criminal referrals to the department for possible prosecution. Ultimately, however, the DOJ declined to pursue prosecution.
I am appalled by the FBI's gross mishandling of the specific warnings its agents received about Larry Nassar's horrific abuse years before he was finally arrested. This failure by the FBI raises the question of how many athletes would have been spared unimaginable pain if the FBI had done its job. I am disappointed the Department of Justice will not be holding these individuals accountable for their actions.
Touring Hill's Pet Nutrition in Topeka
Earlier this week, I toured Hill's Pet Nutrition in Topeka and met with staff there regarding several issues impacting the pet food industry, including the federal and state regulations that must be met by pet food producers. I want to thank Carlos Gonzalez, Worldwide Director of Global Regulatory Affairs, Scott Mickelsen, Attending Veterinarian and Ingrid Stewart, Vice President and Division General Counsel, for hosting me during my tour of the facility and for sharing insight regarding the work they do. I also look forward to touring the Hill's Pet Nutrition Tonganoxie facility as well when it opens in the near future.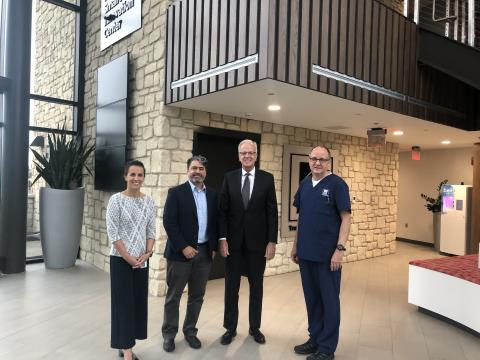 Now Accepting 2022 Service Academy Applications
As students are preparing for the upcoming school year, I want to remind them of the opportunity to apply to a United States Service Academy. One of my favorite duties as a U.S. Senator is appointing Kansans to the U.S. Military Academy in West Point, New York; the U.S. Naval Academy in Annapolis, Maryland; the U.S. Air Force Academy in Colorado Springs, Colorado and the U.S. Merchant Marine Academy in Kings Point, New York.
For the list of requirements and to apply, you can visit my website here. All application materials are due to my Olathe office by Friday, September 2, 2022. After applications have been reviewed, applicants will be notified of interviews with my Service Academy Selection Board, which will take place on Saturday, September 24, 2022 at the Cosmosphere in Hutchinson, Kansas.
Honored to Serve You in Washington
It is an honor to serve you in Washington, D.C. Thank you to the many Kansans who have been calling and writing in to share their thoughts and opinions on the issues our state and country face. I appreciate the words of Kansans, whether in the form of a form of letter, a Facebook comment or a phone call, who wish to make their voice heard.
Please let me know how I can be of assistance. You can contact me by email by clicking here. You can also click here to contact me through one of my Kansas offices or my Washington, D.C. office.
Very truly yours,
Jerry
To unsubscribe from this newsletter, please click here.
Hays
1200 Main St.,
Suite 402
P.O. Box 249
Hays, KS 67601
Phone: (785) 628-6401
Manhattan
1800 Kimball Avenue,
Suite 270
Manhattan, KS 66052
Phone: (785) 539-8973
Fax: (785) 587-0789
Olathe
23600 College Blvd.,
Suite 201
P.O. Box 1154
Olathe, KS 66061
Phone: (913) 393-0711
Fax: (913) 768-1366
Garden City
1511 East Fulton Terrace, Suite 1511-2
Garden City, KS 67846
Phone: (620) 260-3025
Wichita
100 North Broadway,
Suite 210
Wichita, KS 67202
Phone: (316) 269-9257
Fax: (316) 269-9259
Pittsburg
306 N. Broadway, Suite 125 (rear entrance of bank)
P.O. Box 1372
Pittsburg, K