America Needs a Fair & Transparent Organ Transplant System
For years, Senator Roy Blunt and I raised the alarm about the nation's fundamentally unfair and biased organ transplant system. Our warnings were heeded when the Department of Health and Human Services announced its intent to overhaul the organ transplant system.
Breaking up the Organ Procurement and Transplantation Network (OPTN) contract and adding transparency to the process are good first steps to rectify the fundamental bias in the system dominated by a monopolistic contractor. Getting the organ transplant and donation system right is a matter of life and death. There is no room for bias, reckless mistakes or an opaque process. It is important to continue oversight and make certain the organ donation process is transparent and fair so that more organs can be donated and more lives saved.
You can read my full op-ed with Senator Roy Blunt in The Washington Post here.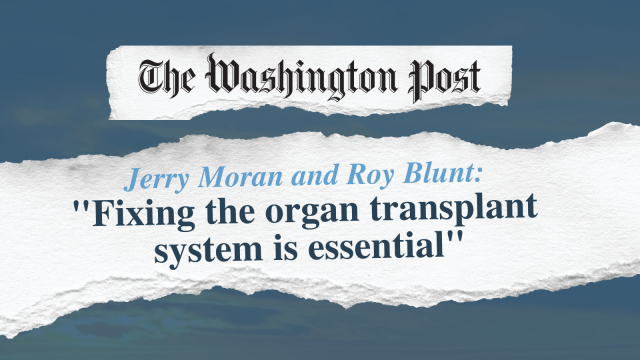 Leading Senate Passage of Bill Delivering Cost-of-Living Increase for Veterans
This week, the Senate passed my legislation, the Veterans' Compensation Cost-of-Living Adjustment (COLA) Act of 2023.
As we enter another year of crushing inflation, passage of this legislation is critical to make certain that VA compensation benefits, which millions of veterans and their survivors rely on nationwide, keep pace with rising costs. These benefits include disability and dependent compensation, clothing allowances, and dependency and indemnity compensation for surviving spouses and children. This adjustment will go into effect on December 1, 2023, after the new rates are released by the Social Security Administration. The Social Security Administration bases their annual COLA adjustment on the Consumer Price Index, as determined each December by the Labor Department's Bureau of Labor Statistics.
I am pleased by the swift passage in Senate of this legislation, and I urge the House of Representatives to pass this bill and send it to the President to be signed into law in order to make certain there is no delay in adjustments to these benefits at the end of the year.
You can watch my full remarks here.
Introducing Bill to Improve VA Electronic Health Record System
This week, as the lead Republican of the Senate Committee on Veterans' Affairs, I led a number of my Senate colleagues in introducing legislation that would prevent the continued implementation of the Oracle Cerner electronic health record (EHR) system at Department of Veterans Affairs (VA) facilities until significant improvements are made to the system.
The EHR system was implemented at five medical centers since 2020 and has been a factor in the loss of veterans' lives as well as decreased productivity and employee morale. Additionally, the system has faced system outages, put nearly 150 patients at risk and more than doubled in cost. The legislation I introduced would establish a rigorous list of requirements that VA must meet before the EHR system can be implemented at more VA medical centers.
Veterans seeking help at VA medical centers should receive nothing but exemplary care. Testimonies from VA staff and veterans as well as numerous troubling IG reports have made it clear that the EHR system is putting veteran patients at risk and creating significant challenges for VA staff. I support Secretary McDonough's decision to delay the rollout of the EHR system, and this legislation will create a list of requirements VA, in collaboration with its vendor Oracle Cerner, must meet before implementation of the system can resume. Without these changes, it would be irresponsible to continue implementing the system at additional VA centers.
Challenging Biden Administration's Overreaching WOTUS Rule
On Wednesday, I joined my Senate colleagues in voting to pass a Congressional Review Act (CRA) joint resolution of disapproval that overturns President Biden's overreaching Waters of the United States (WOTUS) rule. The Senate passed this CRA with a vote of 53-43.
This regulation threatens to bring millions of acres of privately held land under the federal government's regulatory control for the first time ever. The expansion of the WOTUS rule would lead to sweeping changes to the federal government's authority to regulate what is considered a navigable water, with burdensome impacts on farmers, ranchers, small businesses, manufacturers, water districts and private property owners. It is inappropriate for the WOTUS rule to be finalized while a Supreme Court case determining the definition of navigable waters is still pending.
I am pleased the Senate took action to challenge these harmful and unnecessary regulations on Kansas landowners and small businesses, though I doubt that President Biden will sign this resolution of disapproval.
You can read more from the Salina Post here.
Questioning Ag Secretary Vilsack
This week, during a Senate Appropriations Subcommittee on Agriculture hearing, we heard testimony from Agriculture Secretary Tom Vilsack. On my recent trip to Mexico City, I raised my concerns to Mexican President Andrés Manuel López Obrador about efforts to ban GMO corn. I questioned Secretary Vilsack about trade with Mexico and efforts by USDA to make certain our country can continue to export corn to Mexican markets. During this hearing, I encouraged Secretary Vilsack to look for opportunities to reach agreements with other nations to allow farmers in Kansas and across the country to export their products across the globe.
We also spoke about the ribbon cutting for the National Bio and Agro-Defense Facility (NBAF) on campus at Kansas State University. This ceremony will take place at NBAF on Wednesday, May 24. Secretary Vilsack spoke about the role NBAF plays in modernizing the capabilities of USDA and its ability to investigate and research some of the major challenges and threats to American agriculture.
You can read more about the announcement in The Manhattan Mercury here.
You can watch my full remarks here.
Voting to Repeal Iraq War Authorizations
This week, the Senate voted to repeal authorizations for the wars in Iraq. Repealing the 1991 and 2002 authorizations of military force against Saddam Hussein's regime is overdue. With Saddam Hussein long removed from power and the current Iraqi government a key regional partner, the Senate has taken the first step in making certain these statutory authorities are not used by any President to take actions Congress never expressly authorized.
The repeal of these authorizations of military force does not leave the United States military without the ability to react. If the need arises for additional authority, the Constitution makes this the prerogative of Congress to grant or deny the use of military force for specific cases – not to allow long-lasting and broad war-making authorities to exist for the executive branch. As a co-sponsor of the legislation passed this week, I look forward to the House following our lead and the President signing it into law.
Questioning Secretary of State Blinken
U.S. Secretary of State Antony Blinken recently testified before the State/Foreign Operations Appropriations Subcommittee on the FY2024 international affairs budget. In justifying the budget, Secretary Blinken wrote that China "is the geopolitical challenge of our era – one that will test American diplomacy like few in recent memory." As China bolsters economic relationships with countries around the world, I questioned Secretary Blinken on the importance of trade to boost American prosperity and strengthen our own ties with other nations.
The administration can do more to reduce wait times for visas for those overseas who come here to work, go to school and spend money as tourists. Following up on a letter I sent to the Bureau of Consular Affairs, I asked Secretary Blinken what resources the State Department needs to reduce these waiting periods. I also raised the hunger crisis in Afghanistan and how it is made worse by the Taliban, and what our options are to alleviate the suffering. As we meet challenges around the world, our diplomacy and humanitarian efforts will play an essential role.
You can watch my full remarks here.
Meeting with Kansans
Kansas Principals Association
On Thursday, I met with Eric Sacco of Clifton-Clyde Elementary, Rick Rivera of Augusta High School and Cara Ledy of the Kansas Principals Association (KPA) to discuss the issues facing educators and schools in our state. Like many industries across the nation, the field of education is experiencing a workforce shortage that threatens the ability of our schools to provide students with a quality education. Education is the great equalizer, and I appreciate the work of KPA in supporting quality education for Kansas students.
National League of Cities
I had the opportunity to meet with Kansans who traveled to Washington, D.C., this week as a part of the National League of Cities annual conference. During our conversation, we spoke about how I can continue to support their communities across Kansas through federal programs and resources that complement their own local funding and projects. Our state is strong when our communities are strong, and I enjoyed the chance to discuss these important topics impacting our Kansas cities and towns. Thank you to all of the local leaders who spent time visiting with me and discussing how we can work together to make certain our towns and cities across the state continue to thrive.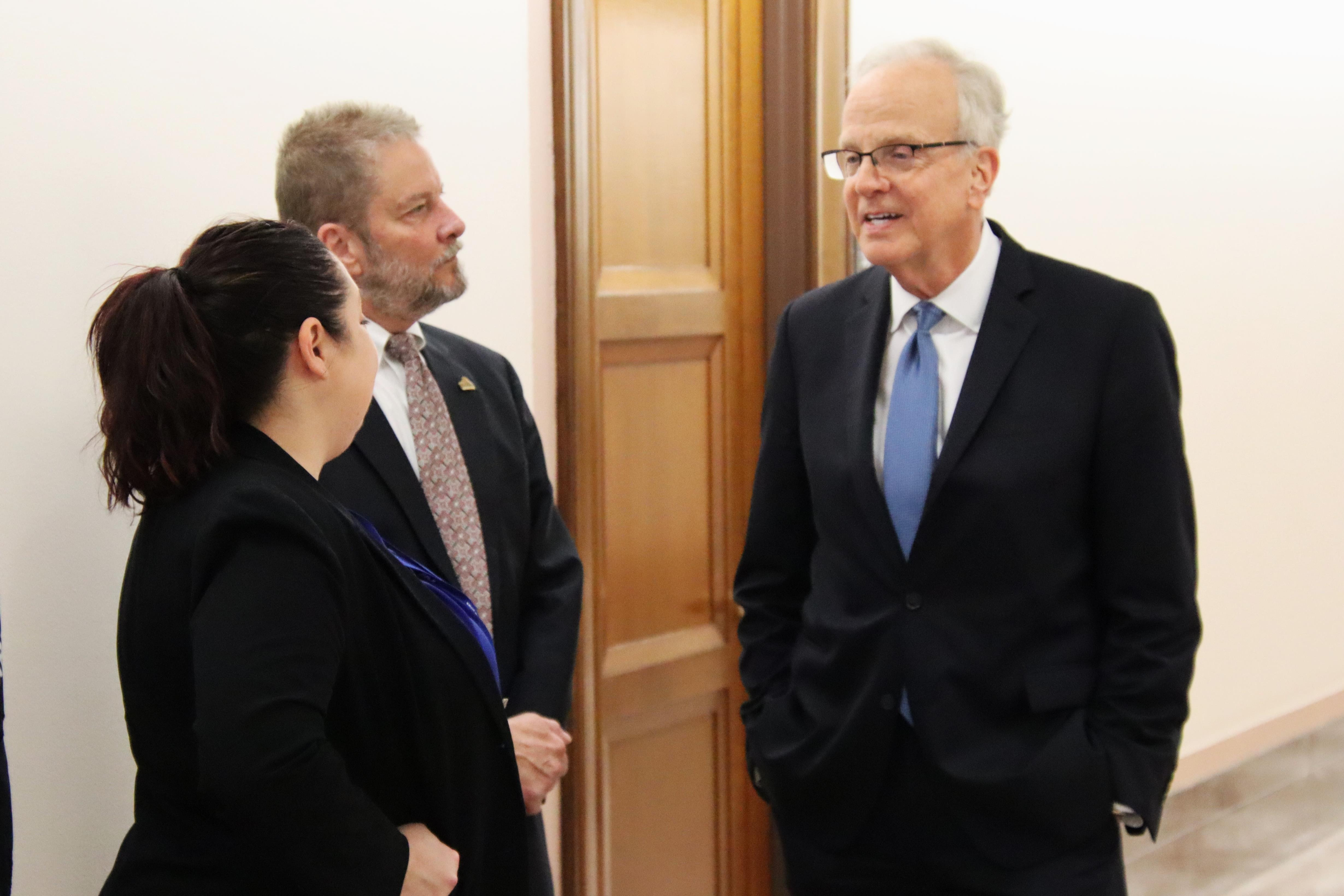 Lenexa League of Cities
This week, local city officials and community leaders from the Lenexa League of Cities joined me for a night tour of the U.S. Capitol during their visit to my office. It is always special to share the incredible beauty of our Capitol building with Kansans, and it was great to spend time with this group as we took in the rich history of our nation's Capitol and all that it represents.
City of Leavenworth
On Thursday, I met with members of the City of Leavenworth, including City Manager Paul Kramer. During our meeting, they updated me on plans to start construction on a new prison with funding I secured in my role as ranking member of the Senate Appropriations Subcommittee on Commerce, Justice and Science.
We also discussed the new Kansas Army National Guard 35th Infantry Division headquarters in Leavenworth. I attended the ribbon cutting ceremony for this new building in March of last year. As a member of the Defense Subcommittee on Appropriations I helped secured $50 million for the construction of this important facility to help make certain soldiers there continue to receive the best possible readiness instruction.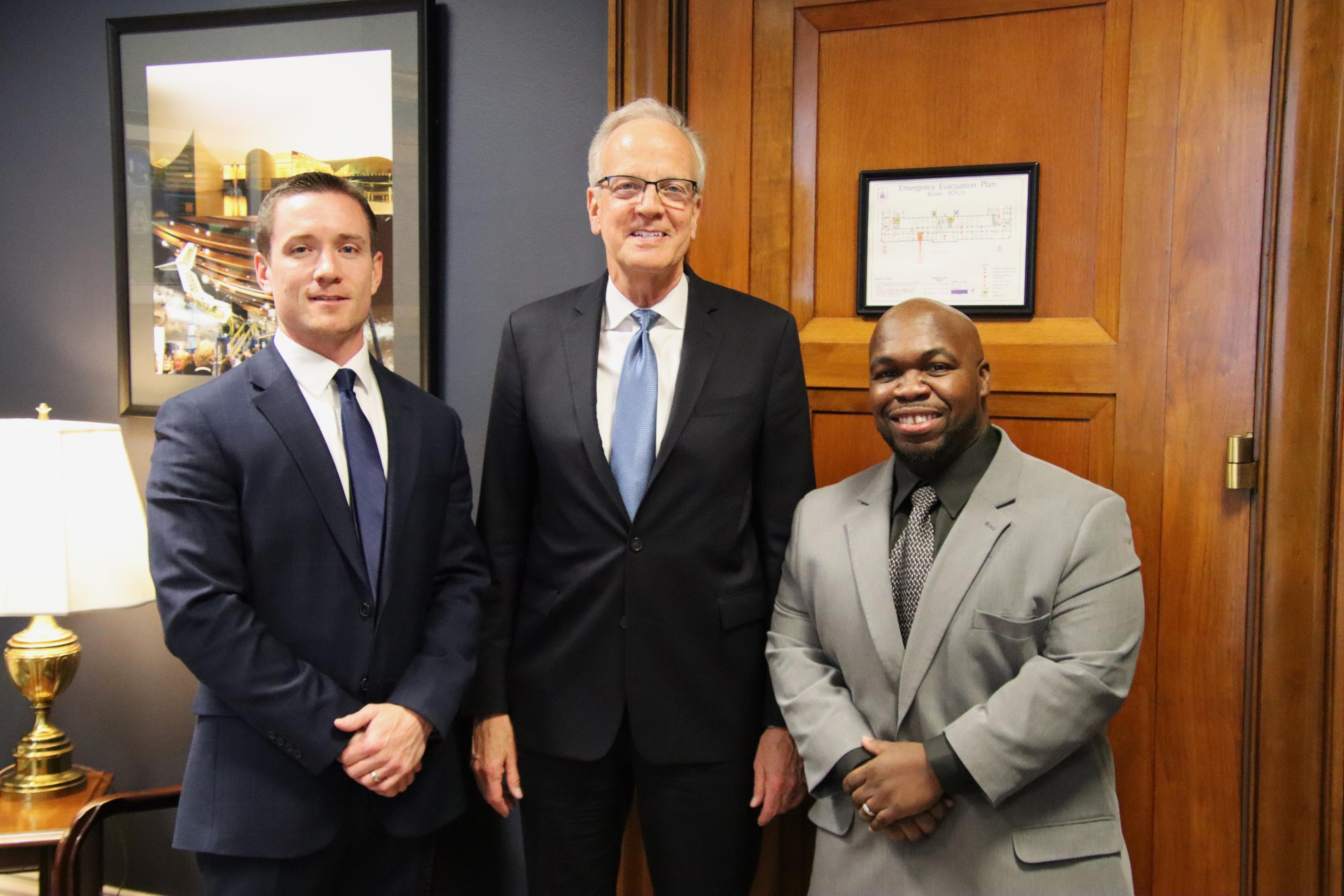 City of Osawatomie
I was pleased to visit with representatives of the City of Osawatomie during their visit to my office this week. During this meeting, we spoke about the history of Osawatomie as the endpoint for the Potawatomi Trail of Death and the residence of famed American abolitionist John Brown. We also discussed the vital role tourism plays for the city and its economic development. Thank you to Mike Scanlong, Bret Glendening and Samantha Moon of Osawatomie for visiting with me and discussing the issues that are important to the success of their community.
Ducks Unlimited
It was great to meet with Kansans who visited my office representing Ducks Unlimited for a conversation about their priorities for the upcoming Farm Bill, focused in particular on conservation efforts across Kansas. We also discussed the importance of conservation tools for producers and efforts in our state to make certain we are responsibly utilizing our natural resources. I appreciate Bill Simhauser of Lakin, Stacy Hoeme of Scott City and Abe Lollar of Garden City for meeting with me to discuss these issues and best conservation practices for our state.
The Nature Conservancy
On Tuesday, I had the chance to visit with Kansans from The Nature Conservancy. We discussed the upcoming Farm Bill and their efforts to preserve natural resources across the state of Kansas. We also spoke about the importance of local conservation initiatives to make certain we are maintaining Kansas resources. I appreciate Rob Manes of Wamego and Stacy Hoeme and Matt Bain of Scott City for meeting with me.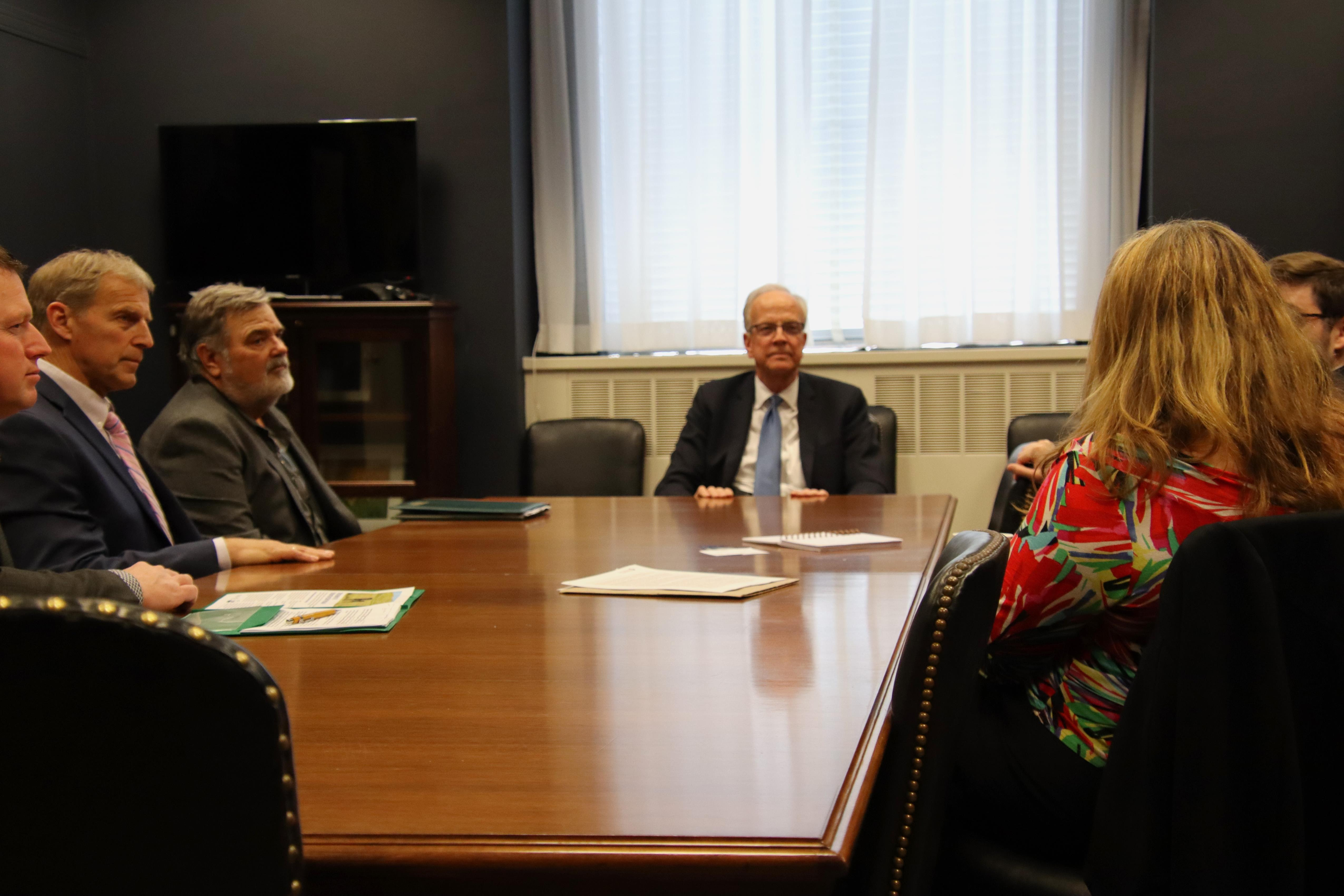 HDR
This week, I visited with Joe Drimmell, Central Regional Manager for HDR, the engineering firm with the contract for construction of the planned Panasonic plant in De Soto, as well as Clint Robinson of Black & Veatch, Kevin Wallace of HNTB and Bob Gilbert of Bartlett & West. It was great to hear from him and his team about their building plans for the in De Soto. I want to thank him for his time, and I look forward to continued updates on this project.
Appropriations Defense Subcommittee Hearing
This week, the Senate Appropriations Subcommittee on Defense held a hearing to discuss the Navy and Marine Corps FY24 budget. Companies in Kansas have a critical role in providing resources capability to sailors and marines, particularly on important programs like the CH-53K heavy lift helicopter and the P-8A Poseidon. The Marine Corps is requesting 15 more CH-53K's be built in the next fiscal year, a project in which the Kansas workforce will have a significant role. Kansans also support the P-8A program, providing crucial maritime surveillance capability for the Navy, which currently has 127 in its fleet.
During this hearing, I also questioned Navy Secretary Del Toro on the handling of Camp Lejeune claims filed with the Navy. The PACT Act, which was signed into law last August, provides benefits and health care to the 3.5 million veterans exposed to burn pits. This law also included a provision allowing individuals impacted by contaminated water at Camp Lejeune to file for damages in a federal court. Still, claimants must first present their claims to the Navy, and more than 20,000 claims have since been filed with the service. I asked that the Navy provide an update on efforts to develop an administrative claims process that makes certain veterans seeking damages receive timely decisions without relying on the federal court system. I will continue to press on this important issue impacting thousands of veterans and families.
Introducing Bill to End Lending to China from World Bank & Asian Development Bank
This week, as a member of the Senate Select Committee on Intelligence, I joined my colleagues in introducing legislation to end lending to the Chinese Communist Party from multilateral development banks, including the World Bank and Asian Development Bank. These institutions were created to promote economic growth in developing countries and eliminate extreme poverty. Despite having access to capital and being the second-largest economy in the world, China is still receiving loans and assistance from both banks.
The World Bank and the Asian Development Bank should not be providing loans or assistance to China. These banks were designed to help spur economic growth in developing countries, not the country with the world's second-largest economy. This legislation will help prioritize lending from these banks to countries that actually need it and end loans to China.
You can read more from WIBW here.
Speaking at 2023 Artemis Suppliers' Conference
This week, I spoke at the 2023 Artemis Suppliers' Conference. Sixteen suppliers across Kansas helped make history when Artemis I departed Kennedy Space Center last November. NASA's Space Launch System (SLS) rocket and Orion spacecraft exceeded the mission's primary flight objectives during its 26-day journey around the Moon and back.
This mission marked the critical first step in a series of increasingly complex Artemis missions, that will further human exploration and knowledge in the coming decades. None of the successes of this Artemis mission – or any NASA mission – are possible without the supply chain, the backbone of these missions and an integral part of our nation's success. As the lead Republican of the Senate Appropriations Subcommittee that funds NASA, I want to recognize and thank the members of the Artemis supply chain throughout Kansas, and I look forward to continuing to advocate on their behalf in this role.
Touring Midwest ATC in Overland Park
On Monday before traveling to Washington, D.C., I toured Midwest ATC in Overland Park, a local business focused on providing air traffic control services to the aviation community. Midwest ATC started in 1978 with one air traffic control tower and quickly grew to become an expert provider of airport services with more than 100 facilities across the world.
As lead Republican of the Senate Commerce Subcommittee on Aviation, I appreciated the opportunity to see firsthand the work being done right here in Kansas to provide quality resources and support to the aviation community. Thank you to Midwest ATC CEO Shane Cordes and his team for the informative tour and discussion.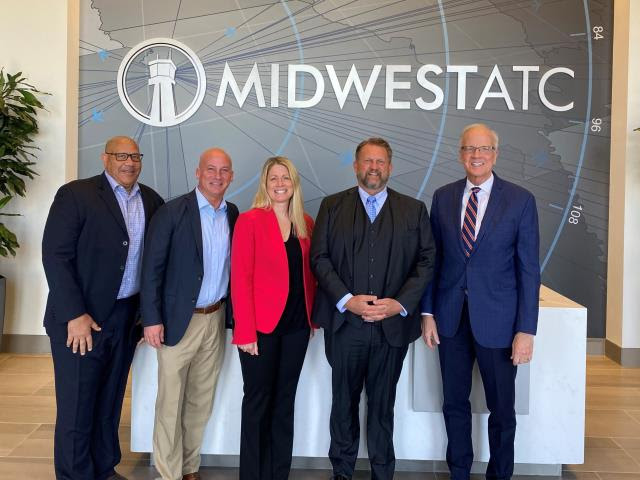 Receiving KU School of Law Distinguished Alumni Award
This weekend, I was honored to receive University of Kansas School of Law Distinguished Alumni Award, the law school's highest alumni honor. Robba and I enjoyed the opportunity to join friends and classmates for the dinner and awards ceremony in Lawrence. I appreciated Judge Daniel Crabtree for introducing me during the event and enjoyed the chance to revisit my time in law school.
Touring Kansas City National Security Campus
On Friday, after returning home from Washington, D.C., I had the opportunity to visit the Kansas City National Security Campus. This facility plays a critical role in supporting the modernization of the United States Nuclear Triad. The Nuclear Triad consists of the ability to deliver nuclear weapons from air, sea and land and is an essential capability to U.S. deterrence.
The Kansas City National Security Campus continues to expand – the facility is currently in the process of constructing a new 450,000 square foot manufacturing space to meet the evolving needs of this program. I would like to thank Honeywell, which manages and operates this facility, for hosting me and for the many Kansans who support this important work which is essential to U.S. national security.
Recognizing Vietnam War Veterans Day
This week marked Vietnam War Veterans Day, a time when we honor those who served during the Vietnam War.
Pictured here: in 2021, I had the opportunity to meet and visit with Vietnam War veteran David Boose of Lecompton. It is always an honor for me to spend time with those who have sacrificed for our nation.
Now Accepting 2023 Service Academy Applications
Applications are now open for students to apply to a United States Service Academy for the Class of 2028. One of my favorite duties as a U.S. Senator is appointing Kansans to the U.S. Military Academy in West Point, New York; the U.S. Naval Academy in Annapolis, Maryland; the U.S. Air Force Academy in Colorado Springs, Colorado and the U.S. Merchant Marine Academy in Kings Point, New York.
For the list of requirements and to apply, you can visit my website here. All application materials are due to my Olathe office by Friday, September 1, 2023. After applications have been reviewed, applicants will be notified of interviews with my Service Academy Selection Board.
FOR PARENTS AND STUDENTS: You can learn more about the U.S. Service Academy application and nomination process from my Service Academy Coordinator Lisa Dethloff, representatives from each service academy, current academy students and parents of academy graduates. Details for the upcoming information sessions are below.