Hosting ATF Director in Kansas to Announce New Partnerships
On Monday, I hosted the Director of Alcohol, Tobacco and Firearms (ATF) Steve Dettelbach and the Director of the Bureau of Justice Assistance (BJA) Karhlton Moore in Kansas to announce new partnerships in Wichita and Hutchinson.
Wichita
At Wichita State University (WSU), we announced a new $75 million ATF forensics laboratory on site at the Innovation Campus. This state-of-the-art lab will bring more than 100 new good-paying, high quality jobs to Kansas, support ATF's efforts to solve crimes and provide comprehensive and advanced technology support to federal, state and local agencies not only in Kansas but across the nation.
In addition, the location of the lab on campus at WSU will provide students premier access to ATF employees and a federal law enforcement lab, working to solve crimes around the country. WSU holds a long history of excellence in its criminal justice program – the second-oldest in the nation. The announcement of this partnership showcases how WSU is leading the country in crime intelligence and further highlights the great work already happening on campus.
You can read more from KAKE here.
Hutchinson
Following our time in Wichita, I hosted ATF Director Steven Dettelbach and BJA Director Karhlton Moore at the Kansas Law Enforcement Training Center in Hutchinson to announce the launch of a new training program and center on site.
As someone who was raised in a rural part of Kansas, I know that resources are not always as abundant there as they might be elsewhere. And yet, our rural law enforcement professionals play a vital role in protecting these communities and keeping their citizens safe. As the lead Republican of the Senate Appropriations subcommittee that funds the Department of Justice, including the ATF, I am committed to supporting programs that provide critical services to the ATF and enable law enforcement to fulfill their mission of protecting and serving our communities.
The public safety leadership program at KLETC has already helped provide the necessary tools, resources and training for rural departments and officers, and the funding we announced this week will help continue this program and the great results we have already seen. This center creates a space, not only in Kansas but, regionally, where we can encourage and support training new generations of leaders in law enforcement.
You can read more from the Hutch Post here.
The Fight Against Alzheimer's Disease Must be a National Priority
One in 3 seniors in the U.S. will develop Alzheimer's disease or another form of dementia. This horrific disease is rapidly claiming the minds and lives of millions and requiring thousands of family members to serve as caregivers for their loved ones. The good news is that finding a cure for Alzheimer's is achievable, and it must be a national priority.
NAPA, the National Alzheimer's Project Act, and the Alzheimer's Accountability Act, are two bills that provide the foundation for federal investment and coordination in finding a cure for Alzheimer's. Congress must reauthorize both pieces of legislation before 2025 to avoid losing ground and to effectively treat and one day cure Alzheimer's disease.
You can read my full op-ed in The Kansas City Star here.
Welcoming WSU Tech President to Testify Before Commerce Committee
On Thursday, I welcomed WSU Tech President Dr. Sheree Utash to testify before the Senate Committee on Commerce, Science and Transportation in a hearing titled, "Strengthening the Aviation Workforce." As ranking member of the Senate Subcommittee on Aviation, I led the full committee hearing with Chair Maria Cantwell.
You can watch my full opening remarks during the hearing here.
It was an honor to lead the hearing and gain insight into how Congress can continue to support the growing demands in workforce, particularly in the upcoming FAA Reauthorization legislation. Our nation and state's success within this vital sector depends on those who train, educate and prepare our students to be ready contributors within the aviation industry. In order for our nation to continue leading in aviation, it will take innovative programs like those Dr. Utash has helped implement.
You can watch my questions during the hearing here.
VA Committee Hearing on Electronic Health Records
As the lead Republican of the Senate Committee on Veterans' Affairs, I led a committee hearing on the VA's Electronic Medical Health Records Modernization Program. The VA aims to create a unified health record for servicemembers and veterans, enabling more consistent health care. However, it is frustrating that the opposite has happened. The five medical centers using the Oracle Cerner Electronic Health Records are struggling with delays, disruptions and rising costs. I have concerns about the VA's ability to manage this program, and these issues have had unintended but unacceptable impacts on the health of the veterans the program was created to serve.
The VA and Oracle Cerner are making improvements, but they are gradual, and many of the most extensive, most significant fixes are many months or even years away. To justify additional spending on this program, we need assurances that every penny spent is focused on creating and implementing a system that serves veterans and provides them with the high-quality care they deserve. We need to know if the VA still wants and believes in this program and what will be different this time under the next group of leaders.
You can watch my opening remarks here.
Meeting with NCAA President Charlie Baker
This week, I met with NCAA President and former Massachusetts Governor Charlie Baker. President Baker shared his vision for the future, including the need for transparency and accountability within the name, image, and likeness (NIL) system, which has allowed collegiate student athletes opportunities to benefit from their identities. In addition to NCAA rules currently allowing student athlete compensation, nearly 30 states have introduced or enacted NIL legislation, which creates a confusing system of inconsistent state laws that would be cumbersome for schools and athletes to navigate.
Last Congress, I introduced the Amateur Athletes Protection and Compensation Act to establish a consistent, federal standard to allow student athletes greater control of their name, image and likeness while maintaining the integrity of college sports that we all know and love. I will continue to work with my colleagues to find a federal solution that provides a level NIL playing field for Kansas schools and student athletes, and I look forward to working along with President Baker in the future to create positive impacts in Kansas through college athletics.
Meeting with Kansans
KARL Program
This week, I had the opportunity to meet with Class XVI of the Kansas Agriculture and Rural Leadership (KARL) Program, a group consisting of 30 of the best and brightest professionals from across our state. During our meeting, we discussed the challenges that rural communities face such as access to health care and broadband service, both of which are vital resources to the success of rural communities and those who live there. We also spoke about the importance of public service and investing in one's local community. Participants of the KARL Program, both past and present, are the reason rural communities in Kansas continue to thrive, and I look forward to working with the members of this program to preserve the rural way of life in our state.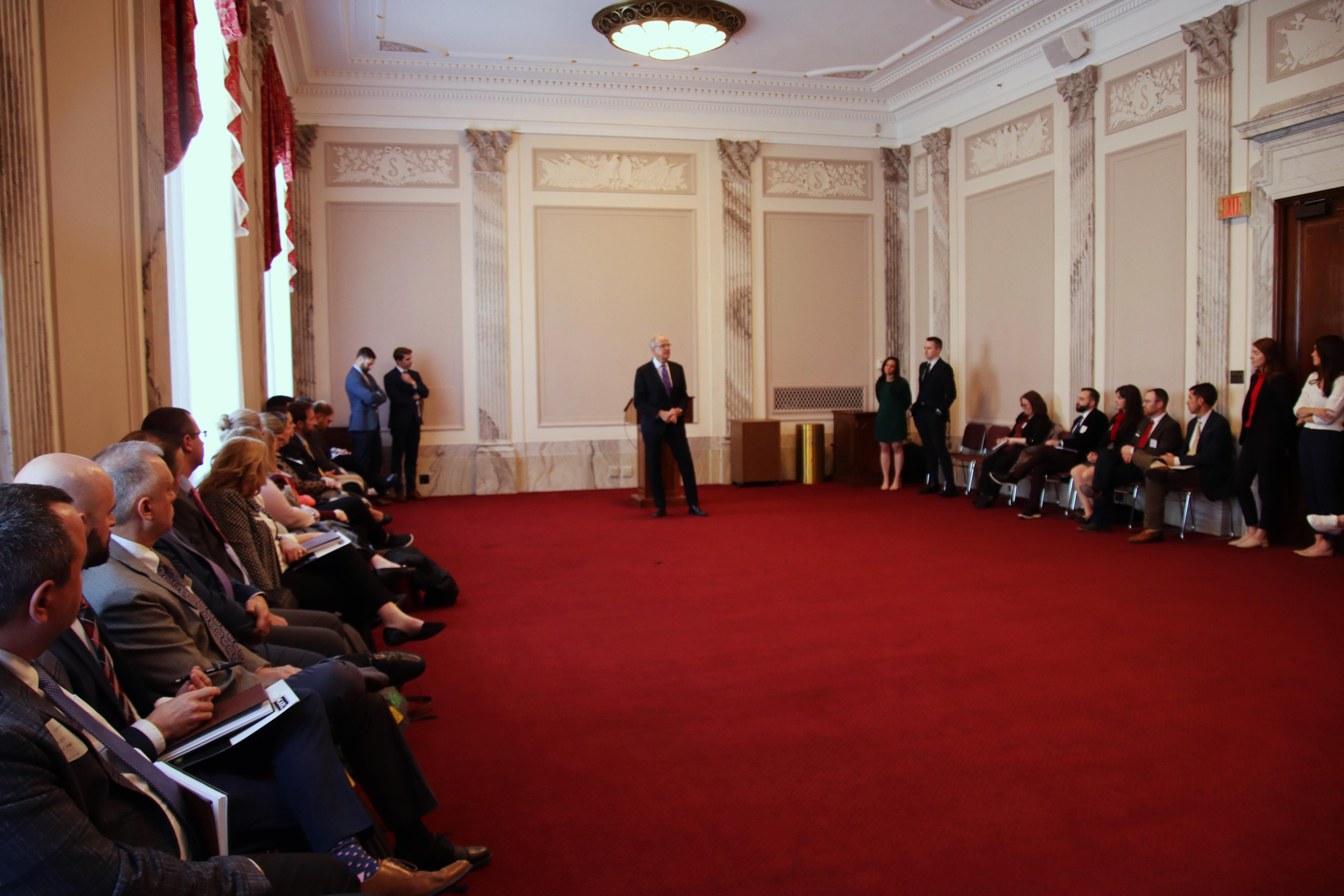 Emporia State University Honors College
It was great to visit with Emporia State University (ESU) Honors students and faculty before their tour of the U.S. Capitol on Wednesday. I always appreciate the chance to speak with Kansans during their visits to our nation's capital, and I enjoyed visiting with this talented and accomplished group of students. Thank you to ESU faculty member Amy Baza and students Hailey Waltner, Alexis Hatvik, Hailey Kisner, Alyssa Behrens and Alejandra Escobar for taking the time to say hello.
The Benson Family
I enjoyed visiting with Pittsburg Area Chamber of Commerce President Blake Benson and his family while they were in Washington, D.C., this week for a tour of the Capitol during spring break. We discussed the growth taking place in the community as Blake also serves as an Economic Development Director for the City of Pittsburg. Spring break brought many Kansans to Washington, D.C., and they ran into Frontenac High School students from back home as well as a group from Wichita State University.
Joining DAV Award Presentation for VA Committee Staff
I was pleased to take part in honoring two of my staff members from the Senate Committee on Veterans' Affairs as they received awards from Disabled American Veterans (DAV) in recognition of their work to improve benefits and services for our nation's veterans. Samantha Gonzalez has worked on both the House and Senate VA Committees and was recognized for her thoughtful and collaborative work on legislation improving how the VA delivers high-quality health care to veterans. Lindsay Dearing, an Army combat veteran with 12 years of service, was recognized by DAV for her work over several years advancing the Toxic Exposure in the American Military Act, the Health Care for Burn Pit Veterans Act, and the Sergeant First Class Heath Robinson Honoring our PACT Act.
I am grateful to have both these dedicated professionals on my team for their work to make a difference in the lives of veterans. I also want to thank Shane Liermann, Jon Retzer and Naomi Mathis for presenting these awards on behalf of DAV and for being valuable partners in achieving our common goal of best serving veterans and their families.
Meeting with U.S. Canola Association
On Wednesday, I visited with members of the U.S. Canola Association about their priorities for the upcoming Farm Bill that will benefit canola growers in Kansas. Michael Stamm, a canola breeder and researcher at Kansas State University talked about the importance of research, especially research geared towards winter canola. During this meeting, we discussed the growing demand for biofuels and the role canola plays in filling that demand. We also spoke about the recommissioning of the crush plant in Goodland which will create new jobs and provide new opportunities for canola growers in the area.
Scoular Announces Investment in Kansas Oilseed Crush Facility
This week, Scoular announced that it will recommission the former sunflower crush plant near Goodland and make investments to retrofit the facility to crush both soybeans and canola. This project will create up to 40 new jobs and is expected to begin operations in Fall 2024.
In small towns across Kansas, every business counts. Scoular's decision to invest in the crush facility in Goodland will increase marketing opportunities for farmers and contribute to the economic prosperity of northwest Kansas. The Goodland oilseed processing plant is an important juncture for farming in western Kansas and food and fuel production for the nation.
You can read more in the High Plains Journal here.
Calling on CISA to Undertake Cybersecurity Analysis of Chinese-Made Drones
As a member of the Senate Select Committee on Intelligence, I joined my Senate colleagues in urging the Cybersecurity and Infrastructure Security Agency (CISA) to reevaluate the risks associated with the use of drones manufactured by Shenzhen DJI Innovation Technology Co., Ltd. (DJI), a company with deep ties to the Chinese Communist Party (CCP). We also requested that CISA update and make publicly available its analysis of the security risks posed by the company.
DJI is the world's largest manufacturer of personal and professional drones with significant sales to operators of critical infrastructure and state and local law enforcement in the United States. It was reported in 2021 that almost 90% of the consumer drone market and approximately 70% of the industrial market in North America was monopolized by DJI. CISA previously addressed the DJI threat in 2019 with an "Industry Alert," stating "strong concerns" and warning against the purchase of its equipment.
The widespread use of DJI drones to inspect critical infrastructure allows the CCP to develop a richly detailed, regularly updated picture of our nation's pipelines, railways, power generation facilities and waterways. This sensitive information on the layout, operation and maintenance of U.S. critical infrastructure could better enable targeting efforts in the event of conflict.
You can read the full letter to CISA Director Jen Easterly here.
Supporting Children with Disabilities and Their Caretakers
I joined my colleague Senator Robert Menendez to introduce legislation to bolster U.S. support for children with disabilities, helping support local disabilities rights organizations and families of children with disabilities around the world.
The International Children with Disabilities Protection Act would create the "International Children with Disabilities Protection Program," a grant program within the State Department to empower individuals with disabilities. Additionally, this legislation reinforces U.S. policy to protect against the unnecessary institutionalization of children with disabilities and to help promote the development of laws and policies that support the full inclusion of children with disabilities in families.
Children with disabilities deserve a place in society where they are respected, loved and treated with basic human dignity. This legislation helps protect the most vulnerable children around the globe and gives them opportunities to succeed by helping keep children out of harmful institutions and supporting their families.
Leading Effort to Award Congressional Gold Medal to the "Hello Girls"
This week, I joined my colleagues on the Senate Committee on Veterans' Affairs to introduce legislation to honor the landmark service of the brave women who connected American and French military forces on the front lines of World War I. The Hello Girls Congressional Medal Act would award the Congressional Gold Medal to the women of the U.S. Army Signal Corps, also known as the "Hello Girls."
Connecting more than 150,000 calls per day, and doing so six times faster than their male counterparts, female switchboard operators played a crucial role in World War I. Despite their service, it took decades for them to receive veteran status and therefore be recognized as some of our nation's first women veterans. This Congressional Gold Medal will serve as way to honor the trailblazing Hello Girls and recognize their important contributions to our history.
Meeting with American Royal Association President & CEO Jackie McClaskey
On Friday, I met with Jackie McClaskey, President and CEO of the American Royal Association, to receive an update on the construction and timeline of their future new facility in Kansas City, KS. I am pleased to see the care and attention that the American Royal is taking to make certain that this new center supports the tradition of American agriculture as well as the broader regional economy, and I want to thank Jackie for her leadership in these efforts.
Now Accepting 2023 Service Academy Applications
Applications are now open for students to apply to a United States Service Academy for the Class of 2028. One of my favorite duties as a U.S. Senator is appointing Kansans to the U.S. Military Academy in West Point, New York; the U.S. Naval Academy in Annapolis, Maryland; the U.S. Air Force Academy in Colorado Springs, Colorado and the U.S. Merchant Marine Academy in Kings Point, New York.
For the list of requirements and to apply, you can visit my website here. All application materials are due to my Olathe office by Friday, September 1, 2023. After applications have been reviewed, applicants will be notified of interviews with my Service Academy Selection Board.
FOR PARENTS AND STUDENTS: You can learn more about the U.S. Service Academy application and nomination process from my Service Academy Coordinator Lisa Dethloff, representatives from each service academy, current academy students and parents of academy graduates. Details for the upcoming information sessions are below.
Questions? Email [email protected].

1) MONDAY, MARCH 27 – CHANUTE
6:30-8:00 p.m. CT
Chanute High School Auditorium
1501 W. 36th Street
Chanute, KS 66720
2) TUESDAY, MARCH 28 – OLATHE
6:30-8:00 p.m. CT
American Legion Post #153
410 E. Dennis Avenue
Olathe, KS 66061