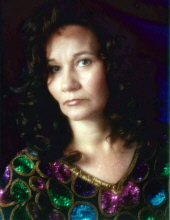 Sharon Kay Chanove, age 64, resident of Nevada, MO, died Thursday, April 21, 2022, at her daughter's home in Nevada.
She was born September 17, 1957, in Gillette, WY, the daughter of Laurence and Mary Rose Kaubich Petitt.
She married Milton Leo Chanove, Jr. on September 28, 2002, in Nevada, MO.
Sharon enjoyed her coffee while reading the Bible. She enjoyed listening to the radio as well. Sharon was an excellent cook, her specialty being apple pie. She loved spending time with her family and traveling.
Survivors include her husband, Milton; 2 sons, Lauren Coffett and Marquis Henderson; 4 daughters, Bobbie McIntire, Wendy Hoss, Tammy Henderson, and Nicole Randall; 3 brothers, Chris, Edward, and Patrick Petitt; 5 sisters, Edith Zabriskie, Rose Ella Thomas, Toni Kidd, Sheila Barry, and Barbie Sweet; 29 grandchildren; and 3 great grandchildren.
She was preceded in death by 4 brothers, Henry, Larry, Billy, and Gerald Petitt; and 2 sisters, Hester Milks, and Shirley Walker.
Funeral services will be held at 10:00 AM Tuesday, April 26th, at the Pine Street Baptist Church in Nevada, MO.
Burial will follow at 1:30 PM in the U. S. National Cemetery, Ft. Scott, KS.
Memorials are suggested to the Sharon Chanove Memorial Fund and may be left in care of the Cheney Witt Chapel, PO Box 347, 201 S. Main St., Ft. Scott, KS 66701. Words of remembrance may be submitted to the online guestbook at cheneywitt.com.