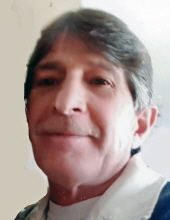 Rex Bryant Moore, age 56, a resident of Redfield, Kansas, passed away Thursday, September 26, 2019, surrounded by his loved ones at the Via Christi Hospital in Pittsburg, Kansas.
He was born on April 22, 1963, in Lawrence, Kansas, the son of William Lee Moore and Shirley Jean Rogers Moore.
On May 21, 2004, Rex married the love of his life, Stacy.
Rex and his father traveled across the United States so he could pursue his dreams of racing professional motocross. Although his career was cut short, the love he had for the sport never stopped. He enjoyed watching his favorite rider, Austin Howell. He lived week to week to watch this young man aspire at his dreams.
He also played his motocross video games and took pride in them knowing that "Rocket Rex" was still out there whooping everyone even though it was not in person.
His favorite thing to do was attending his daughter, Hannah's activities. He enjoyed every minute of watching her in action. She was his pride and joy and he loved her very much, just as she did him. They had an unbreakable bond. Hannah was his "baby girl."
Rex loved being around his family and friends. Rex will forever be remembered for his beautiful smile, gentle eyes, caring heart, loving embrace and unconditional love.
Rex loved so many and was loved by so many more.
He had an energy that with just one encounter with him you would remember for life; he definitely left his mark.
He made friends everywhere he went including Hannah's friends which all adopted him as their dad.
He brought so much joy to our lives and those around him. Although our hearts are heavy, we will celebrate his life and find comfort in knowing that he has no pain and is in heaven watching over us. Yet, we continue to hurt as he has left us. He yearned for that place in which he could breathe. Now he sits with God in the natural beauty and astounding light of heaven and he can finally breathe.
Survivors include his wife, Stacy, of the home; six children, Hannah Moore, of Redfield, Kansas, Sarah Powers, of Eldorado Springs, Missouri, Austin Moore, of Boliver, Missouri, Shelby Morillo, of Bronson, Kansas, Tyler Wilkerson, of Kincaid, Kansas and Dalton Church, of Coleman, Alabama and six grandchildren. Also surviving is a brother, Ronald Moore, of Shawnee, Kansas.
He was preceded in death by his parents and grandparents.