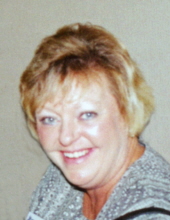 Patricia Alaine "Patty" Pool, age 68, a resident of Ft. Scott, Kansas, passed away Tuesday, May 21, 2019, at the University of Kansas Medical Center in Kansas City, Kansas.
She was born March 31, 1951, in Ft. Scott, the daughter of Henry Eugene "Gene" Floyd and Maxine Monroe Floyd. Patty graduated from the Ft. Scott High School with the Class of 1969. She married Michael L. Pool on November 11, 1970, at Nevada, Missouri.
In earlier years, Patty worked at several area banks. She later worked in the Bourbon County Vehicle Registration Office for over twenty-years. Patty enjoyed playing the violin and spending time with her grandchildren.
Survivors include her husband, Mike, of the home; and two sons, Brian Pool (Jana) and Brent Pool (Tawny), all of Ft. Scott and five grandchildren; Laura, Ashleigh, Nash, Kellen and Evan. Also surviving are two brothers, Earl Floyd, of Overland Park, Kansas and Steve Floyd of Ft. Scott and two sisters, Lynette Jackson, of Ft. Scott and Bonnie George of Concordia, Kansas.
She was preceded in death by her parents.
Rev. Chuck Russell will conduct funeral services at 10:00 A.M. Wednesday, May 29th at the Cheney Witt Chapel.
Burial will follow in the Bronson Cemetery. The family will receive friends from 5 to 7 P.M. Tuesday evening at the Cheney Witt Chapel.
Memorials are suggested to the National Kidney Foundation and may be left in care of the Cheney Witt Chapel, 201 S. Main, P.O. Box 347, Ft. Scott, KS 66701. Words of remembrance may be submitted to the online guestbook at cheneywitt.com.