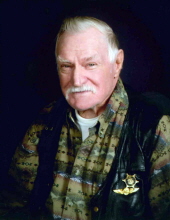 Norman L. Gates, age 91, formerly of Uniontown, KS, died Thursday, August 13, 2020, at the Franklin House, Ft. Scott, KS. He was born November 2, 1928, in Mapleton, KS, the son of Albert and Grace (Brillhart) Gates. The family later relocated to Uniontown, where Albert ran the local blacksmith/mechanic shop.
Norman graduated from Uniontown High School. After graduation, he enlisted with the United States Navy at the age of 18 and served on the U.S.S. America, U.S.S. Roosevelt, U.S.S. Forrestal, U.S.S. Intrepid, U.S.S. Shangri-La and the PBY aircraft, and Naval bases throughout the world.
On June 25th, 1950, he married the love of his life, Wilma Jean Kegerreis. Together they made their home in many different cities including Yokosuka, Japan; Pretty Prairie, KS; Memphis, TN, and several years in Jacksonville, FL during his military career. After attaining the rank of Leading Chief Petty Officer of VA 64 (Black Lancers), he retired from military life and the family moved back to Uniontown in 1966 where he took over his father's mechanic shop.
Later he accepted a position as a Driver's License Officer for the State of Kansas attaining the position of Supervising Drivers License Examiner and served in that position for 20 years until retirement.
Norman and Jean had a wide circle of friends and loved to entertain. Most weekends you would find them with friends and family, frequently hosting a card game, dinner, picnic, or some kind of holiday gathering. An annual event was his birthday "Weenie Burn" at the farm every November.
Camping was also a favorite pastime and the family enjoyed trips to Colorado, New York, California, and various other destinations together over the years. They were very involved in many local activities and groups including the Masonic Lodge and Mirza Shrine. Norman loved participating with his friends in all the group activities such as Shriner's Oriental Band and Funny Cars to name a few. He also served in the Honor Guard at the National Cemetery in Ft. Scott for several years.
Norman was an avid hunter and fisherman and he taught Hunter Safety Classes for many years. He loved teaching young people the proper way to use guns safely and to respect the great outdoors. He received recognition from the Kansas Department of Wildlife and Parks Conservation and was awarded The Order of the Buffalo pin for his devoted service. He collected guns all his life and enjoyed showing them off to anyone interested in weaponry.
He loved music and in his later years taught himself to play the harmonica. He often composed original music for family and friends and loved to entertain with originals as well as old standards. He loved to dance, and he and Jean belonged to a square-dance group for several years. He was always willing for one more dance…whether it was on a proper dance floor, out on the deck or just through the kitchen. He was a gifted woodcarver and was always creating some new something.
Norman loved life and people. He never knew a stranger and could find someone to talk to no matter where he went. Kids knew him as the man who always had candy to give and you could always count on him to teach or entertain you with a joke or a good story.
He loved his family and his friends and if you were his friend you WERE family. He shared his passions and love of life with everyone he knew. He will be missed by many but please remember him with a smile. The family wishes to thank the staff of the Franklin House and their wonderful caregivers.
Norman was preceded in death by his wife, Jean, his parents Albert and Grace Gates, his sister Viola (Gates) Bowers, and his brother Marvin Gates.
He is survived by his children, Linda Kay Gates Morgan (Bill), Overland Park, KS; Norman Dale Gates (Cheryl), Niceville, FL, and Michael Jon Gates (Brandi), Mapleton, KS; eight grandchildren, Andrew Gates (Erin), Christopher Gates (Holly), Ryan Morgan (Miki), Christin McCullough (Zeb), Shane Gates, Lauren Lindiakos (Rick), Jason Gates (Kyli), and Kathryn Morgan; and eighteen great-grandchildren, Lenny, Tyler, Alexandra, Layla, Bryar, Korie, Scarlett, Masen, Lilianna, Austin, Libby, Vivienne, Landon, Breckett, Lexi, Lizbeth, Sophia, and Nikolas.
Rev. Chuck Russell will conduct graveside services at 10:00 AM Tuesday, August 18th, in the Mason Cemetery south of Uniontown.
Military honors will be provided by the U. S. Navy Honor Guard.
The family will receive friends from 4:00 until 6:00 Monday afternoon at the Cheney Witt Chapel with Masonic services at 5:00.
Memorials are suggested to Shriner's Children's Hospital and may be left in care of the Cheney Witt Chapel, PO Box 347, 201 S. Main, Ft. Scott, KS 66701. Words of remembrance may be submitted to the online guestbook at cheneywitt.com.