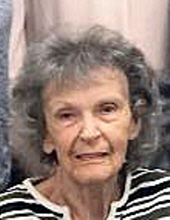 Maxine Harris, age 86, a resident of Ft. Scott, Kansas, passed away Monday, July 22, 2019, at the Via Christi Hospital in Pittsburg, Kansas. She was born May 23, 1933, in Greenfield, Missouri, the daughter of William B. Cagle and Effie Norris Cagle. Maxine graduated from the Lockwood, Missouri High School.
She married David Donald Harris, on May 27, 1950, at Greenfield. They later moved to Ft. Scott. Maxine worked in the shipping department for Key Industries for over thirty years. In earlier years, she attended the Nazarene Church. She enjoyed spending time with her family and going to garage sales.
Survivors include her daughter, Ludean Evans and husband, Gene; her son, Jim Harris and wife, Susie, all of Ft. Scott; four grandchildren, Jenny Pryor, Billi Jo Shoemaker, Matthew Harris (Tera) and Mark Harris and six great-grandchildren, Ericah, Zack, Jarrett, Kyra, Hayden and Luke. Also surviving are two sisters-in-law, Faye Cagle of Jay, Oklahoma and Cleo Cagle of Ft. Scott. Her husband, David, preceded her in death on March 30, 1987.
She was also preceded in death by a son, Don Harris and two brothers, Richard and Carl Cagle.
Rev. Chuck Russell will conduct funeral services at 11:00 A.M. Friday, July 26th at the Cheney Witt Chapel. Burial will follow in the Oak Grove Cemetery.
The family will receive friends at 10:00 A.M. prior to the service on Friday at the Cheney Witt Chapel.
Memorials are suggested to Care to Share and may be left in care of the Cheney Witt Chapel, 201 S. Main, P.O. Box 347, Ft. Scott, KS 66701. Words of remembrance may be submitted to the online guestbook at cheneywitt.com.