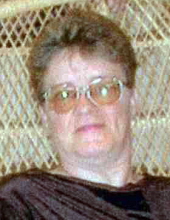 Mary Alice Longfellow, resident of Fort Scott, KS, died Friday morning, May 10, 2019, at Freeman West Hospital, Joplin, MO.
She was born November 7, 1947, in Topeka, KS, the daughter of Maurice and Jane Dunlap Tharp.
She married Daniel Longfellow on June 18, 1993. Together they enjoyed camping and spent one entire summer reenacting the Old West era throughout Kansas. Mary worked as a CNA for Ottowa Retirement Village until her retirement. She was an all-around good person who will be greatly missed.
Survivors include her husband Daniel of Ft. Scott; two daughters, Paula Christine Roadcap, Topeka, KS, and Sharon, Georgia; a stepson, Richard Longfellow, Ft. Scott; two sisters, Betty Jane White, Montana, and Donna Bea Nabus, Ft. Scott; four grandsons; and one granddaughter.
She was preceded in death by three brothers, Ralph William Dunlap, Ronald M. Tharp, and Lewis E. Tharp; a half-sister, Sharon Lee; and her parents.
Rev. Rod Hillhouse will conduct graveside services at 10:00 AM Wednesday, May 15th, in the U. S. National Cemetery, Fort Scott.
Friends may gather at the Cheney Witt Chapel prior to leaving for the cemetery at 9:45. Words of remembrance may be submitted to the online guestbook at cheneywitt.com.