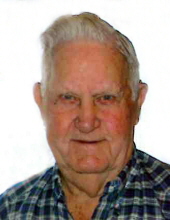 Lyle Leo Comstock, age 96, resident of Redfield, KS, died Saturday, September 21, 2019, at his home surrounded by family.
He was born August 7, 1923, in Ft. Scott, KS, the son of Mack and Lena Edna Smith Comstock. He graduated from Ft. Scott High School with the class of 1940. He attended Ft. Scott Community College for two years and then the University of Missouri for one
year. Leo joined the Navy in January of 1943. He retired after 20 years of service as a Chief Petty Officer. Leo married Natalie Beatrice Post on August 20, 1945, in Kansas City, KS.
After his Navy service, Leo co-owned and operated the Nu-Grill from 1963-1968 with his brother Mack. He also raised cattle and worked for the post office. He enjoyed fishing, hunting and gardening. He loved spending time with his family, especially his grandchildren. He was a member of Ft. Scott Masonic Lodge and the V.F.W.
Survivors include his wife of 74 years, Natalie; three sons, Gary Comstock and wife Dianne, Topeks, KS, Steven Comstock and wife Vicki, Alma, KS, and Rick Comstock and wife Chris, Ft. Scott; two daughters, Connie Thomas and husband Phil, Yukon, OK; and Judy Ditch, Topeka, KS; 19 grandchildren; five step-grandchildren; 20 great-grandchildren; and nine step-great-grandchildren.
He was preceded in death by two granddaughters, Kristen Kam Thomas, and Michelle Stephanie Ditch; three brothers, Smith, Cecil and Mack Comstock; four sisters, Eunice Shubert Clark, Fannie Taylor, Margaret Middleton, and Thorea Jane Ramsey; and his parents.
Rev. Chub Bolling will conduct graveside services at 1:00 Friday, September 27, in the Uniontown Cemetery.
Military honors will be provided by the Olson Frary Burkhart Post #1165 V.F. W.
The family will receive friends from 5:00 until 8:00 Thursday evening at the Cheney Witt Chapel.
Memorials are suggested to Integrity Hospice and may be left in care of the Cheney Witt Chapel, PO Box 347, 201 S. Main, Ft. Scott, KS 66701. Words of remembrance may be submitted to the online guestbook at cheneywitt.com.