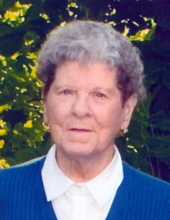 Lois LaVerne Swope, age 92, a former resident of Frontenac, Kansas and more recently of Ft. Scott, Kansas, passed away early Tuesday, October 19, 2021, at the home of her daughter in Ft. Scott. She was born May 26, 1929, in Detroit, Michigan, the daughter of Cledies Dray and Ellen Cummings Dray. Lois graduated from the Pittsburg High School with the Class of 1947. She married Eddie L. Swope on June 12, 1949, at Pittsburg. Lois had worked for seventeen years at the Parsons Ammunition Plant. She was a life-long Methodist. She was a past member of the American Legion Auxiliary of Frontenac. She loved to play bingo.
Survivors include her son, Kevin K. Swope and wife, Trish, of Thomasville, Georgia and her daughter, Landia Antonetti and husband, Paul, of Ft. Scott; four grandchildren, Laurie Antonetti of Bartlesville, Oklahoma, Alison Nelson (Jason), of St. Louis, Missouri, Samantha Peterson (Matt), of Thomasville, Georgia and Andrew Swope, of Tallahassee, Florida and six great-grandchildren, Conner Antonetti, Sophia and Seraph Nelson and Isaac, Ivy and Isla Swope. Also surviving are two sisters, Louise and Nancy.
Lois was preceded in death by her husband, Eddie, on July 22, 1996. She was also preceded in death by her sister, Ruby Chubb.
Private burial will take place in the U. S. National Cemetery in Ft. Scott, Kansas. Memorials are suggested to Care to Share and may be left in care of the Cheney Witt Chapel, 201 S. Main, P.O. Box 347, Ft. Scott, KS 66701. Words of remembrance may be submitted to the online guestbook at cheneywitt.com.