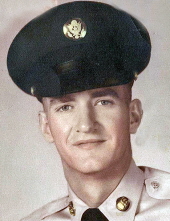 Lewis Kenneth Bailey passed in peace on the morning of November 20, 2020, when he went home to be with his Lord and Savior. Lewis's seventy-eight years on Earth were well spent, and his legacy as a compassionate, dedicated family man will be remembered by many.
Lewis was born in Garnett, Kansas, on March 10, 1942, to Fred and Isabella Elline (Mowat) Bailey.
Lewis was born with a sparkle in his eye, a grin that lit up the room, and a heart of gold.
Lewis's love lives on through his two children, Tim (Shayla) and Kimberly, and his adored grandchildren: Allexis, Allie, Rayna, Kandace, and Brinley. Many extended family members and friends also felt the warmth and kindness of Lewis's caring heart. Lewis joined his wife, Joan, and son-in-law Jess, upon arrival to his Heavenly Home.
That caring heart was often accompanied by an ornery twinkle in Lewis's eye, and he loved sharing stories with family. A favorite family memory is that of Lewis recalling how ornery he was at three years old. When a kindly neighbor asked his name, Lewis is all sincerity responded, "Lewis, Come Back Here". Apparently, he was very good at keeping his mother on her toes.
Lewis built a life around helping others. A hard worker to the core, Lewis donated much of his time and talent to making life better for others. Whether painting houses, mowing lawns, or raking leaves, Lweis did everything with full effort and an eye for detail.
His tendency to give his all also served Lewis well during his time as a soldier and 106-Gunner in the Vietnam War. Lewis was combat-wounded and received the Purple Heart commendation which was a great source of pride for him. Lewis was proud to be an American and was red, white, and blue through and through.
Lewis's love of country was only slightly less than his love for his wife, Joan Evelyn. Handsome in uniform upon returning from war, Lewis caught Joan's eye by purchasing popsicles for the children she was babysitting. Lewis's family always remarks on that special beginning when enjoying a patriotic "bomb pop" from the freezer.
Lewis and Joan married on July 25, 1969, and moved to Fort Scott, Kansas, shortly after.
During this time, Lewis was able to attend Fort Scott Community College for two years. This was a treasured time in his life as he enjoyed attending art and photography classes. Several of Lewis's projects from this time are still cherished by the family.
Lewis brought his hard-working nature to family-life as a dedicated husband and father. Whether tossing a baseball with Tim or playing Barbies with Kimberly, Lewis gave his children love, support and encouragement until his very last breath.
Lewis's dedication also served him career-wise as he worked a variety of careers, most notably taking care and maintaining the SRS building in Fort Scott for 18 years.
In his leisure time, Lewis enjoyed fishing and passed his fondness along to his children. Lewis's creativity and eye for detail were also apparent as he enjoyed woodworking and created many projects around the home.
While at home, Lewis loved to cheer on the Kansas City Cheifs and especially loved watching the games with his family.
Tim and Kim will miss the patient and kind man they were blessed to call "Dad" every day, but know they couldn't ask for a more dedicated loving, hard-working guardian angel to watch over the entire family.
Graveside services will be held Wednesday, November 25, 2020 at 11:00 AM, at the U. S. National Cemetery.
Memorials are suggested the Bethel Community Church and may be and may be left in care of the Cheney Witt Chapel, 201 S. Main, P.O. Box 347, Ft. Scott, KS 66701.
Words of remembrance may be submitted to the online guestbook at cheneywitt.com.