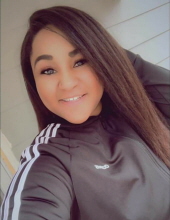 Keaira Monae Meadows, age 23, passed away Friday, September 24, 2021, in Springfield, MO, where she resided the past year and a half.
She was a beautiful, loving, caring, always smiling young lady who left this world too soon.
She graduated from Fort Scott High School with the class of 2016. She was active in volleyball, basketball, softball, track, and was a member of the dance team. She was also a member of the FSCC dance team for 1 year. Keaira LOVED to dance!
She participated on a traveling softball team during the summer which she absolutely loved doing.
To her family, she was Keke, but to her friends, she was Kewe, like the fruit. She got this name from her friends who were playing a game where you had to think of a fruit that began with the first letter of your first name. Kiwi was mentioned and that name stuck forever.
She loved turtles, cheetah print and the color lime green. Her dogs were her pride and joy. Winston "Winnie" and Raji Bear were her babies that will never be separated.
She enjoyed her jobs at G & W Foods in Fort Scott, KS, and Food 4 Less in Joplin, MO, where she made many friends and enjoyed the customers. Keaira was currently employed at a Medical Dispensary in Springfield, MO.
She was born October 27, 1997, in Nevada, MO, to Kenny Meadows and Tonya Morton.
Keaira is survived by her mother, Tonya Morton and special friend David Brown and her father Kenny (Ariane) Meadows; five brothers, Phillip Smith, Kenny Jr. (Porcha), Kenan, Caleb, and Chance Meadows; maternal grandmother, Katheryn Kelley; paternal grandparents Russell Sr. and Juanita Green; nieces Jade Smith, and Nycari Meadows; nephews Anthony and Xavier Smith, and Kenny Meadows III; aunts and uncles Latisha (Michael) Cook, Benjamin (Kristi) Kelley, Anthony (Jennifer) Kelly, Ramone (Audrey) Green, and Russell Green Jr.; cousins Rayven Fisher, Jalen, Kaden, and Jeradan Kelley, Darian (Kelly), Danica, Daityn, and Delaine Kelly, Ramone Jr., Rashad, Riley, Renee, Amyah, Makayla, Maleah, MaKenna, Russell III, Ryder, Rasean, and Ramello Green.
Funeral services will be held at 11:00 am Saturday, October 2nd, at the Cheney Witt Chapel. Cremation will follow.
The family will receive friends from 5:00 until 7:00 Friday evening at the Cheney Witt Chapel.
Memorials are suggested to Mental Health America and may be left in care of the Cheney Witt Chapel, PO Box 347, 201 S. Main, Fort Scott, KS 66701. Words of remembrance may be submitted to the online guestbook at cheneywitt.com.