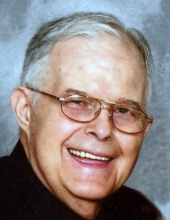 Joseph Albert Brungardt, age 83, a resident of Ft. Scott, Kansas, passed away Friday, May 31, 2019, at the Franklin House in Ft. Scott. He was born May 1, 1936, in Russell, Kansas, the son of Michael "Mike" Brungardt and Mary Kaberlein Brungardt.
Joe served with the United States Army from 1955 to 1958 where he was stationed in Germany.
He married Mary Lou Farmer on June 11, 1977, in Ft. Scott.
In earlier years, Joe had worked in Highway Construction he later worked for Farmers Co-Op in Ft. Scott and Girard and managed the grain elevators.
He was a member of the Mary Queen of Angels Catholic Church and the Knights of Columbus.
Survivors include his two step-daughters, Deborah Lea Vernon and husband, Bob, of Apache Junction, Arizona and Paula Dee Eastwood and husband, Jim, of Ft. Scott, Kansas; nine grandchildren and eleven great-grandchildren. Also surviving is a brother, Robert Brungardt, of Nebraska.
His wife, Mary Lou, preceded him in death on March 11, 2017. He was also preceded in death by a step-son, Brad Farmer; a grandson, Paul James Decker; three brothers, Raymond, Clem and Richard Brungardt; and two sisters, Eleanor Kuhn and Maggie Leikiam.
There was cremation. A graveside service with military honors will be held at a later date in the Memory Gardens Cemetery. Memorials are suggested to Breast Cancer Research and may be left in care of the Cheney Witt Chapel, 201 S. Main, P.O. Box 347, Ft. Scott, KS 66701. Words of remembrance may be submitted to the online guestbook at cheneywitt.com.