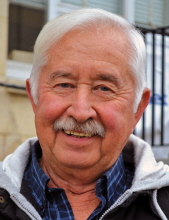 John David Mowrey, age 78, a resident of rural Ft. Scott, Kansas, passed away unexpectedly, Sunday, September 1, 2019, at the Via Christi Emergency Room in Ft. Scott. He was born March 11, 1941, in Ft. Scott, Kansas and was the son of Raymond William Mowrey and Isabelle Ida Ramsey Mowrey. John graduated from the Ft. Scott High School and the Ft. Scott Junior College.
He later served for four years with the United States Air Force. John later returned to Ft. Scott where he worked as HVAC service and maintenance for the U-234 School District.
John was very mechanically minded and loved rebuilding and restoring antique cars, tractors and engines of all kinds. One of John's favorite past times was sitting on his dock and watching the stars and moon.
John was a member of the First United Methodist Church in Fort Scott, Kansas. He was a devoted volunteer in his community and helped and served many from behind the scenes. John will always be remembered for packing, delivering and serving Thanksgiving dinner with the First United Methodist Church.
He was an active member of the Pioneer Harvest Fiesta Committee, always willing to help this organization in any capacity.
He volunteered for Good 'Ole Days and drove his vintage vehicles in the parade.
John was very proud of his military service and helped place the flags on the graves to honor veterans at the U.S. National Cemetery.
In addition, he volunteered with chili and soup fundraisers including the Beacon soup line. John was always willing to help in a time of need and many benefitted from his kindness and generosity.
Survivors include his sister Marjorie Midili; his nephew, Jeff Midili and wife, Jenifer and a great-niece, Sophie Midili, all of Vienna, Virginia. He was preceded in death by his parents.
  A memorial service will be held at 10:00 A.M. Friday, October 11th at the Cheney Witt Chapel.
Burial with military honors will follow in the U. S. National Cemetery.
In lieu of flowers, memorials may be made, to the First United Methodist Church or Paws and Claws and may be left in care of the Cheney Witt Chapel, P. O. Box 347, 201 S. Main, Ft. Scott, KS 66701. Words of remembrance may be submitted to the online guestbook at cheneywitt.com.