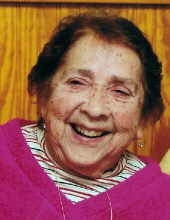 E. Irene Stockstill, age 90, formerly of Uniontown, KS, went home to be with her lord. She died on April 3, 2020, at her daughters' home.
She was a lifetime member of First Missionary Baptist Church of Uniontown, KS. She taught Sunday School to the sandbox kids for years at the church every Sunday. She was always ready to help if there was something that needed to be done. She had perfect attendance at church for 25 years. She was always ready with a smile, a kind word or a hug to anyone who was present.
She also worked in the kitchen and lunchroom at Uniontown High School for a number of years. She enjoyed all the people she worked with but especially all the children who came in to eat lunch at school.
Private burial will take place in the U. S. National Cemetery. Arrangements are under the direction of the Cheney Witt Chapel, 201 S. Main. Words of remembrance may be submitted to the online guestbook at cheneywitt.com.