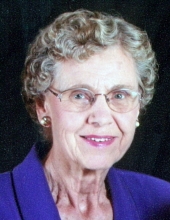 Irene Clara Schooley, age 87, a resident of rural Walnut, Kansas, passed away Friday, June 7, 2019, at the Via Christi Hospital in Pittsburg, Kansas.
She was born July 4, 1931, near Hepler, Kansas, the daughter of Charles Grannemann and Amanda Kroenke Grannemann.
She married Warren Schooley on April 27, 1952, at the Immanuel Lutheran Church in Hepler.
Irene worked for many years as secretary at the Uniontown High School. In addition to working at the school, she also helped her husband with the work on their farm. She always grew a large garden to provide for the needs of her family. She also enjoyed sewing and often made clothes for her daughters. She was a member of the Immanuel Lutheran Church in Hepler.
Survivors include her husband, Warren and her two daughters, Jan Reimer and husband, Cal, of Topeka, Kansas and Bev Nelson and husband, Rod, of Ft. Scott, Kansas; six grandchildren, Seth Reimer (Jennifer), Kelly Reimer (Natasha), Cassi Kuhn (Scott), Stacy Jackson (Chris), Kristen Pope (Dustin), and Blake Nelson (Cori) and thirteen great-grandchildren, J. T., Kinslee, Anton, Alisa, Hunter, Makenzie, Brooklyn, Mason, Kaden, Kennedy and triplets, Maddox, Zander, and Bryson who share their birthday of July 4th with their great-grandmother. Also surviving are two sisters, Ella and Helen.
She was preceded in death by her parents, a brother, Ben and two sisters, Selma and Florence.
Funeral services will be held at 10:30 A.M. Wednesday, June 12th at the Cheney Witt Chapel.
Burial will follow in the Evergreen Cemetery.
The family will receive friends from 5 to 7 P.M. Tuesday at the Cheney Witt Chapel.
Memorials are suggested to the Immanuel Lutheran Church and may be left in care of the Cheney Witt Chapel, 201 S. Main, P.O. Box 347, Ft. Scott, KS 66701. Words of remembrance may be submitted to the online guestbook at cheneywitt.com.