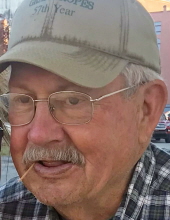 Thomas Glenn Smith, 80, of Redfield, Kansas, passed away on Wednesday, August 25, 2021 after a lengthy battle with Covid-19 at Ascension Via Christi Hospital in Pittsburg, Kansas.
Glenn was born on July 9, 1941, at the home of his parents, Thomas and Ruth Smith of Arcadia. Kansas.
Glenn was preceded in death by his loving wife of 57 years, Lorna May (Johnston) Smith. He is survived by his daughter Glenna Hendrickson (Kevin) of Osceola, Missouri and son Craig Smith (Cathy) of Leavenworth, Kansas; siblings Ruth (Lester) Waring of Garland, Kansas, and Donnie (Kathleen) Smith of Miami, Oklahoma along with 5 nieces and 5 nephews.
Upon Glenn's graduation from Arma High School in 1958, he participated in collegiate sports at Fort Scott Community College while receiving his Associate of Arts Degree in 1960 before graduating from Pittsburg State University in 1963 with a BSED in physical education.
Glenn worked as a ranch foreman for many years for local ranchers and farmers in the Bourbon County area. He also worked at Fort Scott Livestock sales, in housing construction, and as a welder helping build horse trailers for Twister Trailers.
Glenn was also a member of several community organizations including the Fort Scott Jaycees and the Bourbon County Fair Board. Glenn was also an active member of the Cherry Grove Baptist Church throughout the years.
Glenn is probably best known for participating in rodeos as a calf roper and team roper in the PRCA and various other rodeo organizations. While team roping, Glenn has won numerous saddles, buckles, and other awards including having been a National Champion while roping with partner Larry Martin at the 1992 USTRC Team Roping Shoot Out in Guthrie, OK. Glenn also participated in numerous ranch rodeo events as was also a judge for many rodeo events throughout the years.
Glenn also enjoyed raising his award-winning Corriente cattle including his National Champion Bull.
Prior to his cowboy days, Glenn could be found playing competitive softball and basketball for Whiteside's IGA. He also enjoyed fishing and quail hunting. Glenn could also be found quite frequently supporting the local sporting events and assisting the FSCC Rodeo teams.
The family will hold a private ceremony in Memory Gardens Cemetery.
A public memorial service will be announced at a later date.
Arrangements are under the direction of the Cheney Witt Chapel. In lieu of flowers, memorial donations may be made in Glenn's name to the Fort Scott Community College Rodeo Team and/or Cherry Grove Baptist Church in Garland, Kansas, and may be left in care of Cheney Witt Chapel, PO Box 347, 201 S. Main, Fort Scott, KS 66701.
Words of remembrance may be submitted to the online guestbook at cheneywitt.com.