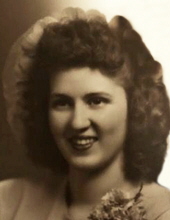 Eva Mae Byerley died on September 26, 2019, rejoining spiritually her husband, Edward, who predeceased her less than a year prior. Eva was born on January 7, 1928, at the family farm near Barnesville, KS, the daughter of Fred E White and Lora A. White (Higbie). She was the youngest of seven children, five girls and two boys.
Eva graduated from Fulton H.S. (KS) in 1945. She married her high school sweetheart, Edward, after his return from active military duty in the Navy in 1946.
Eva was a homemaker and mom extraordinaire to their three sons during the early years of marriage. In the late 1960's to mid – 1980's, Eva worked at The Western Insurance Companies as an automobile rater and in human resources.
Eva and Ed retired full time to Sun City West, AZ in 1986, enjoying nearly 30 years of the sunny weather and the activities offered in that retirement community. Eva was a passionate and competitive amateur bowler, who carried a high average for several years. She also enjoyed playing bocce, cooking, and watching KU basketball games on television.
Eva is survived by three sons, daughter's-in-law, six grandchildren, and one great grandchild.
There was cremation. Graveside service will be October 28, 2019, at 11:00 a.m., at the U.S. National Cemetery. Words of remembrance may be submitted to the online guestbook at cheneywitt.com.