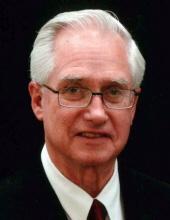 Dr. F. Wayne Stark, 79, a resident of Fort Scott, KS, died Sunday, November 24, 2019, at his home.
He was born December 25, 1939, in Fort Scott, KS, the son of Ernest Lloyd Stark and Lillie Elizabeth Davis Stark.
On March 25, 1963, Wayne married Alice Garner Stark.
He served the Church of the Nazarene in several capacities from 1960-2015.
Wayne graduated from Southern Nazarene University in Bethany, OK in 1963 with a bachelor's degree in religion. He went on to earn his M.A. in religion from Southern Nazarene University and his Master of Divinity from the Nazarene Theological Seminary in Kansas City, Missouri. Wayne received his Doctorate of Divinity from the Nazarene Theological Seminary on June 2, 2019.
Wayne began his service to the Church of the Nazarene in Oklahoma City, Oklahoma at the Nazarene Gospel Mission as Head Pastor from 1960-1962. Wayne then served as Pastor at the Church of the Nazarene in Noble, Oklahoma until 1966. He spent the next ten years serving at Central Church of the Nazarene in downtown Oklahoma City. In 1976, Wayne accepted the call to the Nazarene Indian Bible College in Albuquerque, New Mexico. During his time in Albuquerque, Wayne served as both Pastor and professor before being appointed by the General Superintendent as President of the College until 1983.
Following a one year sabbatical, Wayne moved his family to Pleasanton, Kansas where he would serve as Pastor of the Pleasanton Church of the Nazarene until 1996.
At that time, Wayne felt a calling to once again go back and serve the inner city of Oklahoma City. He took an unpaid position as pastor at First Indian Church of the Nazarene in Oklahoma City, OK. In addition, he served as Site Director of Love Link Ministries until his resignation in 2008. Wayne retired in 2015 after serving the Nazarene denomination for 55 years.
Wayne is survived by his wife, Alice Garner Stark; his brother Eddie Stark and wife Margaret; his sisters Naoma Hemphill and husband Bob, and Marilyn Rogers; his sons Kevin and wife Cristin Stark, and Stephen Stark; his daughters Evangeline and husband Matt Korinke, and Michelle Seciwa; his grandchildren Christian Tavernaro and wife Cristin, Johnathan Stark and wife Sarah, Wyatt Stark, Wes Seciwa, Dawson, Brody and Lila Korinke.
Wayne was preceded in death by his grandparents M. Grant and Leota Stark and Ernest Eddie "Edd" and Haskell Hayse Davis; and parents Ernest and Lillie Stark.
Rev. Virgil Peck will conduct funeral services at 10:30 AM Wednesday, November 27th, at the Fort Scott Church of the Nazarene.
Burial will follow in the Prescott Cemetery, Prescott, KS. The family will receive friends from 6:00 until 7:30 PM Tuesday at the Cheney Witt Chapel.
Memorials are suggested to either Pathways or AgGrandize Global and may be left in care of the website Grandizeglobal.com or Cheney Witt Chapel, P.O. Box 347, 201 S. Main, Ft. Scott, KS 66701. Words of remembrance may be submitted to the online guestbook at cheneywitt.com.