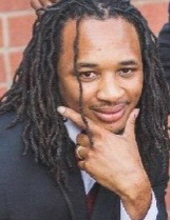 Domonic Martinez "Heavy" Robinson, age 27, a resident of Independence, Missouri, passed away late Friday, December 25, 2020, as the result of an automobile accident in Jackson County, Missouri.
He was born December 12, 1993, in Iola, Kansas, the son of Carl Joe Robinson, Jr. and Anicia Monique Lindsey Robinson.
Domonic graduated from the Uniontown High School in Uniontown, Kansas and later completed welding school in Nevada, Missouri. He was currently working as a welder for Boilermakers Local #83.
Domonic married Akilia Harris on July 21, 2017. Domonic was devoted to his family and provided well for their needs as well as others.
He enjoyed riding his motorcycle, collecting guns, and barbecuing. He was an avid fan of the Green Bay Packers and was a member of the United Missionary Baptist Church.
Survivors include his wife, Akilia, of the home; and three sons, Jayden, Jordan and Khalil Robinson with one more son due to arrive in June.
He is also survived by his mother, Anicia Robinson, of Bronson, Kansas, his father, Carl J. "Pete" Robinson, Jr., of Ft. Scott, Kansas; three brothers, Du'Shaun Robinson and De'Vonte Robinson, both of Ft. Scott and Charles Harris, of Atlanta, Georgia, a sister, Da'Nisha Robinson, of Bronson, Kansas; his grandmothers, Helen Patterson of Ft. Scott and Alma Williams, of Bronson, two aunts, Ruthie Robinson and Charlene Williams, both of St. Louis, Missouri, an uncle, Christopher Lindsey, of Iola, Kansas, his father-in-law, William Harris and good friends, Mitchell Newman and Jordan Woods.
He was preceded in death by his grandfathers, Charles Williams and Carl Robinson, Sr., an uncle, John Whitworth and a good friend Brandon Weyant.
Rev. George Proctor and Rev. Marty Dewitt will conduct funeral services at 11:00 A.M. Saturday, January 9th at the First Missionary Baptist Church in Uniontown, Kansas.
Burial will follow in the Bronson Cemetery. The family will receive friends from 9 A.M. until service time on Saturday at the church.
Memorials are suggested to the Robinson Children Education Fund and may be left in care of the Cheney Witt Chapel, 201 S. Main, P.O. Box 347, Ft. Scott, KS 66701. Words of remembrance may be submitted to the online guestbook at cheneywitt.com.