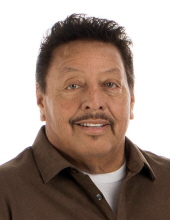 David Eugene Gonzales, age 63, resident of Ft. Scott, KS, died Saturday, May 4, 2019, at K.U. Medical Center.
He was born January 4, 1956, in Las Cruses, NM, the son of Mary Bellman. He lived in Ft. Scott since 1980. David had a larger than life smile and never met a stranger. His passion was God and family. He enjoyed country cruising and cutting others hair, usually for free. David loved life and made those around him feel valuable.
Survivors include two sons, Mikhail Gonzales and wife LaKeisha, and Jason Martinez and family, all of Ft. Scott; two daughters, Danica Gonzales, Gardner, KS, and Chasidy Sharp and husband Michael, Louisburg, KS; three brothers, Tudy Bernal and wife Maryann, Donnie Gonzales and wife Delores, and Michael Bellman, all of Las Cruses, NM; three sisters, Lisa Bernal, Rachel Flores and husband Eddie, and Christina Archuleta and husband Ruben, all of Las Cruses, NM; 12 grandchildren, Mannie, Mikiylah, Jalynn, Jeremiah, Hallie, Marcus, Marissa, Maxwell, Miya, Alexis, Alianise, and Anastasia; and numerous nieces and nephews.
He was preceded in death by his mother.
Rev. Matthew Hunt will conduct funeral services at 11:00 AM Thursday, May 9th, at the Cheney Witt Chapel.
Burial will follow in the Dayton Cemetery.
The family will receive friends from 5 until 7 p.m. Wednesday evening at the Cheney Witt Chapel.
Memorials are suggested to the David Gonzales Memorial Fund and may be left in care of the Cheney Witt Chapel, PO Box 347, 201 S. Main, Ft. Scott, KS 66701. Words of remembrance may be submitted to the online guestbook at cheneywitt.com.