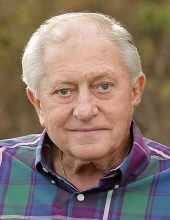 David Bird Ashcraft, age 72, a resident of Ft. Scott, Kansas, passed away Tuesday, April 16, 2019, at his home following a brief cancer illness.  He was born April 23, 1946, in Wichita, Kansas,  the son of Jay Ashcraft and Helen Ashcraft.  He married Sharon Colvin on January 25, 1978.  Dave owned and operated his own business, Ashcraft Pest Control, for over fifty years and which continues on today.  Dave grew up in Silverton, Colorado where he participated in cowboy reenactments for tourists and loved all things western and Native American including collecting arrowheads and Indian artifacts and watching old westerns on tv.   He also enjoyed hunting, especially elk hunting during his many trips to Silverton and Durango, Colorado.  Dave was known for his kindness, generosity and friendly personality. He loved people and never met a stranger.  Dave especially loved his family and spending time with them.  We will miss our dear Papa.
Survivors include his wife, Sharon, of the home; five children, Margie O'Dell, of Pittsburg, Kansas, Jocie Clary and husband, Tim, of Smithton, Missouri, Shelly Shelton and husband, Dale, of Ft. Scott, Kansas, Tammy Pruitt and husband, Terry, also of Ft. Scott and David Allen Tauber and wife, Casey, of Rogers, Arkansas; thirteen grandchildren and seven great-grandchildren.  Also surviving are two brothers, Dan Ashcraft, of Wichita, Kansas and Richard Ashcraft, of Topeka, Kansas and his loyal canine companion, Tug.  He was preceded in death by his parents and two sisters, Becky Tauber and Ruth Ann Ashcraft.
Following cremation, a memorial service will be held at 1:30 P.M. Monday, April 22nd at the Cheney Witt Chapel.  A graveside service will be held at a later date in the Centerville Cemetery near Devon, Kansas.  Memorials are suggested to Care to Share and may be left in care of the Cheney Witt Chapel, 201 S. Main, P.O. Box 347, Ft. Scott, KS 66701.  Words of remembrance may be submitted to the online guestbook at cheneywitt.com.