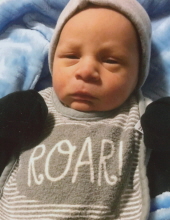 Adonis Lamonte Johnniel Brown, 6-day old son of Macretia Brown, passed away Sunday, December 20, 2020 at the Via Christi Emergency Room in Ft. Scott, Kansas.
He was born December 14, 2020, in Nevada, Missouri. In addition to his mother, he is survived by two sisters, Adele and Avaya. Also surviving are his grandmother, LaToya Grant, great-grandmother, Willa Wilson, two uncles, Tabias Wilson and Eric Grant, an aunt, Synee Brown and a host of extended family members.
Funeral services will be held at 3:30 P.M. Monday, December 28th at the Cheney Witt Chapel.
Following services, there will be cremation. Memorials are suggested to the Adonis Brown Memorial Fund and may be left in care of the Cheney Witt Chapel, 201 S. Main, P.O Box 347 Ft. Scott, KS 66701.