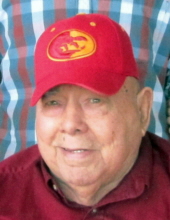 Shelby Frank Rice, age 87, a resident of Ft. Scott, Kansas, passed away Sunday, January 6, 2019, at his home. He was born June 12, 1931, in Valiant, Oklahoma, the son of Frank Rice and Nelia Thompson Rice. He married Sandra Brown in 1963. Following high school, Shelby graduated from barber school in Oklahoma.
He worked as a barber for several years and also worked for the Tulsa Fire Department. In addition to working for the fire department, Shelby also operated the Rice Cattle Company.
Following his retirement from the fire department, the Rice family moved from Oklahoma to a ranch west of Farlington, Kansas. They lived there for several years before moving to Ft. Scott in 1984.

Survivors include a son, Terry Rice, of San Francisco, California and a daughter, Nancy Boore and husband, Mark, of Pittsburg, Kansas and three grandchildren, Chelsea Kropp and husband, Caleb, of Parsons, Kansas, Morgan Samuels and husband, Preston, of Osawatomie, Kansas and and Aaron Boore, of Kansas City, Kansas.
His wife, Sandra, preceded him in death on March 6, 2016. He was also preceded in death by two sons, Ted Rice and David Comozzie and four sisters, Uela Gragg, Melba Songer, Betty Sullivent and Dorothy Rice.

There was cremation. A memorial service for both Shelby and Sandra will be held at a later date. Arrangements are under the direction of the Cheney Witt Chapel, 201 S. Main, Ft. Scott, Kansas. Words of remembrance may be submitted to the online guestbook at cheneywitt.com.