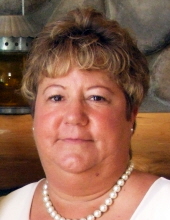 Rene Lee Glynn-Yount, Age 64, a resident of Ft Scott, KS, passed away unexpectedly Tuesday, November 20, 2018, at Mercy Hospital in Fort Scott.
She was born February 27, 1954, in Longbeach, CA, the daughter of Larry and Dorothy Glynn. They moved to Idaho where she met and married Roger Baldwin, they later divorced.
Rene traveled and worked around the country until settling in Kansas to raise her children. Rene graduated nursing school at Neosho County Community College and pursued her passion to help others as a Registered Nurse until she retired.
On March 31, 2007, she married the love of her life Henry Yount. She loved watching him run races and going to the rock park to drive on the trials for special events.
Rene enjoyed spending time with her family, cooking in the kitchen, raising her dogs, fish and other animals, working with her garden and plants and being the family debate winner. When Rene was around, you know there was always good food to be eaten and conversations to be had. Her passion came through in everything she did.
Survivors include her husband Henry Yount of the home; children, Andrea Fiene (Shane) Buffalo, KS; Kyle Glynn Buffalo, KS; Jason Yount (Casie), Arma, KS; Leah Yount Arma, KS; and Grace Fox Ypsilanti, MI. Eleven grandchildren, Peyton Fiene, Wichita, KS; Gavin Fiene, Buffalo, KS; Whitley Glynn, Smith Center, KS; Alli and Bianca Yount, Arma, KS; Lexi Enloe, Benjamin and Charlee Harris, Arma, KS; Jaxon Scott, Genevieve and Abraham Fox, Ypsilanti, MI.  Sisters: Donna Ackley (Gary), Boise, ID; Janine Graham, Easton, MD; and a brother, Ken Leatherwood, Buffalo, KS; as well as many nieces, nephews and cousins.
She was preceded in death by her mother, Dorothy Brice; father, Larry Glynn; and two brothers, Russell Glynn and Neil Leatherwood.
Cremation will take place and family and friends will have a celebration of life dinner in lieu of an official service. Words of remembrance may be submitted to online guestbook at cheneywitt.co