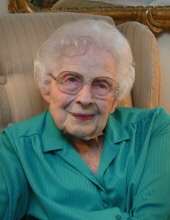 Lois Alyene Capps Fowler, 100, formerly of Nashville, TN, died July 14, 2018, at Presbyterian Village in Fort Scott, KS.
She was born February 18, 1918, in Gurdon, AR, the daughter of James Roy and Della Mae Wingfield Capps. Growing up, Alyene attended schools and the First Presbyterian Church in Gurdon. She graduated from Ouachita Baptist College in Arkadelphia, AR where she majored in Home Economic and was crowned Homecoming Queen in 1937. At a summer church camp meeting, she met her future husband, Dr. Henry Thornton Fowler, a Methodist minister, and they married on December 30, 1940.
After she and Thornton married, they lived in Smithville, Savannah, Cookeville, and Nashville, TN where he served as pastor. While in Cookeville, they were instrumental in building a new church building. Alyene was always interested in the youth of the church and taught Sunday School (9th, 10th, and 11th grades) for many years.
Dr. Fowler served as the Senior Pastor at McKendree United Methodist Church in Nashville, TN from 1952 until 1962. They remained in Nashville while he served as District Superintendent (1963-1970) and then as Associate Publisher of the United Methodist Publishing House until his death in 1978.
Alyene was a wonderful homemaker and minister's wife who was always a cheerful, caring person. She moved to Presbyterian Village in Fort Scott, KS in 2003, and she maintained her sense of humor and her infectious laugh throughout her life. She celebrated her 100th birthday in February with her nephews and niece, a great niece, and a great- great niece and nephew in attendance.
Alyene is survived by her nephews, Dean (Becky) Mann, Georgetown, SC (formerly of Fort Scott, KS), Dr. Michael (Carolyn) Mann, Houston, TX, Robert Mann, Pearland, TX, Dr. James Austin (Judy) Capps, Jr., Conway, AR, Dr. Billy Roy (Betty) Capps, Hot Springs, AR, and niece, Nancy Mann (Jim) Adkins, Houston, TX, and many great nieces and nephews. She was preceded in death by her parents, an infant brother, her husband, twin sons who died at birth, a brother, James Austin Capps, and a sister, Mary Louise Capps Mann.
There was cremation. Memorial services for Alyene will be held in August 2018 with burial in the Evergreen Cemetery in Nashville, TN. Local arrangements are entrusted to the Cheney Witt Chapel, 201 S. Main, Ft. Scott, KS.