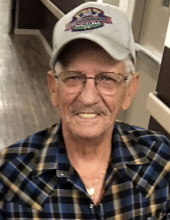 Larry Chester Elam, born February 21, 1944 in Dallas, Texas, passed away peacefully in his home on November 15, 2018, in Fort Scott, KS. He was a proud American, an Army veteran who served multiple tours in Vietnam between 1968-1976. He enjoyed helping others, playing pool, fishing and spending time with family and friends.
He is preceded in death by his parents, Barney and Oleta Elam and his brother Tommy Elam. He is survived by his wife Carol Elam, of Fort Scott, KS, his daughter, Kimberly and Denny Baurousa of Mesquite, TX, his son John Elam of Austin, TX, his stepson, Johnny Powders of Fort Scott, KS, his stepdaughter, Lori and Jason Lewis of Fort Scott, KS, and grandchildren Jacob, Hunter, Peyton and Ainslee, and his
sister, Juanita and Gary Morrow of Nocona,TX.
Military honors will be held Graveside on Tuesday, November 20, 2018, at 1:30 p.m. at Fort Scott National Cemetery, KS.