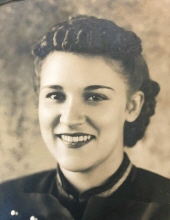 Geraldine Frances Raney, age 98, a resident of Colorado Springs, Colorado, passed away Saturday, December 21, 2019, at her home in Colorado Springs.
She was born August 30, 1921, at the family home near Devon, Kansas, the daughter of Bettus F. Young and Thelma H. Simmons Young. Geraldine graduated from the Fulton High School with the Class of 1939.
She married Cecil Raney on May 31, 1941, at Little Rock, Arkansas.
Cecil and Geraldine made their home in California
for many years. While in California, Geraldine worked twenty-one years in the business office of California State Polytech University at Pomona, California.
Following the death of her husband, Geraldine moved to Colorado Springs to be near her daughter. Geraldine loved to travel and made regular trips to Kansas to visit relatives and attend school reunions.
Survivor include her daughter, Cynthia Norcross and husband, Michael, of Colorado Springs, Colorado and a grandson, Mason Lee Pedotto.
In addition to her husband, she was preceded in death by a sister, Hazel Lois Young.
Rev. Chuck Russell will conduct graveside services at 1:00 P.M. Saturday, January 4th at the Glendale Cemetery south of Fulton.
Family and friends may meet at the Cheney Witt Chapel prior to leaving for the cemetery at 12:45 P.M.
Services are under the direction of the Cheney Witt Chapel, 201 S. Main, Ft. Scott.