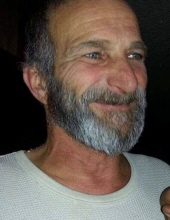 David Nolen Woodall, age 60, resident of Ft. Scott, KS, died Saturday, January 30, 2021, at Ascension Via Christi ER in Ft. Scott. He was born July 19, 1960, in Ft. Scott, the son of David A. and Sylvia Henderson Woodall. He worked for Mechanical Systems in North Carolina and construction work until his disability. He greatly enjoyed training horses. David liked to fish, hunt, raise chickens and dogs, and vegetable garden. He liked to joke around with people but would do anything for someone in need.
Survivors include his lifelong partner, Pamela Riggs, Ft. Scott; 3 daughters, Racheal Fountain, Olathe, KS, Michele Lee, Ft. Scott, and Ashley Woodall, Orlando, FL; 2 brothers, John Woodall, Ft. Scott, and Robert Woodall, Branchville, SC; a sister, Beverly Rast, AZ; his mother, Sylvia Woodall, Uniontown, KS; and 11 grandchildren.
He was preceded in death by a sister, Susan Marchant; and his father.
There was cremation. Memorial services will be announced at a later date. Memorials are suggested to the David Woodall Memorial Fund and may be left in care of the Cheney Witt Chapel, PO Box 347, 201 S. Main St., Ft. Scott, KS 66701. Words of remembrance may be submitted to the online guestbook at cheneywitt.com.