Hosting the Kansas Chamber of Commerce
This week, the Kansas delegation had the privilege of hosting members of the Kansas Chamber of Commerce in Washington, D.C. It was great to meet with members of the chamber and discuss the state's economic growth. On Wednesday evening, I helped lead the group on a night tour of the U.S. Capitol. It is a special experience to see our nation's Capitol at night and share the beauty of this incredible building and all that it represents. Thank you to our chamber members and staff for the discussion this week and for their efforts to invest in our state and people.
Speaking at the U.S. Chamber of Commerce 2023 Global Aerospace Summit
On Wednesday, I spoke at the U.S. Chamber of Commerce 2023 Global Aerospace Summit to provide a Congressional outlook on aerospace and aviation and highlight the work being done in the "Air Capital of the World." Specifically, I discussed the FAA Reauthorization process and the likelihood of an extension should Congress fail to pass a bill before current authorization expires. Similarly, I discussed the appropriations process and the danger the possibility of a government shutdown poses on the industry. Last week, the Senate began consideration of a few appropriations bill, including the Transportation, Housing and Urban Development bill, which I helped to draft.
This event brought together commercial and defense aerospace companies, including Kansas companies like Orizon Aerostructures and Spirit Aerosystems. Both company CEOs, Charlie Newell and Tom Gentile, participated in a panel about the difficulties of the supply chain. Opportunities like this help to further Kansas as the "Air Capitol of the World."
Introducing Bill to Protect Emergency Transportation Services for Veterans
This week, I introduced the VA Emergency Transportation Access Act to protect access to life-saving ground and air ambulance transports for veterans in Kansas and across the country. This bill will stop a damaging regulation that the Department of Veterans Affairs (VA) is pursuing to lower reimbursement rates for ambulance services. That would leave veterans, particularly those in rural states like Kansas, vulnerable and disrupt the ambulance industry coast-to-coast, leading to job losses and longer wait times for care in emergency situations when every second counts.
The VA Emergency Transportation Access Act is supported by veterans' organizations including The American Legion, the Paralyzed Veterans of America, and the VFW as well as by a diverse group of ambulance industry stakeholders like the American Ambulance Association, the Association of Air Medical Services, the International Association of Fire Chiefs, Life Flight Network, AirMethods, PHI Air Medical, and Global Medical Response. It is also supported by Kansas veteran, B.J. Tyner. B.J. who was a Black Hawk pilot in the Army and currently manages Life Save Transports, which has four air ambulance bases across our state. He called the VA Emergency Transportation Act "a crucial step forward in preserving access to lifesaving air medical flights."
Calling for a Pause on New Banking Regulations
On Wednesday, I spoke on the Senate Floor about the importance of the Federal Reserve to withhold enacting new banking regulations until an independent review is conducted on the failure of Silicon Valley Bank. The Federal Reserve's new capital requirement for mid-sized banks comes at the expense of consumers and businesses. This directly contradicts the regulatory tailoring in the bipartisan S.2155, which was signed into law in 2018.
Hiking capital levels will dry up lending but fail to prevent the root cause of Silicon Valley Bank's collapse: poor management and lax supervision. An independent investigation into how the Federal Reserve responded to this bank failure could reveal that these new regulations are unnecessary. I will continue to advocate in the Senate for increasing access to credit for Kansas farmers, families, and businesses.
You can watch my full remarks here.
Welcoming New Army Leadership
This week, I had the privilege of meeting with the new army leadership. As the Co-Chair of the Senate Army Caucus and member of the Senate Appropriations Committee on Defense, I have the opportunity to advocate to my Senate colleagues on behalf of the Army. I was honored to spend time with several key leaders in the Army, including Secretary of the Army Christine Wormuth, General Randy George, the nominee to be the Army's next Chief of Staff, Undersecretary of the Army Gabe Camarillo, and Sergeant Major of the Army Michael Weimer. We discussed some of the most pressing issues facing the Army today, including the planned changes in force structure. I reminded senior leaders of the importance of keeping Congress in the loop on upcoming change which will impact the scope and scale of the Army's missions globally.
I was particularly interested in discussions around Fort Riley and Fort Leavenworth. Kansans take great pride in hosting these critical missions to our nation's security. I remain grateful to the uniformed and civilian personnel who continue to selflessly serve our country from Kansas and across the United States. I want to extend my deepest thanks to General George for hosting this opportunity. Once confirmed by the U.S. Senate, I eagerly anticipate the opportunity to welcome General George to Fort Riley.
Meetings with Kansans

Kansas Automobile Dealers Association
This week, I met with the Kansas Automobile Dealers Association to discuss their legislative priorities. We covered topics such as the Federal Trade Commission's (FTC) released Motor Vehicle Dealers Trade Regulation Rule, which if approved, would drastically complicate the process for consumers to purchase, trade-in, and finance new and used cars. This rule was released quickly and without the opportunity for public comment, and I intend to introduce legislation that would require the FTC to fully consider public feedback before moving forward with a rule. Additionally, we discussed the trends in the automobile and heavy-duty truck market and how dealers will play an essential role in the electric vehicle marketplace. I want to thank Don McNeely of Topeka, Robert Brogden of Olathe, Andy Hoffman of Wichita, Jim Lewis of Dodge City, and State Senator Jeff Longbine of Emporia for their time.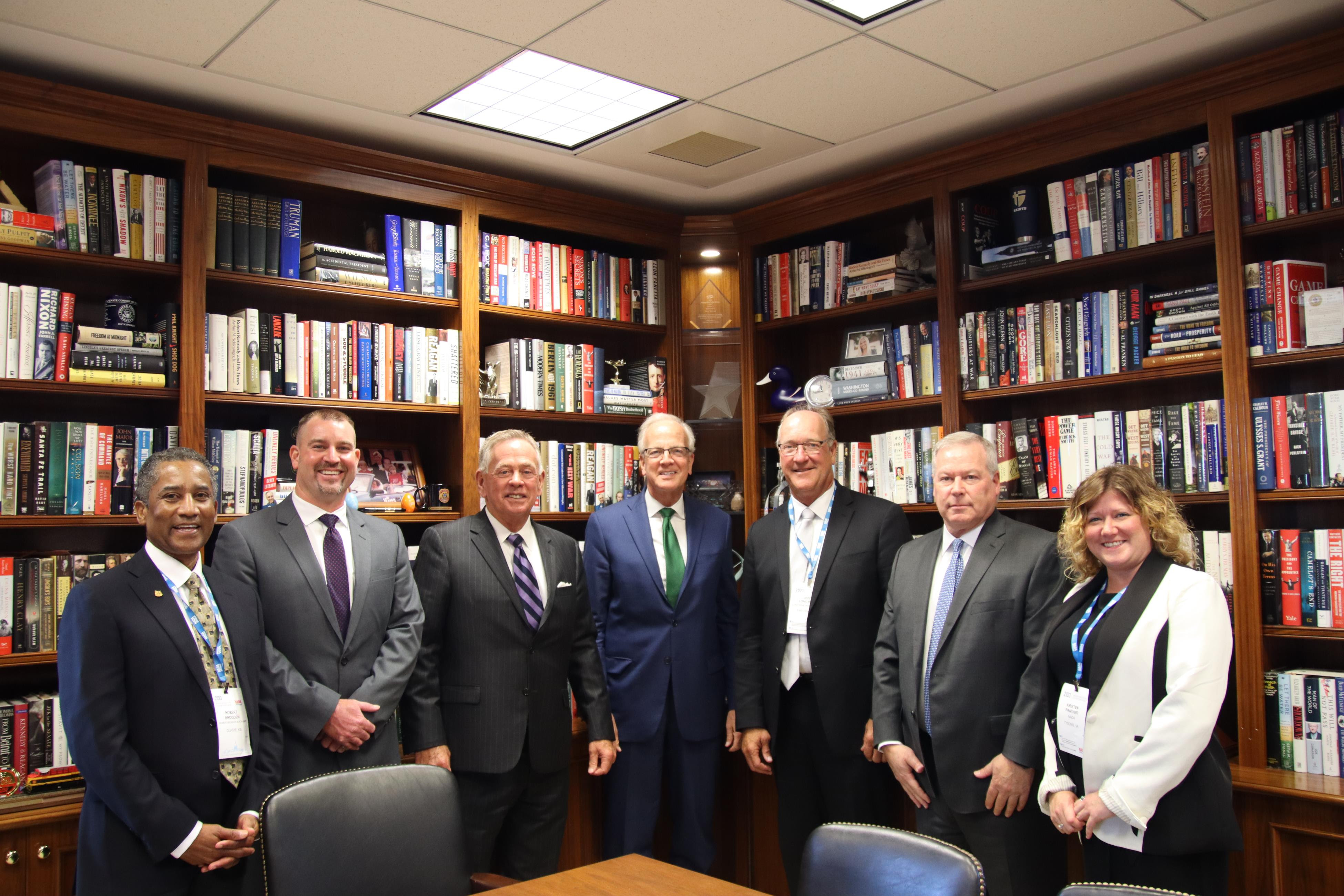 Empirical Foods
On Tuesday, I met with Empirical Foods to discuss the new facility under construction in Garden City and the innovative technologies they are implementing in the food industry. The facility, which is now the largest single investment in the company's 40-year history, will bring more than 250 new jobs and $250 million in capital investment to Garden City and Finney County. Thank you to Nick Roth and Craig Letch for traveling to D.C. and for the conversation.
Growth Energy
On Wednesday, Growth Energy presented me with the 2023 Fueling Growth Award in recognition of supporting America's home-grown biofuels industry. Growth Energy works to bring consumers better choices at the fuel pump, grow America's economy, and improve the environment for future generations. Thank you to Kyle Adams of Hutchinson, Julie Steinbarger of Andover, Ed Condon of Olathe, David VanderGriend and Andrea Foglesong of Wichita for visiting with me.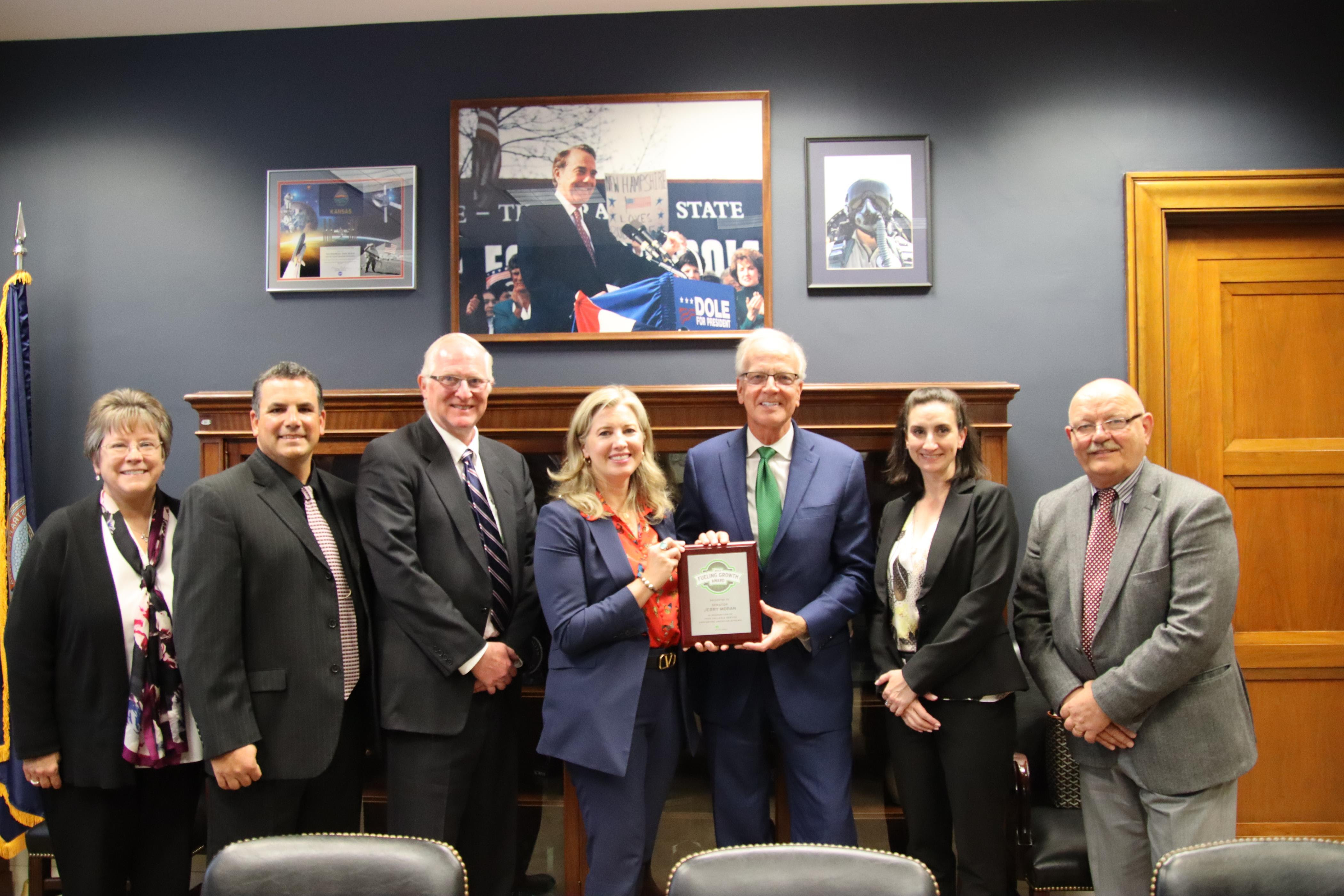 Dr. Arthur DeGroat
I met with Dr. Arthur S. DeGroat, Executive Director of Military & Veteran Affairs at Kansas State University and Ed.D., Lieutenant Colonel Ret. Dr. DeGroat provided updates on several matters important to servicemembers, especially as they transition out of the military. During the meeting, I heard about his academic work and analysis of the Military to Civilian Transition Process, including the Transition Assistance Program (TAP) administered by the Departments of Veterans Affairs, Defense, and Labor. Dr. DeGroat previously testified before the Senate Veterans' Affairs Committee regarding transition, so I was pleased to hear that he has continued to build and share his knowledge on these critical issues. I am pleased that his expertise continues to inform other invested parties on matters associated with the transition that servicemembers across the armed services experience as they become a veteran. I am thankful for Dr. DeGroat's continued service out of uniform to help veterans achieve success after service.
EMP Shield
On Thursday, I met with representatives from EMP Shield in Burlington to discuss their Kansas expansion and the potential defense-related applications of their products. I appreciated hearing about how products made in Kansas could be used to help secure critical facilities and equipment in the case of an attack and look forward to continuing to support EMP Shield's efforts to build a significant expansion in Coffey County that could support the secure manufacture of semiconductors. I would like to thank Tim Carty, Founder of EMP Shield, for joining this meeting to share his company's work with me.
Commerce Subcommittee Hearing on AI
On Tuesday, I participated in the Commerce Consumer Protection Subcommittee's hearing on the need for transparency in artificial intelligence (AI). I asked the witnesses about U.S. efforts to limit China's access to AI technology and about legislation to ensure federal agencies are responsibly deploying AI. Artificial intelligence represents nearly limitless opportunity to make advances in science, medicine, and many sectors of the economy. However, there are risks associated with employing AI that should be appropriately managed, particularly when it is the federal government using systems. I will continue to work with my Senate colleagues to make certain AI is being implemented by the federal government in a responsible manner.
You can watch the committee hearing here.
Senate AI Forum
On Wednesday, I joined a Senate forum about how Congress should approach artificial intelligence (AI). I heard from a number of AI experts and industry leaders about the opportunities and risks associated with AI and their recommendations for regulation of the technology. A number of panelists emphasized the importance of U.S. leadership on AI and the potential consequences of our adversaries leading the way on this technology. Given the likelihood that AI will impact every sector of the economy and every layer of our national defense, it is important the U.S. leads the way in the responsible AI development and implementation.
Many panelists also spoke about the need for improved STEM education and computer scientists to develop AI. In my role as the lead Republican on the Appropriations Subcommittee on Commerce, Justice, and Science, I direct funding to federal agencies that create STEM learning opportunities across the country and lead federal efforts to research AI and to develop standards on its responsible use. I will continue to prioritize STEM education for Kansans and will review efforts to research ways AI can benefit Americans.
NASA at Kennedy Space Center
Blue Origin's Glenn Orbital Launch Vehicle
At the end of the week, I traveled to the Kennedy Space Center in Florida to visit NASA and commercial space companies. As the lead Republican on the Senate Appropriations subcommittee, responsible for funding America's space priorities, I appreciated the opportunity to see firsthand what our country is doing in the space travel and science exploration domain. I visited Blue Origin's Exploration Park where I toured the manufacturing process of their New Glenn Orbital Launch Vehicle. New Glenn is a heavy-lift vehicle and will have a variety of missions, both for NASA and other commercial space providers. After hosting Blue Origin CEO Bob Smith in Wichita in 2021, Kansas has had an increased role in contributing to the manufacturing process at Blue Origin. Thank you to the Blue Origin team for giving me a tour of their facility.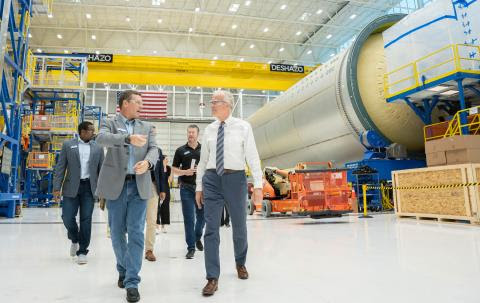 Orion Capsule at Kennedy Space Center
On Friday morning I toured Lockheed Martin's production facility of the Orion capsule at Kennedy Space Center. The Orion spacecraft will take astronauts to space and return Americans to the Moon as part of NASA's Artemis program. Orion is critical to the agency's success of the program in order to build a sustainable presence on the Moon in advance of going to Mars. While there, I was able to view the status of the Artemis II, III, and IV capsules and witness the progression of their production. With Artemis II planned to lift-off toward the end of 2024, I appreciated the chance to receive an update on an imperative part of its success. I want to thank Lockheed Martin for their time and NASA for assisting on the visit.
Medicare Fraudulent billing
I am actively communicating with the Centers for Medicare and Medicaid (CMS) regarding Kansas Medicare beneficiaries' reports of fraudulent billing for COVID-19 test kits they did not order. CMS is aware of the issue and is working with law enforcement to investigate these fraud schemes. As a result of the fraud reports, CMS is holding all payments for COVID-19 over-the-counter test kits and the suspicion on payments will not be released until the fraudulent billings have ended.
If you are a Medicare beneficiary concerned that your personal identifiable information has been breached or if you would like a new Medicare beneficiary number as a result of the test kit billings, you should contact Medicare at 1-800-MEDICARE to receive assistance from a CMS caseworker. I will remain in touch with CMS as they work with law enforcement to end the fraudulent COVID-19 test kit billings.
Groundbreaking Ceremony for VA Outpatient Clinic
I appreciated the opportunity to speak at the groundbreaking ceremony for the expansion of an updated VA Community Outpatient Clinic (CBOC) in Paola before returning to Washington, D.C. on Monday. It is appropriate that this event took place on September 11th taking one more step toward our promise to make sure that veterans are taken care of and have access to health care and benefits.
This modern treatment facility will double the size of the existing clinic to better serve veterans. The new facility will allow space for the addition of Physical Therapy and additional Outpatient Services while maintaining its current Primary Care, Mental Health and Lab services. Construction is set to begin within a few weeks and the facility is set to open early summer next year. I want to thank Paula Roychaudhuri, the Kansas City VA Interim Director, and Kansas City VA Chief of Staff Ahmad Batrash, for inviting me to take part in the ground breaking. Congratulations to the Paola Community and thank you to Kansas City VA.
Reception Honoring Dr. Daniel Sanchez
On Sunday, I attended a reception honoring Dr. Daniel Sanchez for his 30 years of practice of medicine in Rooks County. Dr. Sanchez lives in Plainville with his wife Karen. My mom and dad had high-quality medical treatment delivered by two wonderful people who loved and cared for them. Thank you for all your hard work and time that has made Rooks County a better place.