Unveiling a Bipartisan Breakthrough on NIL Legislation
On April 4, 2022, the University of Kansas Jayhawks defeated the University of North Carolina Tar Heels to win the NCAA men's basketball championship. An average of 18.1 million people watched the Jayhawks comeback victory, making it the most viewed NCAA championship game in cable television history. This game was broadcast by Turner, which, along with CBS, agreed to an $8.8 billion contract extension with the NCAA to broadcast March Madness on their networks. It is no secret that college athletics have grown into an increasingly profitable, billion-dollar industry. However, the rules surrounding athlete compensation have not been modernized.
On Thursday, I released bipartisan proposal draft legislation that would make certain college athletes can benefit from the use of their name, image and likeness without hurting their eligibility to compete. The College Athletes Protection & Compensation Act would set national standards for name, image, and likeness, while also prioritizing athletes' health and education. Senator Richard Blumenthal (D-Conn.), Senator Cory Booker (D-N.J) and I released this proposal to empower student athletes while maintaining the integrity of college sports that we all know and love. Athletics teach young men and women many valuable skills that serve them throughout their life, and it's important to protect their ability to pursue an education while allowing them to capitalize on their name, image and likeness as a college athlete.
You can read more from the Kansas City Star here.
Recognizing Senator Bob Dole's 100th Birthday
One of Kansas' most beloved sons, Senator Bob Dole, who would have turned 100 on Saturday. The legacy of Senator Dole is one of service, sacrifice and love for country. He dedicated his life to his fellow Kansans and to his country, working to create a more perfect union for all. He was a friend to all and embodied what it means to be a statesman, a public servant and most importantly, a Kansan.
You can watch my full remarks here. 


Celebrating Ribbon Cutting of Washburn University Law School Robert J. Dole Hall
I was pleased to be in Topeka on Friday to honor the legacy of Bob Dole and to celebrate the ribbon-cutting of Washburn University's new state-of-the-art law school building. The Robert J. Dole Hall is a $33 million-dollar project which includes a courtyard, an advocacy area, law clinic, more than 12,000 feet of classroom space and an 11,000 square foot library. Washburn leadership announced earlier this spring their plans to move the education department to this new building to serve more students as Washburn's competitive law program continues to grow.
I want to extend my thanks to Washburn University President Dr. JuliAnn Mazachek, Dean of Washburn's School of Law Jeffrey Jackson, and Washington University Alumni Foundation President Marshall Meek for inviting me to join them on Friday and for their efforts to make certain that Senator Dole's memory lives on at Washburn. Washburn University's School of Law continues to offer Kansans a premier institution to learn and study law while also developing their network in the state for future employment. I look forward to countless years of Washburn School of Law graduates, now studying in the Robert J. Dole Hall, honing their legal skills and staying in our state to serve their fellow Kansans.
Israeli President Isaac Herzog Addresses Congress
I was pleased to have the opportunity to host a leader in the Kansas Jewish Community, Margie Robinow, as my guest for Israeli President Isaac Herzog's address to a joint session of Congress on Wednesday afternoon. Margie has been advocating against anti-sematic behavior in our state. President Herzog's remarks centered on the importance of the American-Israeli alliance.
The United States and Israel's 75-year partnership plays a significant role in maintaining global peace and security and must be a top priority of Congress. As a member of the Senate Appropriations Subcommittee on State, Foreign Operations and Related Programs, I am committed to working with both Republicans and Democrats to make certain we stand with Israel and support peace.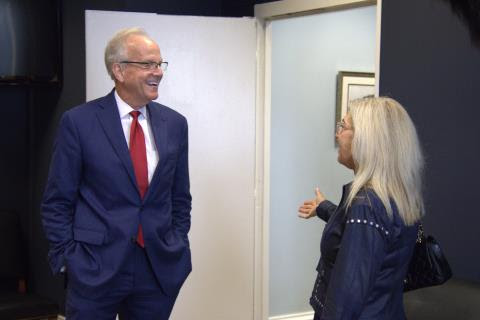 Floor Remarks on Growing Threat from Iran
Following Israeli President Isaac Herzog's address to a joint session of Congress on Wednesday, I spoke on the Senate floor regarding the growing threat posed by Iran to peace in the Middle East and beyond. Iran is exporting more oil than it has since 2019 despite the sanctions that were overwhelmingly passed by Congress and remain law. Iran continues to enhance its nuclear program, provides Russia with weaponry to use in Ukraine, funds proxy fighters throughout the Middle East, holds U.S. citizens hostage and vows to kill former American officials in revenge for the death of Qassem Soleimani.
While I can only speculate on the content of the Biden administration's reported talks with Iran, press reports suggest a possible agreement would permit Iran to maintain nuclear enrichment at 60 percent. This level cannot be justified for peaceful purposes and agreeing to it can have serious consequences.
I call on the administration to strictly enforce sanctions on Iran's oil exports and pressure countries that help to facilitate the sale of Iranian oil. In a bipartisan letter I joined with 25 of my colleagues, we wrote to the President last month, "It is crucial for your administration to remain aligned with Congressional efforts related to Iran's nuclear program and not agree to a pact that fails to achieve our nation's critical interests."
The administration must pursue more than the bare minimum in its diplomacy. Keeping a problem from developing into a crisis is good, but solving the problem is better. I recognize the obstacles that must be overcome and that we will have to provide our own concessions. To believe otherwise would ignore the history of diplomacy. But in accord with the will of Congress, an acceptable agreement can be reached. President Biden has the tools we have provided through legislation. He just has to use them.
You can watch my full remarks here.

Afghan Adjustment Act
I joined nine of my Senate colleagues to re-introduce the Afghan Adjustment Act. The withdrawal from Afghanistan was a dark day in American history. The rushed and chaotic evacuation from Kabul resulted in the deaths of American servicemembers and stranded thousands of our Afghan allies behind enemy lines. For two decades, countless Afghans stood by our servicemembers and risked their lives and their families' lives to support our troops in Afghanistan. Now, nearly two years since the withdrawal, Afghans, who escaped to the U.S., face uncertainty as their original parole statuses are set to expire soon. This legislation establishes a pathway for our Afghan partners to begin a new life while also establishing a critical vetting process to reduce threats to our national security.
The legislation has received the endorsement of veteran organizations including the Iraq and Afghanistan Veterans of America (IAVA), Veterans for Foreign Wars, the American Legion, Veterans for American Ideals, With Honor Action and the Association of Wartime Allies.
You can read more from WIBW here
My Amendment Included in FY2024 NDAA
This week, the Senate continued its consideration of the FY2024 National Defense Authorization Act (NDAA), and I was pleased that an amendment I filed was unanimously included in this bill. My amendment would allow the surviving spouses of servicemembers who die in, or as a result of, military service to maintain access to commissary and exchange facilities on military bases, if they remarry. Currently, the surviving spouses of those that paid the ultimate sacrifice on behalf of our country lose their access to military bases upon remarriage. However, a survivor who remarries is still a survivor, and no survivor should have to choose between getting married again or retaining their benefits and connection to the military community.
This amendment is a part of a larger, bipartisan bill – the Love Lives On Act – which I have co-led for the past two Congresses. I am pleased to see that this language will be included in the Senate's NDAA language, and I will continue to work with my colleagues to move the broader bill through Congress.
Appropriations Committee Markup
This week, the Senate Appropriations Committee approved the FY2024 bills for the State and Foreign Operations; Transportation, Housing, and Urban Development; and Energy and Water Development Appropriations Acts, all with resounding support. These bills include essential policies to address international threats to the American way of life, battle world hunger, support the Essential Air Service program, enhance funding to bolster Kansas' manufacturing power of aircraft navigational aids, and facilitate increased collaboration between the Department of Veterans Affairs and Housing and Urban Development, as well as strengthen our country's energy and water resiliency. Additionally, I was able to secure investments for Kansas transportation and water infrastructure that will bolster air traffic efficiency and improve the safety of our roadways and water networks.
During the hearing, I presented an amendment to the Transportation, Housing, and Urban Development bill that addresses concerns surrounding the FAA's proposed efforts to realign and expand the number of FAA contract tower service areas.
The State and Foreign Operations bill, which funds our nation's diplomatic and foreign assistance efforts also passed with overwhelming bipartisan support. Programs critical to combating global hunger and diseases such as polio were key priorities of mine, and they were well-supported by the committee, as was our sustained support for Israel. The work accomplished through this bill, such as alleviating suffering in the forms of disease and hunger, facilitating person-to-person relationships by our dedicated foreign service officers and Peace Corps volunteers, and assisting partner countries with their security, is essential to promoting peace around the world and enhancing America's image.
I am pleased to see the Senate Appropriations Committee is remaining steadfast in its commitment to return to regular order. I remain committed to doing my part in making certain this process continues.
Meeting with Kansans
Meeting with Brigadier General Michael Venerdi, Kansas Adjutant General
This week, I met with Brigadier General Michael Venerdi to discuss the importance of the Department of Defense's STARBASE program – a remarkable initiative that not only teaches young students about the military but also makes certain that Kansas children are offered the access to incredible opportunities within STEM fields. I am grateful for the Kansas Guard's emphasis on the STARBASE program, which is a testament to their commitment to future generations.
During this meeting, we also spoke about the Smokey Hill Air Weapons Range in Salina. It is an invaluable pillar for the Kansas Guard and the military services at large, and it plays a critical part in our collective commitment to national security. Brig Gen Venerdi and I also discussed the possibility of a Continuing Resolution (CR) – an element that could prove detrimental to the Kansas Guard, all military branches and our national security as a whole. As a senior member of the Senate Appropriations Subcommittee on Defense, I am committed to working to make certain our committee passes on-time appropriations bills, preventing the adverse effects of CRs.
I look forward to working alongside Brig Gen Venerdi to make certain Guardsmen and women across the country have the resources and support needed for them to effectively serve our communities and fulfill their critical role in national security.
Kansas Grain and Feed Association and Kansas Agribusiness Retailers Association
On Wednesday, I met with Kansans from the Kansas Grain and Feed Association and Kansas Agribusiness Retailers Association to discuss the upcoming Farm Bill which is set to expire in 2023. We also spoke about other challenging transportation and trade issues facing the industry. It is important to me that I hear directly from agribusinesses in Kansas, as they play a key role in the agriculture supply chain supporting farmers.
Thank you to Ron Seeber, Pres and CEO; Trae Green, VP; Dustin Kuntz, Harveyville Seed Company; Mark Paul, Cloud County Cooperative Elevator; Brent Emch, Cargill; 2023 Class of Tomorrow's Agribusiness Leaders: Andrew Breese, Kansas Grain Inspection Service; Todd Dingler, ProValue Insurance; Jeff Ellis, Syngenta; Brandi Malcom, AgMark; Jed Miller, Ag Partners Cooperative; Kent Nichols, MKC; Todd Schultz, Producer Ag; Jack Vincent, The Scoular Company and Ed Zahn, Heartland Ag Systems.
Renew Kansas Biofuels Association
On Tuesday, I met with the Renew Kansas Biofuels Association to discuss the importance of biofuels to Kansas agricultural producers and to consumers. I joined a bipartisan group of senators in supporting legislation to allow the year-round, nationwide sale of ethanol blends higher than 10% — ending years of regulatory uncertainty and preventing a patchwork of uneven state regulations. Diversifying the energy market, particularly our fuel supply, is beneficial for our country. Allowing E15 and other higher ethanol blends to be sold year-round will provide farmers and ethanol producers with new market opportunities to sell biofuels, while providing consumers with more options at the pump.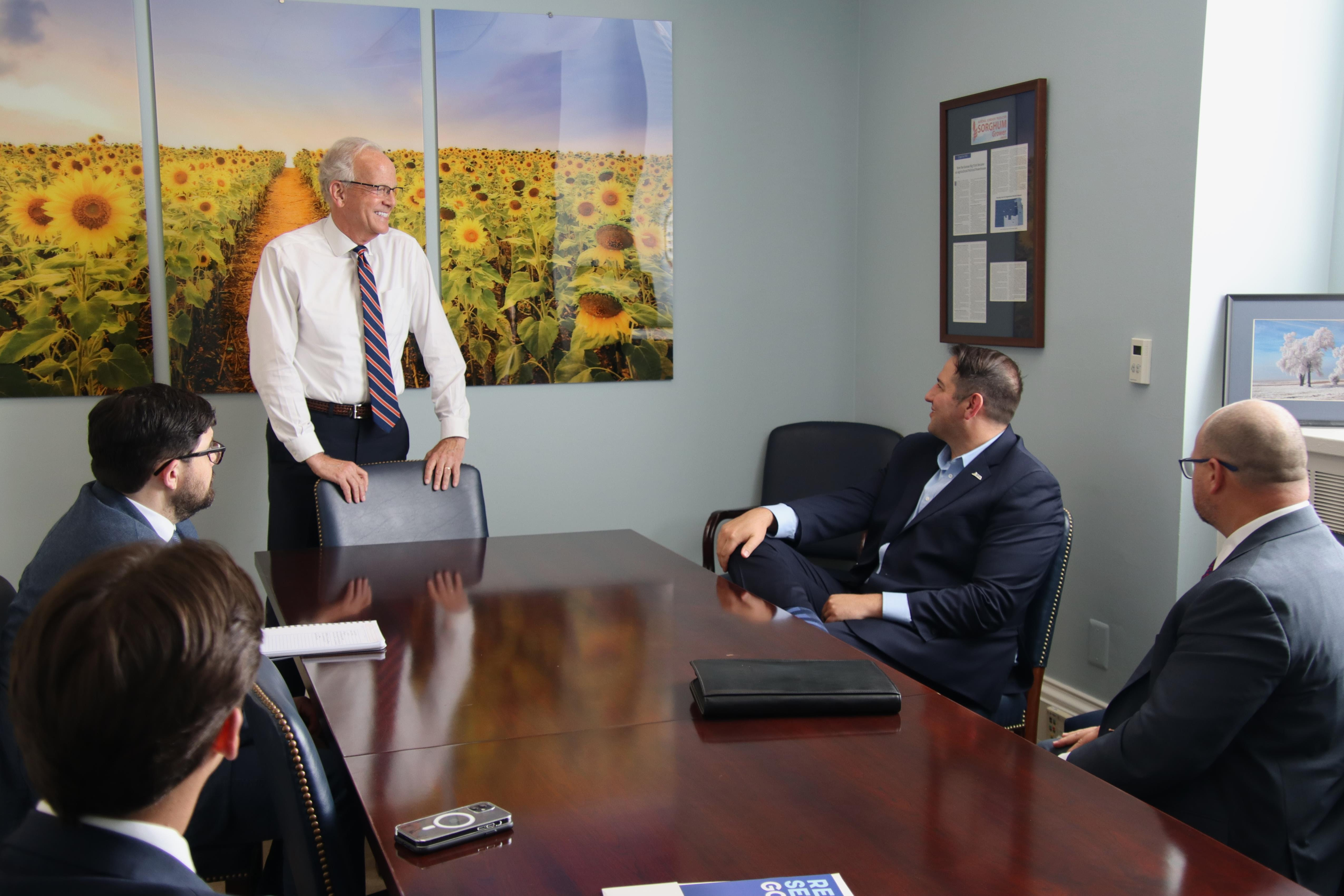 Meeting with Kansas Corn Growers Association
Representatives from the Kansas Corn Growers Association joined me on Wednesday to give an update on droughts and crops in Kansas as well as to discuss their priorities for upcoming legislation. They told me about the need for improved communication with Kansas farmers about environmental initiatives that are available. We also spoke about the implications of year-round E15 fuel sales. Thank you to Josh Roe, Taylor Williamson and Connie Fischer of Manahttan, Brent Rogers of Hoxie, Kent Moore of Iuka, Tanner McNinch of Ness City, Chad Epler of Columbus, Brian Moore of Pratt, Piper Schlatter of Hutchinson, Abby Johnson of Salina and Cody Dahl of Belleville for meeting with me.
Ruth Gerald of Roeland Park & Katie Little of Lenexa
It was particularly special this week to have the chance to say hello to Ruth Gerald and her granddaughter Katie Little during their trip to Washington, D.C. this past week for a tour of the U.S. Capitol building. Ruth is the sister of the late Cy Moyer of Phillipsburg a long-time friend to the community and wonderful friend to me and many others.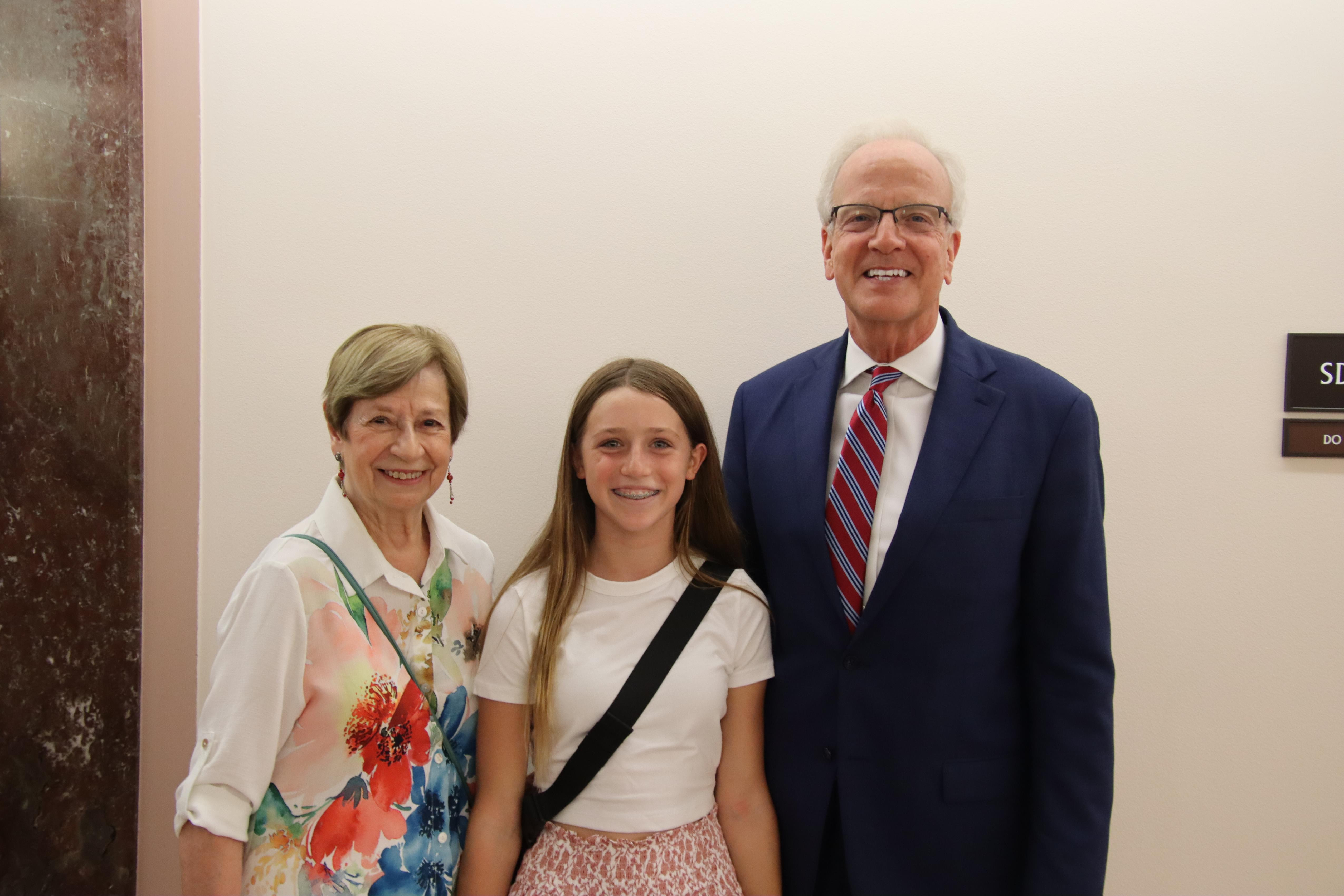 Xcel Group
On Wednesday, it was great to visit with students from Salina visiting Washington, D.C. as a part of Xcel, an after-school achievement program for high school students. I always enjoy the opportunity to speak with these students about the importance of being civic-minded and investing in one's community. These students always impress me with their questions and engaging conversation about public service. I want to thank Rick Reed for hosting this group in our nation's capital and the Charlie Walker family for investing in these students.
Cleared for Takeoff: Creating a Regulatory Runway for Advanced Air Mobility
America has led the way in aerospace innovation for a century. From the Wright brothers' first flight to landing Apollo 11 on the Moon, this nation has awed the world with new planes, rockets and aircraft. As a result, the U.S. has long been the standard the rest of the world has followed when developing aviation design, safety and operational regulations. However, when it comes to Advanced Air Mobility (AAM) ), the newest innovations in the aviation industry, America is falling behind.
Congress and the Federal Aviation Administration (FAA) must continue to work together to set up consistent standards for the FAA to assess, certify and introduce new aircraft to the skies.
To help support this emerging industry, I introduced legislation to create an interagency working group of more than 15 federal departments and agencies with the goal of delivering a national strategy for AAM. This also creates invaluable dialogue amongst a wide group of government sectors to make certain the United States approaches this industry with uniformity. This past March, the Department of Transportation held its first meeting with representatives from across the industry.
If the U.S. wants to maintain its dominance and leadership in aerospace innovation, Congress must act quickly to pass the FAA Reauthorization Act with critical AAM provisions and confirm an experienced FAA Administrator. While Congress can help ensure resources, craft authorizing language and provide the FAA with most of the tools it needs to succeed, the agency must have a leader with a steady hand at the helm. The FAA has not had a permanent, Senate-approved leader for more than 450 days. The vacancy is having a ripple effect amongst a variety of offices within the FAA, including those that handle AAM.
You can read my full op-ed in the Washington Times here.
$500M Pledge Announcement for McPherson College
On Friday, I was pleased to join McPherson College as it announced funding of nearly $1.6 billion which is the largest endowment of any small liberal arts college in the country. Special thanks to all 466 donors, including an incredibly generous $1 billion anonymous donation. I appreciate the invitation from McPherson College President Michael Schneider to participate in this announcement as well as the fundraising campaign kickoff last November where two Californians – Melanie and Richard Lundquist – announced their $50 million commitment to the college.
President Schneider was the youngest college president in the country when he took on the role in 2009 and in over ten years as president, the passion for his alma mater and its students has not once faded. His efforts to make a small liberal arts college in Kansas well-known across the state and the country are paying off, but President Schneider has never lost sight of his primary goal in all of his work. The students and their education and experience at McPherson remain his priority and the success that he is achieving right now stems from that focus.
The success of this campaign highlights the importance of a small college education and the unique programs offered by McPherson College, including the four-year automotive restoration degree and the community health care initiative to train students for careers in rural health care. Education gives individuals the chance at success and achieving their dreams. We cannot always determine the outcomes, but we can help provide the opportunities for success. That is what these historic gifts will do for so many students. I appreciate McPherson College Provost Amanda Gutierrez and Trustee Marty Ward for joining us at the announcement.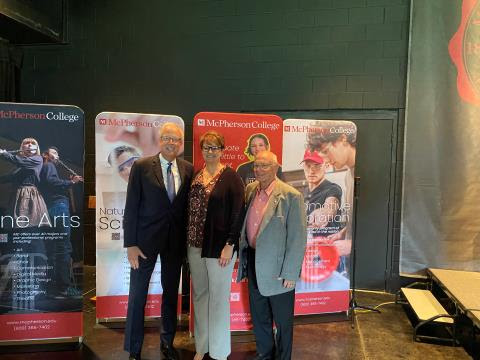 Touring Collins Aerospace in Lenexa
On Monday, I had the opportunity to tour the Collins Aerospace site in Lenexa. Collins Aerospace is the largest business unit within Raytheon Technologies with more than 70,000 employees, composing of approximately 70% commercial aerospace sales and 30% defense and government sales, and Kansas is home to two of its locations: Lenexa and Wichita. The Lenexa workforce primarily manufactures products for the interiors of commercial cabins, including kitchen equipment, oxygen masks and generation, as well as lighting and other key parts for the aircraft cabin. Collins Lenexa has a more than 100-year history, originally founded in 1913 as a medical gas supplier, and it has grown dramatically since then with an expansion in 2022 to support its continued development. As the Senate continues consideration of the FAA Reauthorization Act of 2023, I appreciated the opportunity to visit a Kansas company focused on supporting the growth of the aviation manufacturing workforce.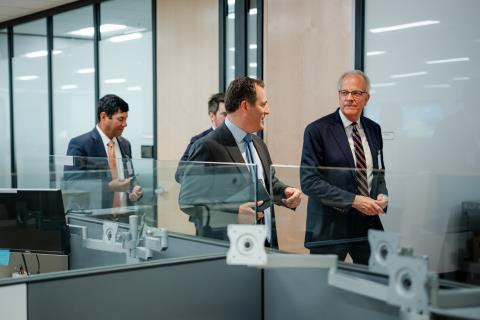 Introducing Legislation in Increase Access to Credit in Rural Economies
High inflation and rising interest rates are putting a strain on farmers and rural homeowners in Kansas and across the country. This week, I introduced the Access to Credit for our Rural Economy (ACRE) Act of 2023 with Sen. Angus King (I-Maine) to give greater flexibility to more financial institutions to offer affordable lines of credit to rural and agricultural borrowers.
This legislation will help to boost rural housing and support the agricultural economy that plays a vital role in small towns across America. Specifically, the ACRE Act would grant community banks the same tax-exempt status on certain earned interest that applies to farm credit institutions, allowing farm real estate borrowers and rural homeowners access to lower interest rates. Main street lenders must have the flexibility required to provide rural Americans with access to the capital needed to achieve homeownership and continue operating family farms.
Voluntary Groundwater Conservation Act
This week, I introduced the Voluntary Groundwater Conservation Easement Act to give farmers and ranchers in Kansas additional flexibility to manage and protect their groundwater sources while keeping agricultural lands in production. The legislation would create a new Groundwater Conservation Easement Program at the U.S. Department of Agriculture (USDA) to encourage voluntary and fair market value for reductions in groundwater consumption on agricultural production lands. The program would support ongoing conservation efforts by Kansas farmers and ranchers to reduce strain on the Ogallala aquifer and conserve water for future generations.
Recognizing the DEA's 50th Anniversary
This week, the Senate unanimously passed my resolution, introduced with Senator Jeanne Shaheen (D-N.H.), to recognize the 50th anniversary of the Drug Enforcement Administration (DEA). The DEA was established on July 1, 1973, to enforce the United States Controlled Substances Act. While its mission has evolved and expanded over the decades, the DEA is as critical today as it was when it launched 50 years ago as the agency works to apprehend drug traffickers and to protect our communities from harmful, illegal drugs. As Vice Chair of the Senate Appropriations Subcommittee on Commerce, Justice and Science (CJS), I was pleased to recognize the sacrifices of the men and women of the DEA and to honor those who have given their lives in the line of duty while working with and for the DEA.