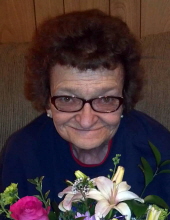 Margaret Ann Lewis, age 73, resident of Ft. Scott, KS, died Wednesday, December 16, 2020, at Via Christi Hospital in Pittsburg, KS.
She was born September 3, 1947, in Ft. Scott, the daughter of John Byron "Jack" Hagood and Christina Gertrude Peters Hagood.
She graduated from FSHS. Margaret married Timmy Lewis on September 15, 1973, in Mapleton, KS. He preceded her in death on April 16, 2008.
Margaret worked much of her 30-year career in home health as a CNA for Community Care Connection. She formed many lasting relationships with the individuals she cared for.
She enjoyed playing mobile games and spending time with her family. She was a regular at Pete's on Wall St., drinking coffee and visiting with friends early each weekday. She would go to Max's on the weekend mornings and NuGrille daily for dinner.
She loved dogs and would always reference her son's dogs by asking "how's my babies doing?"
Survivors include her son, John Cauthon and wife Beth, Ft. Scott; two brothers, John Hagood and wife Barbara, Medicine Lodge, KS, and Mike Hagood, Ft. Scott; and several nieces, nephews, and in-laws. Besides her husband Timmy, she was preceded in death by both parents.
Rev. Dr. Jared Witt will conduct services will at 9:00 AM Monday, December 21st, at the Cheney Witt Chapel.
Private family burial will follow in the U. S. National Cemetery. The family will receive friends from 5:00 until 7:00 PM Sunday evening at the Cheney Witt Chapel.
Memorials are suggested to the Margaret Lewis Memorial Fund and may be left in care of the Cheney Witt Chapel, PO Box 347, 201 S. Main St., Ft. Scott, KS 66701. Words of remembrance may be submitted to the online guestbook at cheneywitt.com.